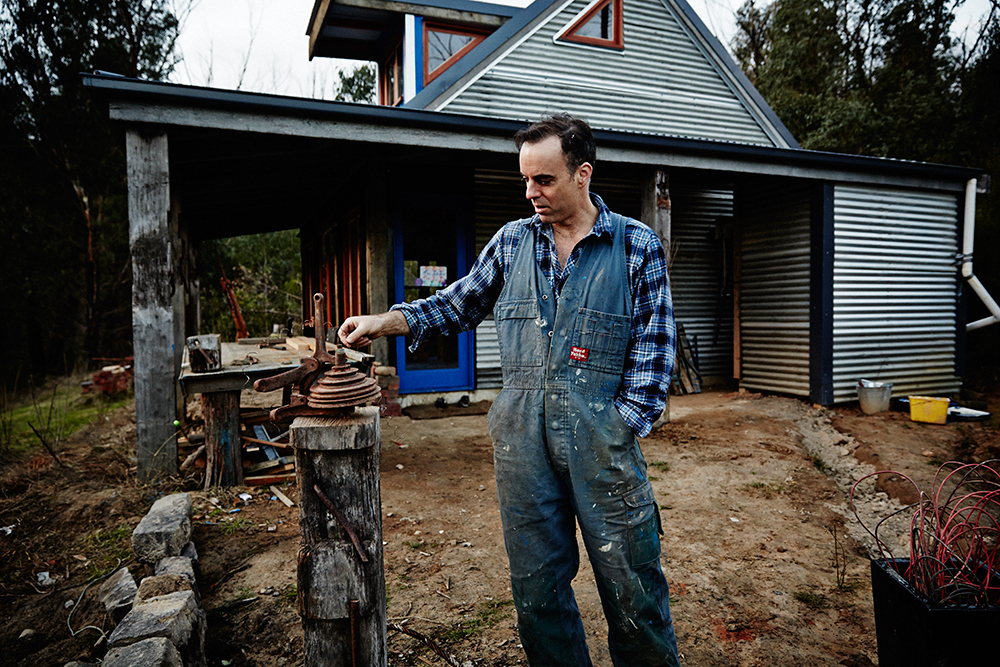 Jul 24, 2014
Dominic Bourke is a teacher, poet, builder and musician. Now based in Beijing with his wife, Celeste, and two children Luella and Raphael, he reflects upon the Strathewen Juke Joint – a retreat he built himself using reclaimed materials following the devastation of the Black Saturday fires.
Dominic Bourke (aka Dom de Plume) is a teacher, poet, builder and musician. Now based in Beijing with his wife, Celeste, and two children Luella and Raphael, here he tells us about the Strathewen Juke Joint he has (temporarily) left behind – a retreat he built himself using reclaimed materials following the devastation of the Black Saturday fires. Photographer (and Dom's brother-in-law) James Geer paid a visit just before the family departed for China.
"In 2004 Celeste and I stumbled upon a Girl Guides' camp that was for sale in the hidden hamlet of Strathewen, an hour's drive from Melbourne. It was in an idyllic little valley nestled into the Kinglake National Park. There was a creek, a 1960s shack, a ropes course and a large sheltered BBQ area. It was our dream to raise little bush kids, with dirty hands and feet, who watched kangaroos and woke to the song of lyrebirds. We built our family home in a clearing and began to raise our two children, Luella and Raphael, growing a sense of belonging to our new community and to the bush landscape. I began a career as a high school teacher and spent much of my spare time tinkering in the BBQ shelter, transforming it into a studio where I could make stuff – furniture, sculptures, paintings and music (I am a member of the hermit country band Wayfaring Strangers).
In 2009 Black Saturday turned our lives inside out. A heavy sadness descended on our traumatised community. Many friends had died in the fire and we huddled together as a community to protect and nurture those who had lost loved ones. Unlike most people in Strathewen, our house survived, but my studio was destroyed. My sense of belonging was lost, it was hard to believe that Strathewen could ever be home again.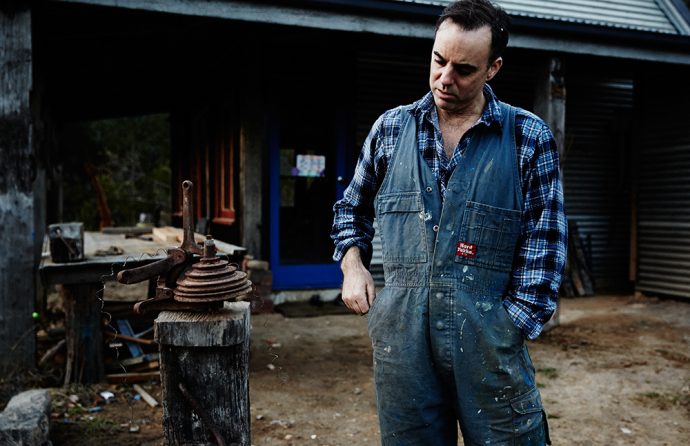 Slowly the idea of rebuilding the studio emerged, somewhat like the plants that were emerging from the ashen landscape. I needed to take my time, the build was to be slow and meditative, a space to deal with my anger and frustrations, a time to heal the wounds of Black Saturday. Firstly I milled timber from the burnt Blackwood and Pine trees, using a portable Lucas Mill. It was beauty from destruction – big thick planks of wood with twirling grains and deep rich fiddleback. I would clad the interior with the Pine and use the Blackwood for furnishings.
To build the frame I bought a truckload of timber from the demolition of the Barwon Heads bridge. I grew up in Geelong and I have fond memories of jumping off this bridge as a teen, along with a few drunken kisses underneath it. The bridge timbers were massive pieces of Ironbark, heavy and hard as iron. I needed help so I called upon my oldest mate, Bern Chandley, a fine furniture maker and a handy carpenter. It took some Egyptian-inspired techniques to raise the beams but our efforts were rewarded. The beams are my favourite feature of the studio – some still have the tar of the road while the large posts have been gnarled by the salty water that lapped against them beneath the Barwon Heads bridge.
To clad the exterior of the studio I needed something cheap and fireproof. A bloke in Strathewen had a pile of scrap corrugated iron – perfect. This is when the idea formed of the studio being a Juke Joint. Just like in the Mississippi Delta, I was building a tin shed in the middle of nowhere; a place where somebody from Fat Possum Records could play some dirty, rolling blues, somebody like Junior Kimbrough or R.L. Burnside. A Juke Joint was to be the logic of the interior design, with a central whiskey bar made of Blackwood. To be honest, the vision of a Juke Joint may remain a fantasy – my valley is very isolated and most people get terribly lost when they try to visit. But in spirit it is a Juke Joint that I have built.
My son and daughter love to spend time with me in the Juke Joint. Raphael's been building a World War 1 bunker outside the studio. He has dug a trench and has covered it with scrap timber and tin. Meanwhile, Luella sits elegantly at the easel painting on small canvases.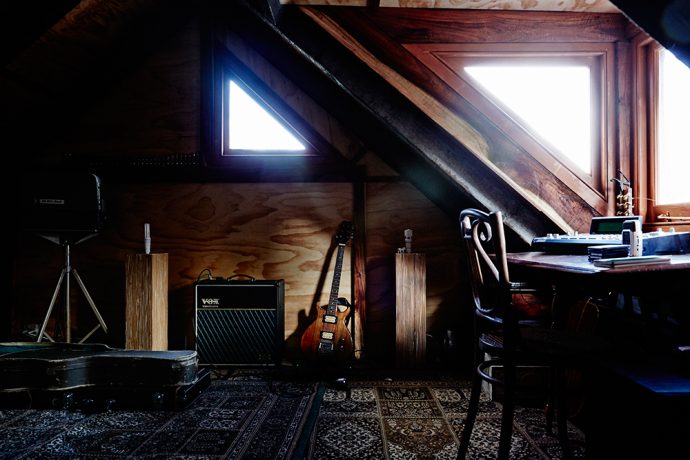 There is a mezzanine level where I have a desk wedged within a dormer window. This is my favourite space. The view takes in the distant rolling hills of my valley with the ridge line of burnt-bare trees poking into the ever changing sky. I lose time sitting at this desk and it's a sweet, relaxing loss.
Strangely I am now far away from my Juke Joint desk. Beijing, China is my home for 2014. I accepted a job to teach Humanities at an International School in the heart of one of the biggest (and most polluted) cities in the world. Just like the Juke Joint I never do things the easy way. My little family needed a new chapter in our lives so that our story wasn't dominated by the sadness of Black Saturday. Our China adventure has exposed us to a way of life beyond our imagining, both inspiring and challenging. It has also helped me define a sense of home that is beyond a physical structure. There was a time when I thought I had lost my home, after Black Saturday, when the burnt landscape made me feel like a stranger in a strange land. Life in China and Strathewen has made me realise my family is where I belong; my home is my family."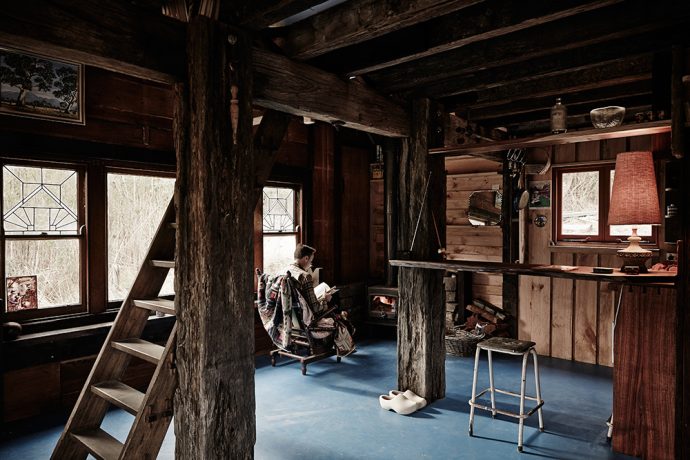 All photos by the exceptionally skilled James Geer. Many thanks to Dom for his time and candour.