HMAS Harry is a nod to revered Japanese musician Haruomi (Harry) Hosono and his profound exotica obsession that spanned several consecutive albums. Sourcing a rare cache of Hosono's tropical works on a recent solo pilgrimage to Japan, Sydney's Lizard Promise DJ has composed a collage of these sounds sprinkled with field recordings he took in the hills of Kyoto.
Lizard Promise DJ is one sixth of decadent party purveyors Pelvis, one quarter of Sydney band Retiree, and 100% Ryan Powderly. Pelvis have long pummelled their holistic approach to dance via monthly nights at Goodgod in Sydney, earning them a solid reputation around the country. Recently they initiated a new southerly mission to Melbourne, with the inaugural 'Melvis' taking place last month (and the second to occur at the end of August). Meanwhile, Retiree are deep into recording new stuff to follow on from their debut EP Together (out now on Juno).
We caught Liz Prom aka Ryan in a post-Japan haze following his most recent trip, which, he says, was spent mostly "riding my Airbnb host's bike around town and eating onigiri from Family Mart". It was on this onigiri-fuelled journey he was blessed to unearth Haruomi Hosono's Cochin Moon, Tropical Dandy, Bon Voyage Co, and Paraiso records, which he sampled and distorted to create this sonic collage in tribute. Having taken a whole roll of film on a 100 yen camera, only to discover every photo had been taken on one negative, exposed 36 times, this composition is Ryan's way of remembering the trip.
Not only has Lizard Promise prepared this special concoction for us, he also collaborated with Pelvis co-initiator Matt Crowley to collage Hosono's record sleeves into unique cover artwork to visually communicate its tropical flavour. See below for your audio and visual enjoyment.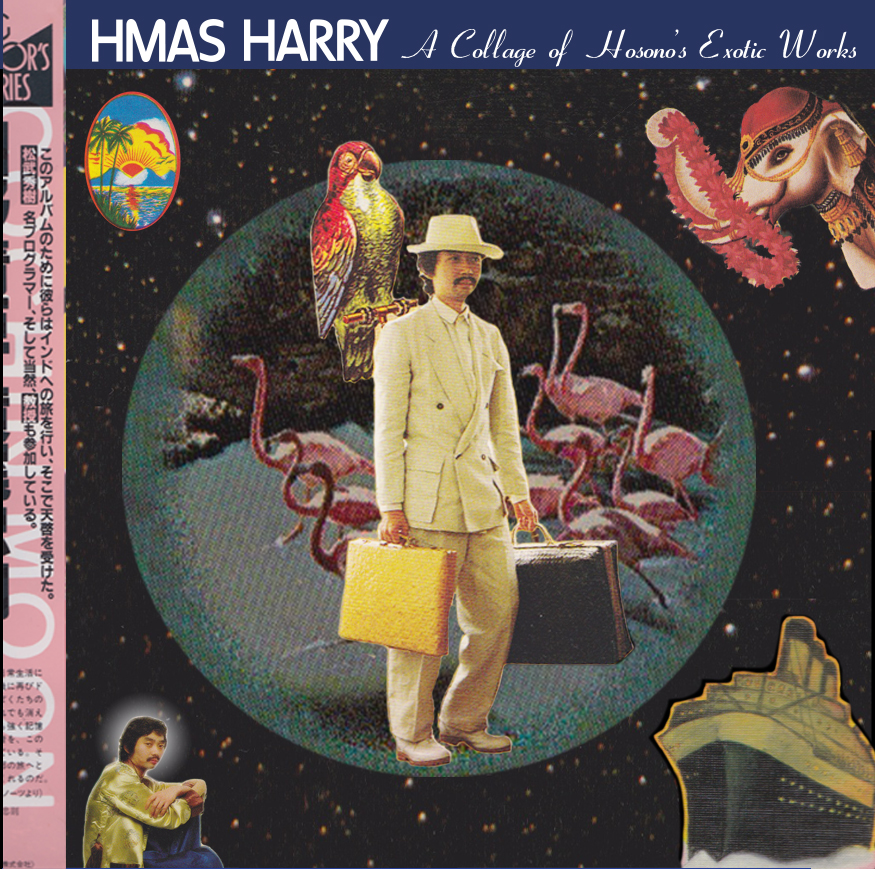 Collage created by Lizard Promise DJ and Matt Crowley for Assemble Papers. Photo (top) of Lizard Promise (left) and Pelvis co-initiator Felix (right) at Melvis by Maclay Heriot, official Pelvis lensman.