Housing
Surface Encounters: The Whitmans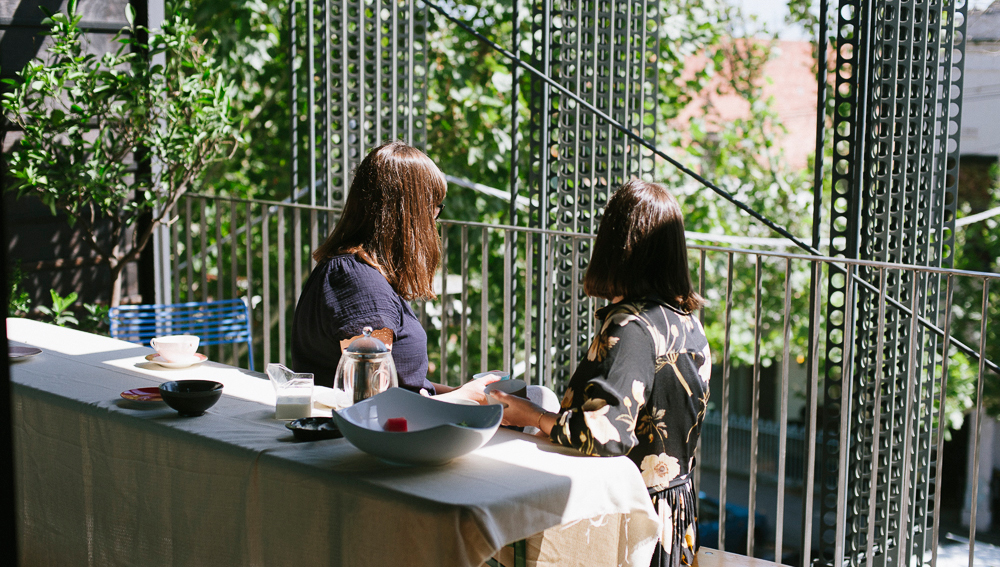 May 9, 2014
Doyens of style, much revered hosts, sisters, and (most of all) best friends, Pollyanna and Phoebe Whitman are formidable forces in the Melbourne creative world. They live in the NMBW-designed 'Fitzroy Apartments' on Kerr Street. Olga Bennett pays a home visit.
Doyens of style, much revered hosts, sisters and (most of all) best friends, Pollyanna and Phoebe Whitman are formidable forces in the Melbourne creative world. Polly is a former stylist and photo editor, who has since helmed operations as General Manager of the Centre for Contemporary Photography and will soon be moving to the Netherlands to conquer exciting artistic projects beyond our shores. Phoebe is an interior designer who teaches at the RMIT School of Architecture & Design, while also experimenting with sculpture and image-making relating to 'surface encounters' and light play (which is also what her PhD is concerned with). Together with two dear friends (Tom and Hannes) and perpetual puppy Hugo, they live in the NMBW-designed 'Fitzroy Apartments' on Kerr Street. Olga Bennett pays a home visit.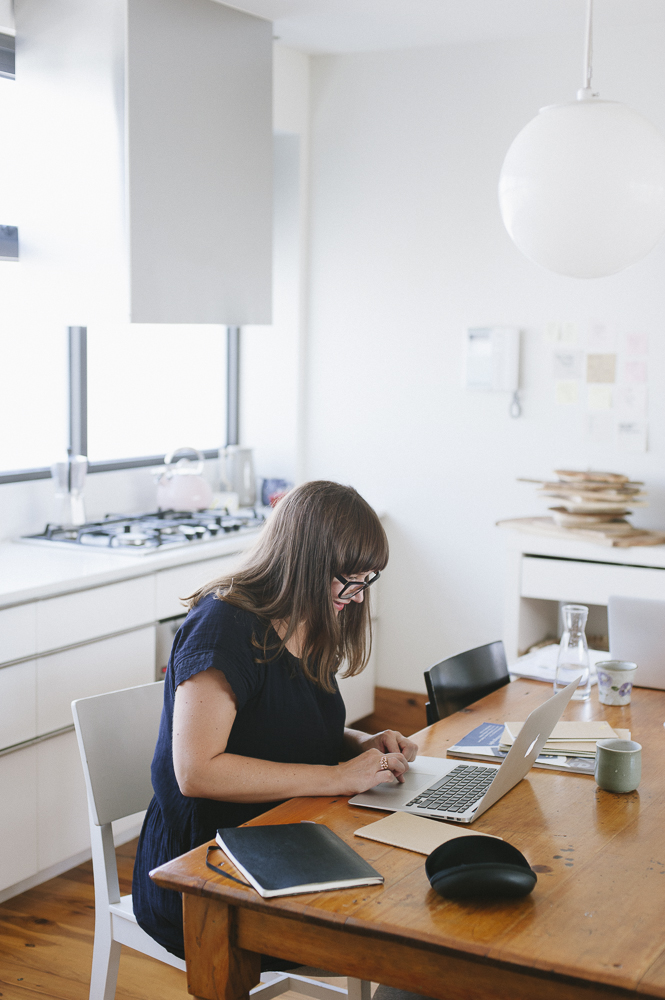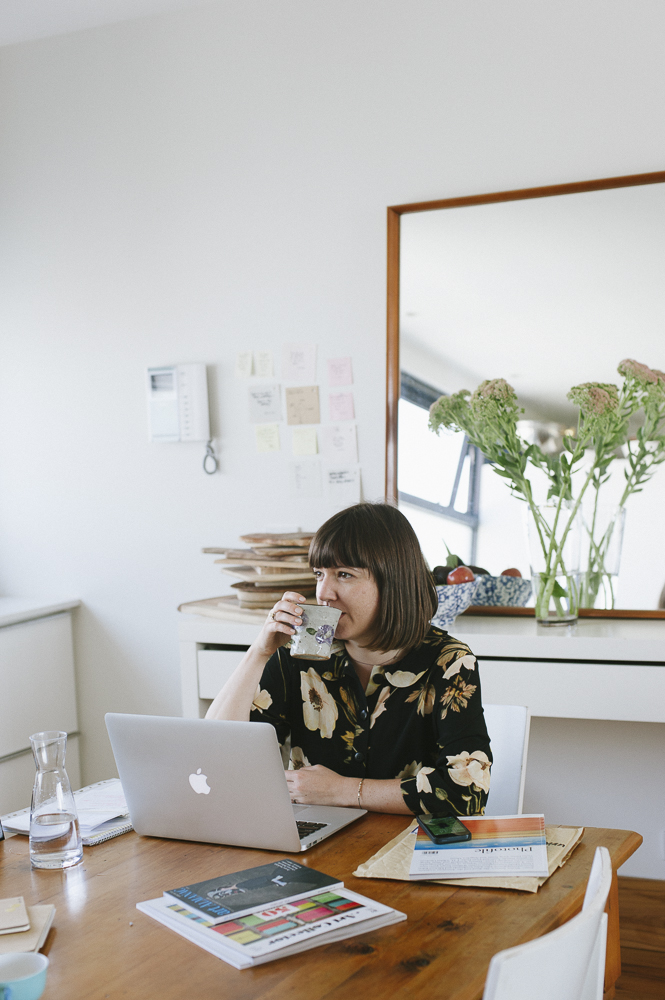 "Home is a space for intimacy and daydreaming. It is for solitude and togetherness. It is a solid base, which enables us to go out into the big wide world every day and take risks knowing that we will always return to a nurturing environment. Having moved many times, home is about an emotion rather then a physical thing."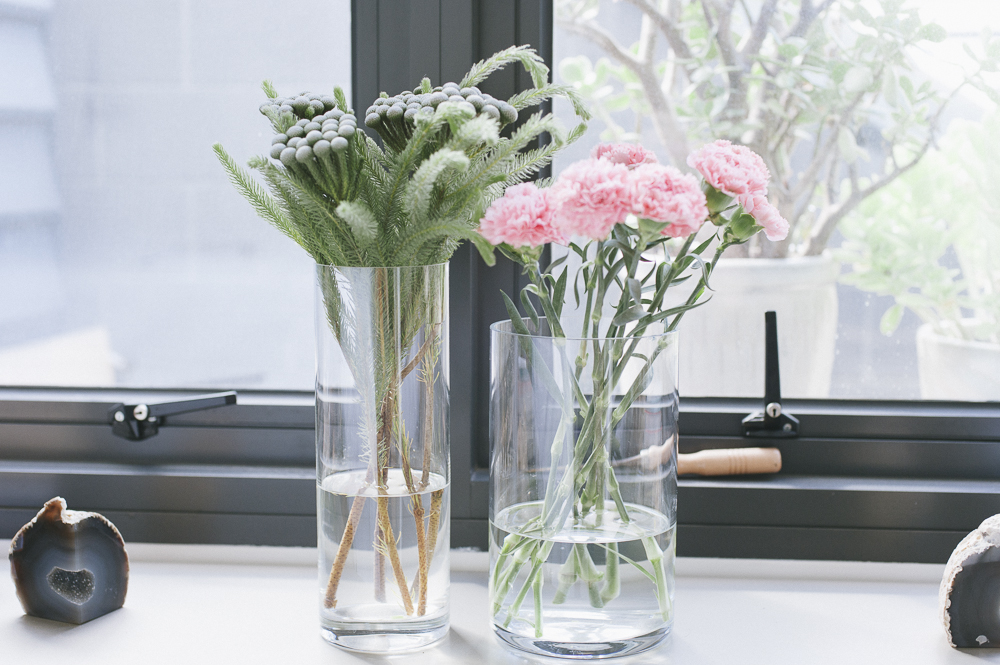 "Before this apartment we were living in a really lovely heritage warehouse space in North Melbourne for five years. We moved to North Melbourne because we actually wanted a lack of choice. We wanted the single coffee shop to go to and the one supermarket to shop from. We were both going through a period of study and introspection and this was a perfect way to eliminate external distractions and hone in on our careers.
By the end of our time in North Melbourne, we were keen to immerse ourselves back into a community. We decided we wanted to live in Fitzroy, as that is where the majority of our friends and activities are based. Fitzroy allows us to easily pop in to exhibitions, do studio visits and catch up with people on a whim. Fortuitously, two very good friends of ours were looking for a similar lifestyle change at the same time so we decided to house hunt together and adopt a co-share approach to life."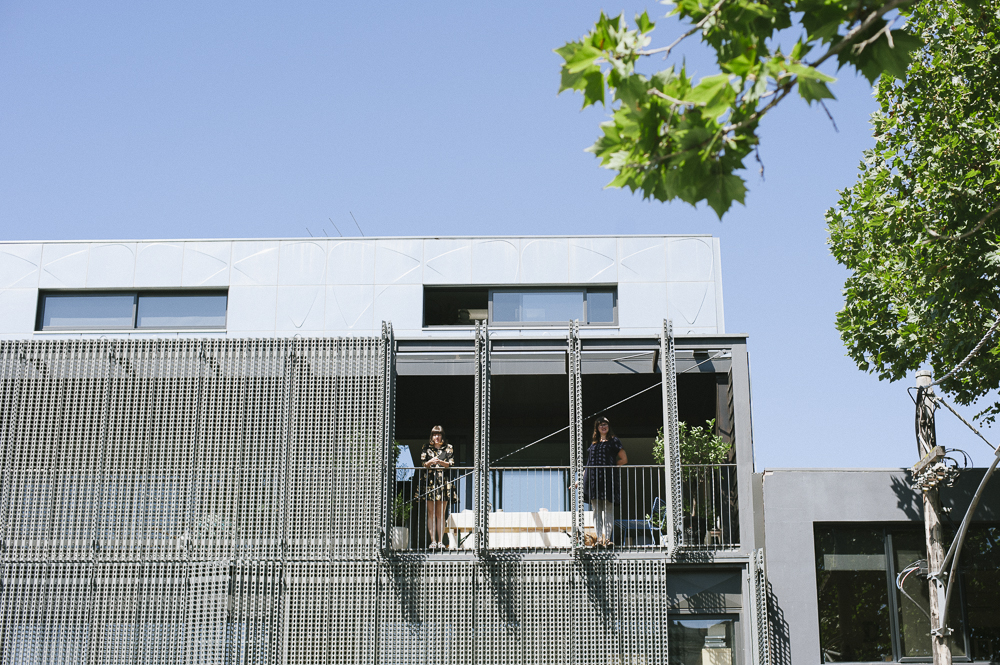 "The apartment building is a mixture of commercial and residential use spaces. Below us is an architecture office and behind us there is an interior design office. Opposite us is a family with teenage kids. At the end of every year before Christmas the whole complex has a block party in the communal space downstairs."
Phoebe: "I had heard of NMBW as I teach in the School of Architecture & Design at RMIT and they designed two spaces I teach in regularly. I had taught in these spaces for some years prior to moving into the apartment and had always admired their layout, as they were unconventional, with open zones and flexible partitions. I also admired their use of materiality; unfinished timbers, concrete floors, brickwork and exposed ceilings. A rather pulled back and restrained approach to design; it works really well in teaching and learning spaces as it's very sympathetic to creativity and making. So when I first encountered the apartment, some of the qualities I had admired about the teaching spaces were evident in the design of the apartment. It's what drew me to the apartment from the interior. However, having said that, the exterior was also incredibly intriguing with its metal perforated façade."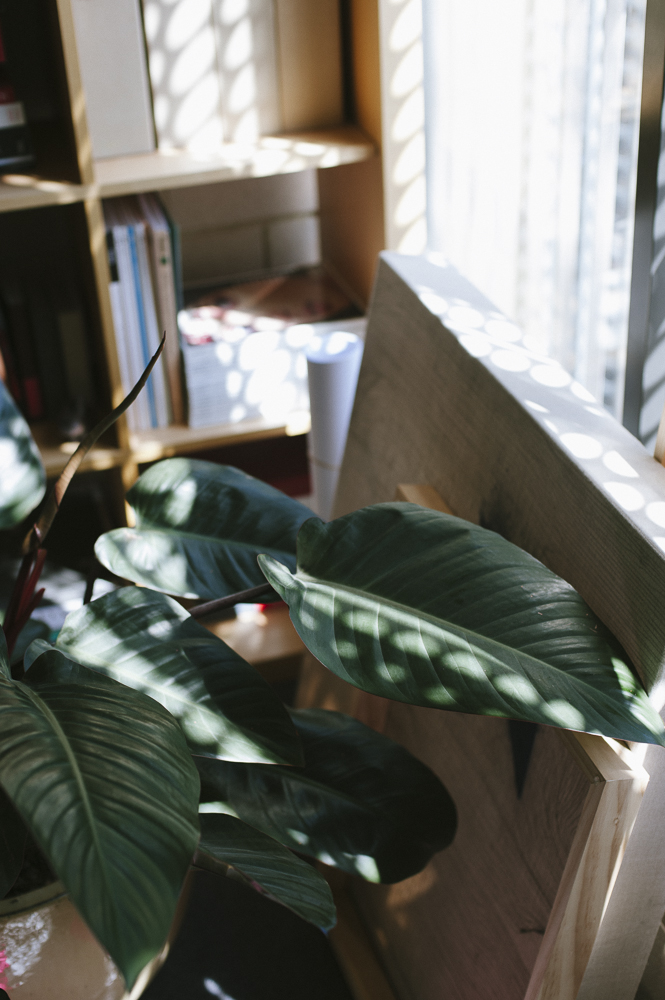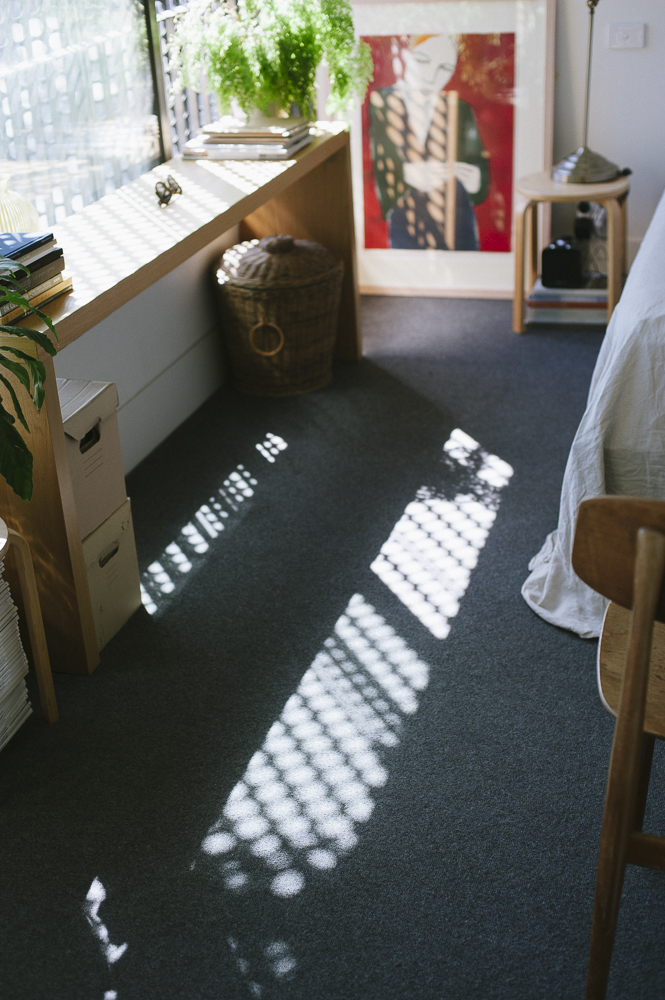 Polly: "From your initial experience of the building, from street level, before you even enter the property, it catches your attention. The perforated screens create a façade for the entire Kerr Street side, which is really dynamic. When you're inside, that perforated screen contributes to the internal atmosphere. Light punctures through the perforated holes in the screens allowing for very lively light play to appear on the surfaces of the apartment."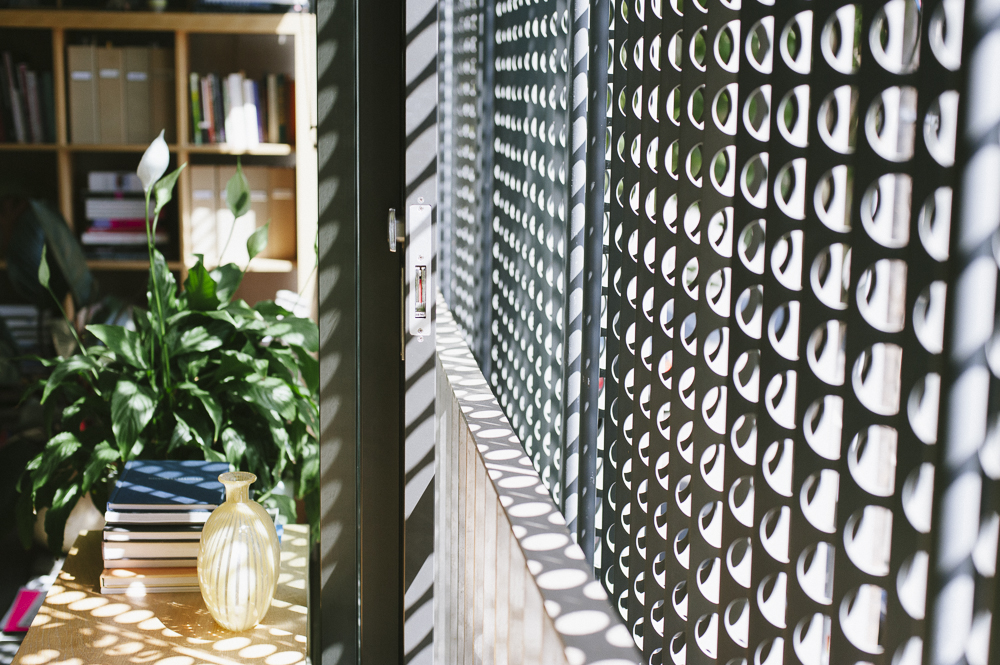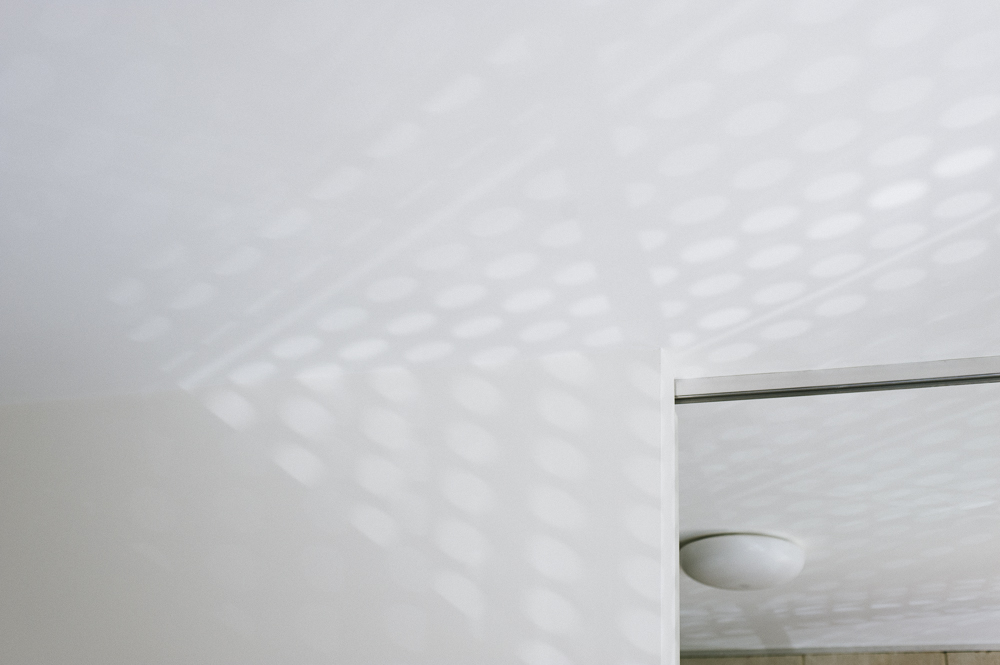 Phoebe: "As the day unfolds, the light continually changes and transforms the interior. The space can be very vibrant and active, especially on a typical Melbourne day where it can go from being sunny to overcast many times. In fact these qualities have become part of my art practice. At least one to two days a week I work form home and it's a ritual to document and capture these light conditions. Often first thing in the morning, when I pull up the blinds, the day performs for me on the surfaces in my bedroom and it certainly sets the mood. On the weekends I've been known to lie there and simply watch the activity occur around me. My boyfriend and sister often yell out to me when there is light play in another part of the apartment. We regularly take the time out of a busy day to observe the magic."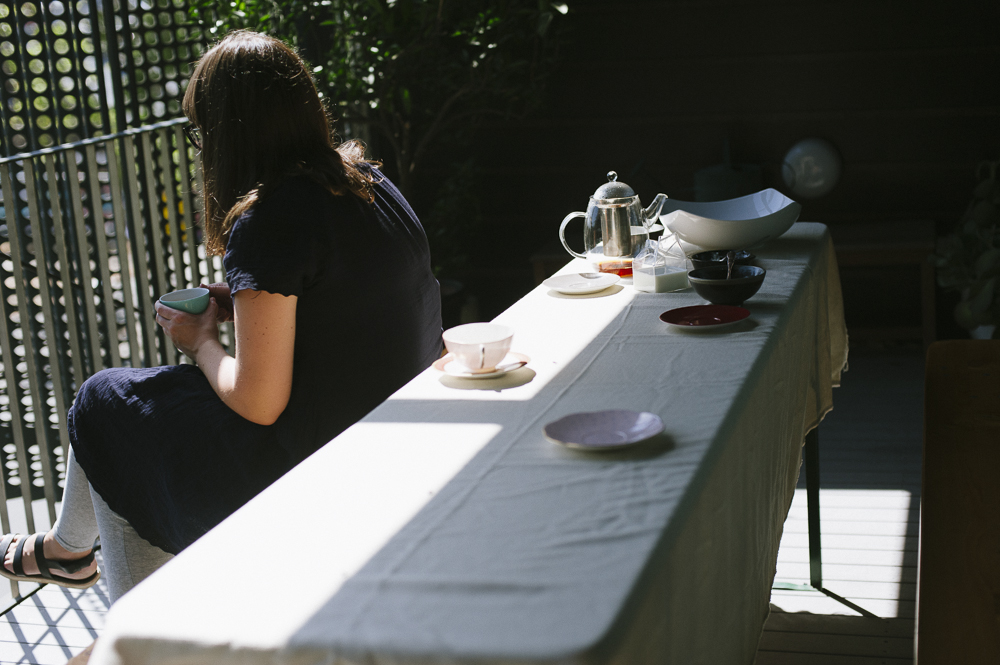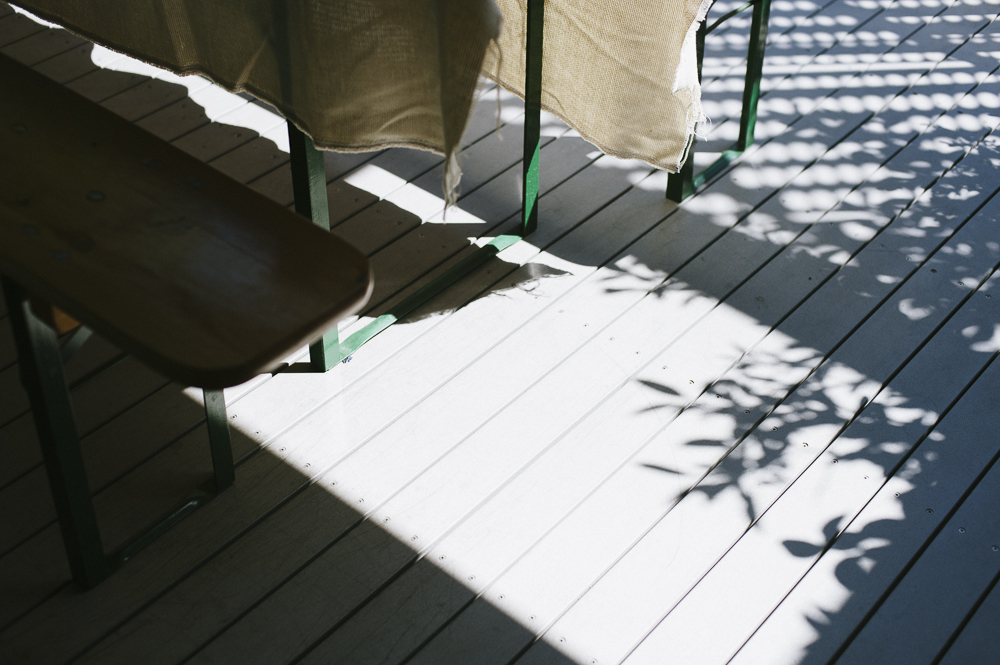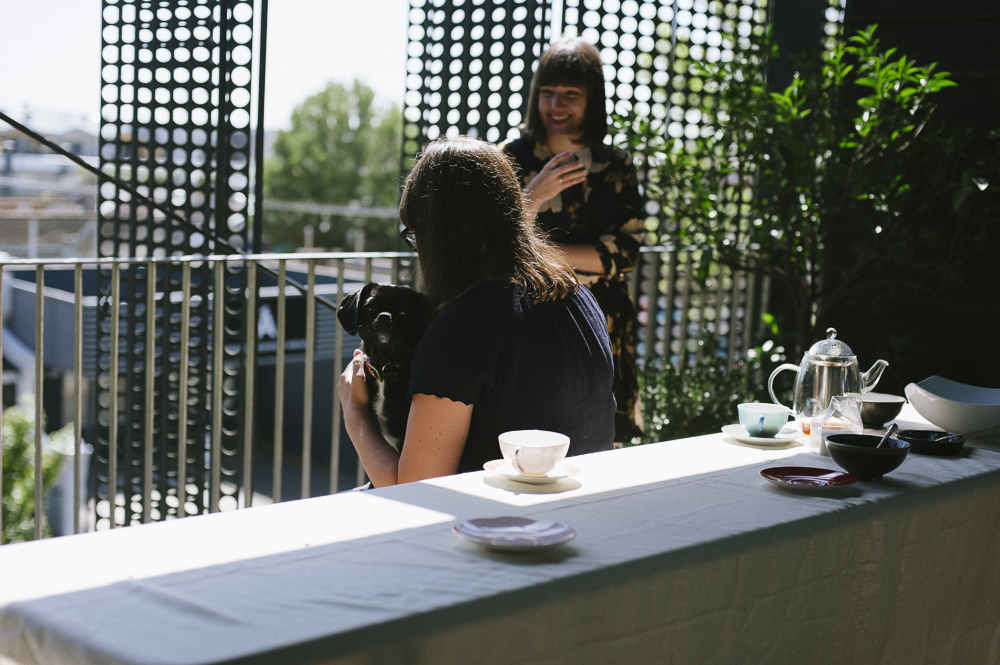 "Owning a dog has been a wonderful addition to our lifestyle as we regularly get up early and together take Hugo to the dog park via our local coffee shop. Hugo is very much loved there and he responds to "walk" and "flat white" with the same enthusiasm. These mornings mean we get at least 30 minutes of conversation in before 7.30am and it's often downloading on the hectic day ahead or debriefing about the night before. I think we both appreciate that we have time to spend with each other in this way. It's quite therapeutic.
Last year, we started hosting 'breakfast sessions' – a once a month, mid week, in-house breakfast on our balcony for a special friend. This was invented as a reaction to the often fleeting conversations we were experiencing at events."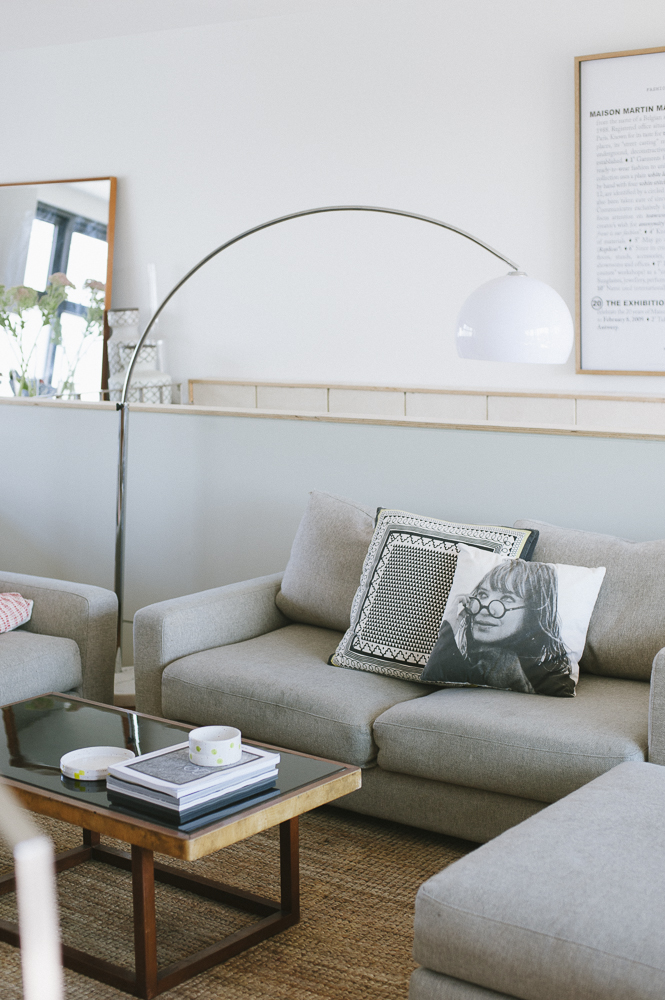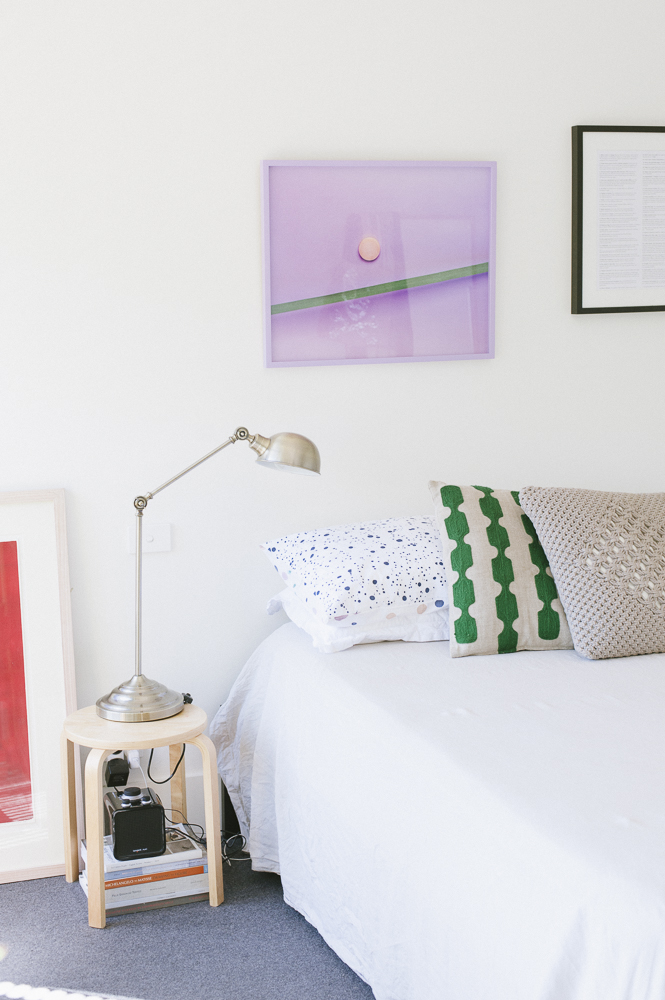 "Pollyanna and myself grew up moving regularly and living in a range of different places from outback Australia to Geneva, Switzerland. This has influenced our approach to living now. We believe creating a comfortable home is very important and we are able to quickly insert ourselves into new places and make them our own. We are drawn to interior spaces that have atmospheric qualities and warmth rather than being considered and designed. However, in this particular apartment, we have both!"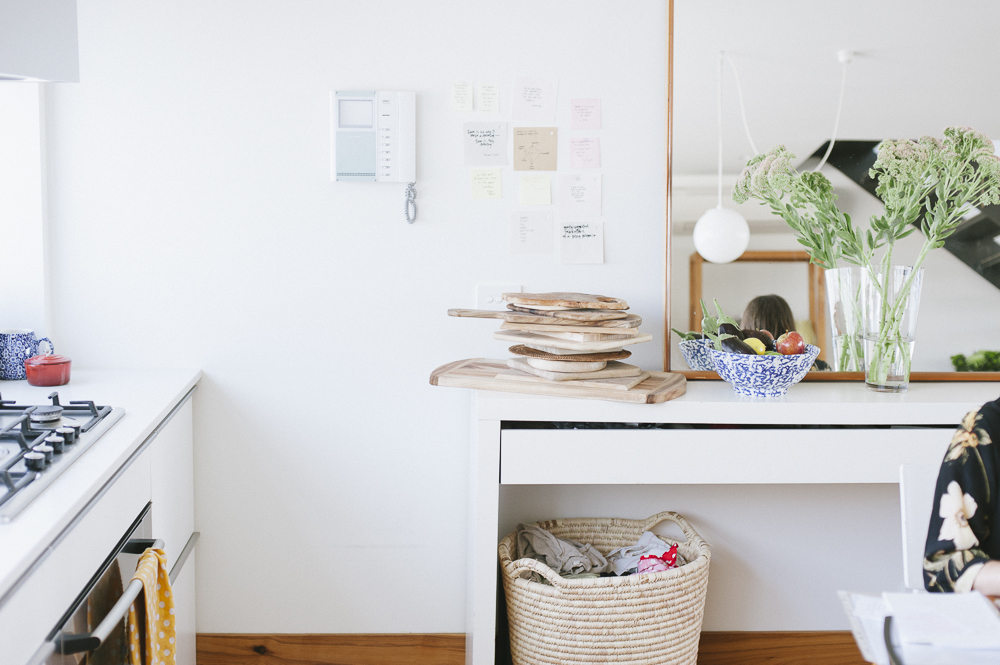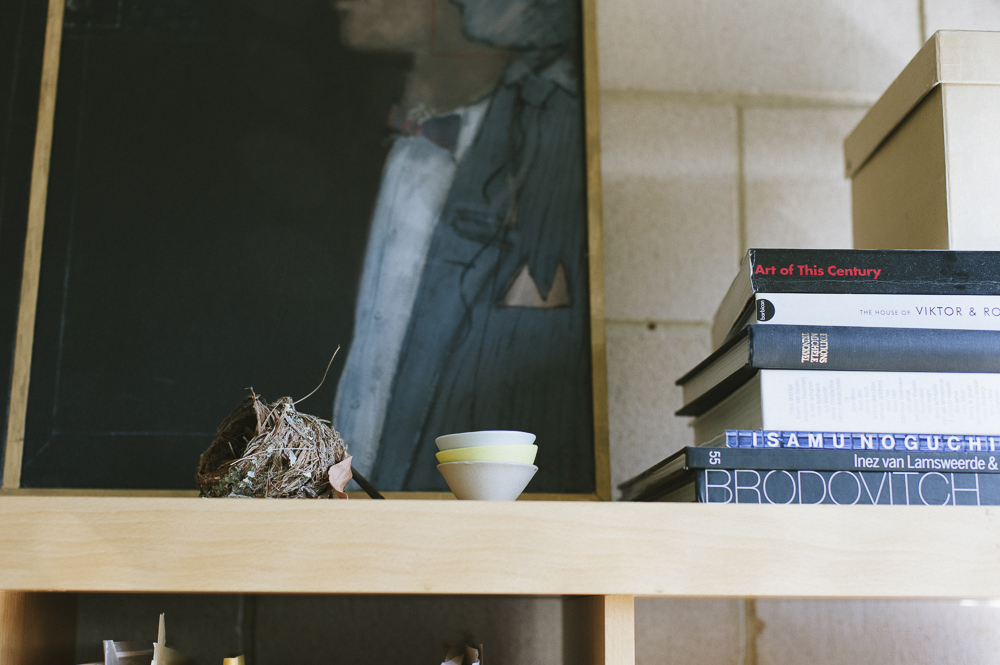 "Because we moved around a lot as children, our mother had the philosophy that if you can't pack a house in one day, you own too much. Subsequently we regret a few things we've discarded in the past. However, we prefer a little bit of regret rather than being burdened by attachment to too many objects. It has made us more conscious in our choices. We bring different elements together. We often play with arrangements and compositions but it's always quite minimal. We don't like clutter, we prefer restraint."
Polly: "I always defer to Phoebe for the final say in arranging elements within our space."
Phoebe: "And I always bring it back to Polly as I feel she has an eye for things and knows more than she thinks. Even though I'm an interior designer, she's an ex-stylist and photo editor so she really knows when to pare things back."
Many thanks to the Whitman sisters for treating us to a 'breakfast session' on their balcony in the mid morning light. Discover Phoebe's 'surface encounters' on her Instagram and Tumblr. All photos by Olga Bennett.