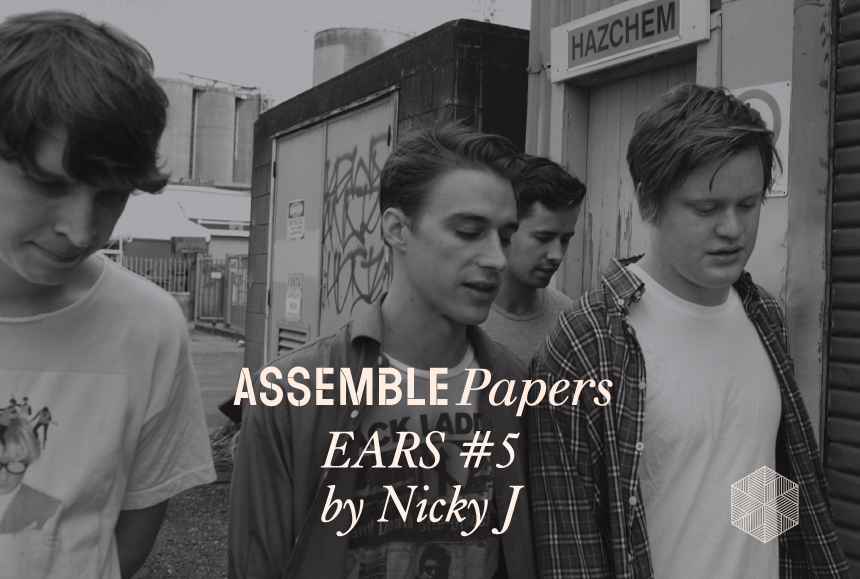 Mar 20, 2014
Summer may feel like yesterday's news but there's enough sun in this mixtape to have you beach-side toting a mojito all year round – lovingly crafted for your ears by Cut Off Your Hands front-man Nicky J over one summer in our hood. Shake off the shift in seasons with a healthy dose of bounce featuring the likes of Chic, Drake, Panther Du Prince, and Melbourne's own Oscar Key Sung.
In the depths of the warmer months, we were lucky enough to have NZ's Nicky J take up residence in Assemble HQ. Not only is he soon to have a masters of architecture under his belt, he is also the front-man from indie rock outfit Cut Off Your Hands. They've had a brief hiatus of late, due to several side music ventures (Bespin, She's So Rad and Nicky's own funky acid house beat project, Creation) and one wedding, but their third album (to follow 2008's You and I and 2011's Hollow) is well underway. We can expect to hear the fruits of their labour later this year.
From Nicky: Here's a wee mixie that I've put together with my good friend Jon Benge, mostly tunes that we were partying to over the month or so I was visiting Melbourne. Hope you enjoy our summer playlist. Thanks for having me melbz, it's been a blast. See you soon, xox.
Ears #5: Summer send-off mix by Nicky J of Cut Off Your Hands – track listing
1 – Wu Tang Clan Vs The Beatles – Daytona 500
2 – Henry Green – Electric Feel (Gespleu Downcast Edit)
3 – Washed Out Vs Notorious B.I.G – Hypnotize Portlandia (Chi Duly Mix)
4 – Drake – Hold On We're Going Home
5 – Hubbabubbaklubb – Mopedbart
6 – Oscar Key Sung – All I Could Do
7 – Africa Hi-Tech – Light the Way
8 – Hauschka – Taxi Taxi
9 – Blood Orange – Chamakay
10 – The Funkees – Akula Owu Onyeara
11 – Chic – I Want Your Love
12 – Panther Du Prince – Lay in a Shimmer
13 – Grimes – Skin (Four Tet Remix)
14 – Flying Lotus – Aunties Lock Infinitum
Summer send-off mix by Nicky J of Cut Off Your Hands by Assemblepapers on Mixcloud