Future Visions
Silvia Ullmayer on 'In-Between' and collaborative co-housing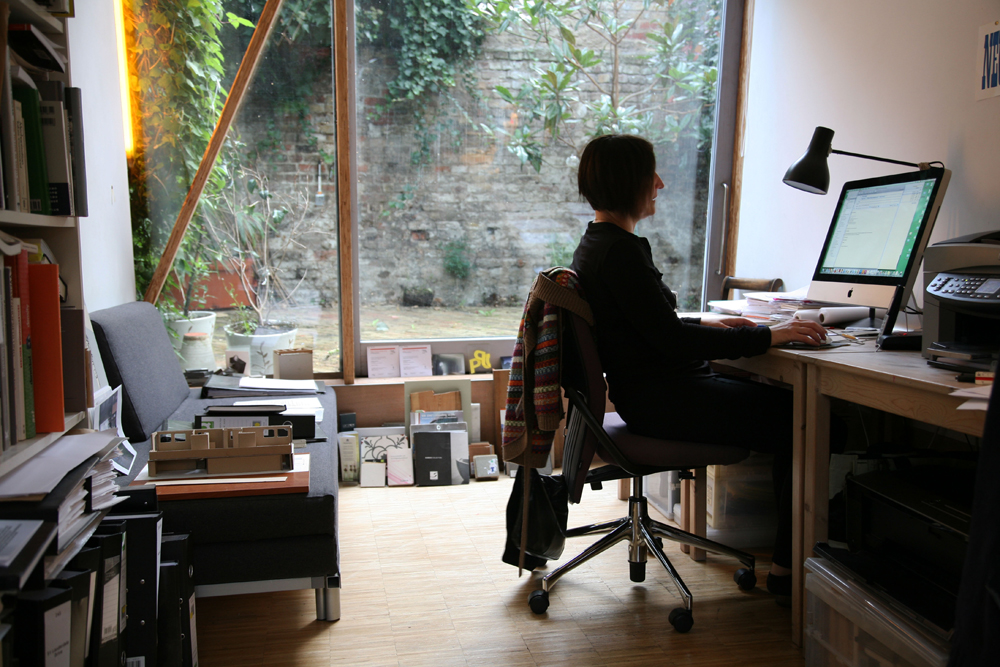 Nov 11, 2013
Our London correspondent Henrietta Zeffert visits the Hackney self-built home of architects

Silvia Ullmayer and Allan Sylvester

. Ten years ago, newly graduated, poor, and in need of shelter they clubbed together with friends to build 'In-Between', one of three small homes in a collaborative, cohousing project. As renting, owning and living in London becomes increasingly unaffordable, Silvia summarises their prescient philosophy for designing, building and living as 'simple and crude but extraordinary'.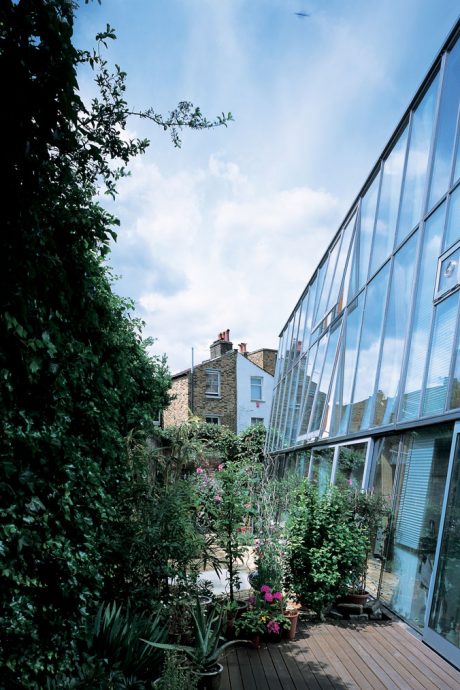 I dream of a house, a low house with high
Windows, three worn steps, smooth and green
A poor secret house, as in an old print,
That only lives in me, where sometimes I return
To sit down and forget the gray day and the rain.
André Lafon, Poésies 'Le rêve d'un logis'
I met Silvia Ullmayer on a handsome morning in early autumn. A dreamy blue backdrop of sky even made possible a sense of poetry amid the snarl of London's peak hour traffic slurring through road works as I journeyed on a red double decker bus up to Hackney. From the junction, bustling at 10am with the Ridley Road market, I ducked down a backstreet to a café with the unlikely name Tina, We Salute You and sipped my coffee in the sun sitting on a low fence beside St Matthias', opposite a little park and playground, for a moment listening to the rhythms of the neighbourhood. It was to be the last of the beautiful days before winter descended with shocking dullness, stirring the city out of its blissful but ultimately elusive dream of a long summer.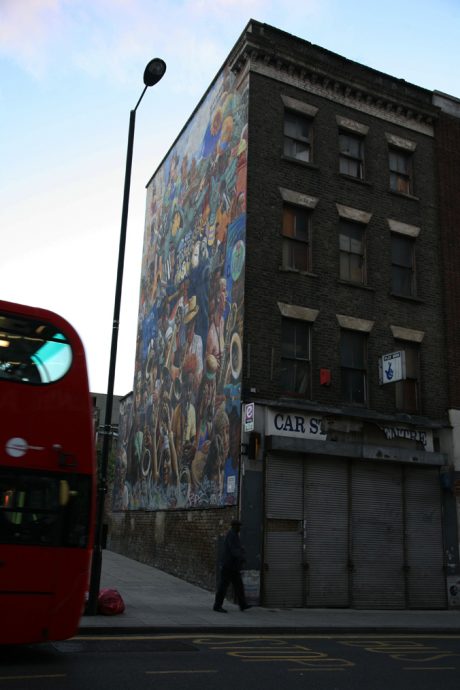 This sense of calm evaporated as fast as English sunshine when in a small moment of panic my artillery of mapping devices failed to locate Silvia's house in between tight rows of purl knit terraces. But, stumbling over some Jurassic-looking succulents in pots, I found a gate, beyond which lay Whatcott's Yard and the distinctive shape of 'In-between', tucked quietly into the landscape.
In-between is the perfect name for Silvia and Allan's home. Built from 1999-2004 on a skinny plot of land between traditional Victorian terraces, its design sits somewhere between conventional categories of housing. In-between is also a prescient comment on how perceptions of home are slowly shifting to accommodate new ways of thinking about dwelling and living in the city. With their home, Silvia and Allan have created a space in between London's increasingly unaffordable rental and home ownership market, and a space in between two extremes: cheap, cookie-cutter housing at one end and exorbitantly expensive (but risibly tiny) luxury homes at the other. In the gaps, they have collaborated to build a home that is growing, like the succulents, in the shape of their life. It's a home that invites an imagination of how we could live differently.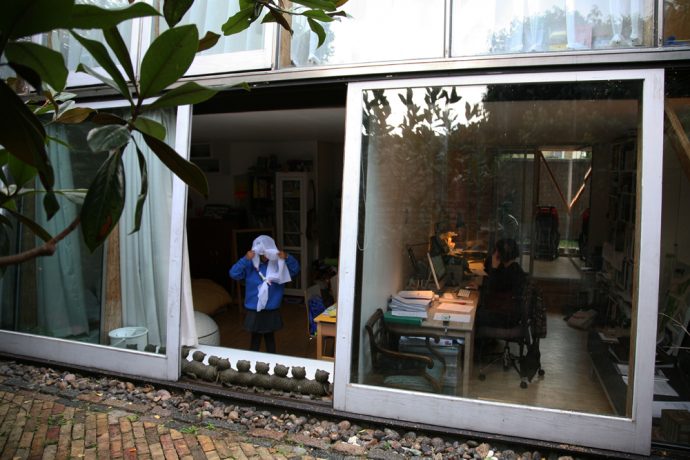 Ten years ago, Silvia and Allan along with a handful or so other young architects and designers found themselves newly graduated, poor, and needing a home in London. Priced out of the market and unable to afford anything but the most unappealing shoebox on the outskirts, they clubbed together and searched for land. Whatcott's Yard had once housed light industry but when they came across the site, the previous building had already been demolished. It was an ideal canvas for a collaborative, custom build, cohousing project. Silvia smartly summarises their shared philosophy for designing, building and living as "simple and crude but extraordinary".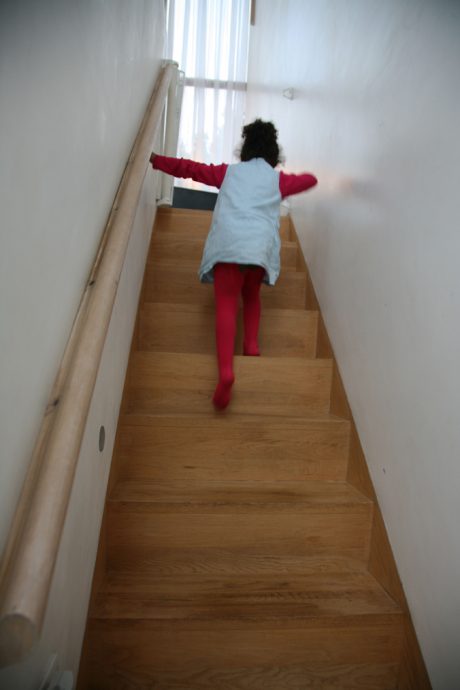 In-between rises up three storeys in a tall glass frame divided into three equally sized homes of roughly forty-five square metres, all of which are owned by the original crew. Inside, each home has a unique layout, flexible and adaptable to the needs and taste of its residents. Silvia, Allan and their two beautiful girls, Leia and Amaris, live – fittingly – in between their neighbours. Silvia and Allan work together from home in a light-filled office on the lower ground floor. Planning permission for the original design was conditional on lowering the total height of the building, as well as minimising loss of sunlight to, and reducing sightlines into, surrounding properties. These were minor objections considering what is a stunningly novel design – a sign, perhaps, of a more enlightened council and planning process in Hackney than is usually experienced, and of the creative-artistic culture that typifies East London. The solution was to sink the building 40cm below ground, giving the space a subterranean feel – a soothing sense of being deep in the garden – and sloping the glass inwards on both sides. With its elegant taper, the building is more interesting now than the original design. So often planning red tape forces seeing designs in a new way, compelling surprising adaptations that could not have been imagined before.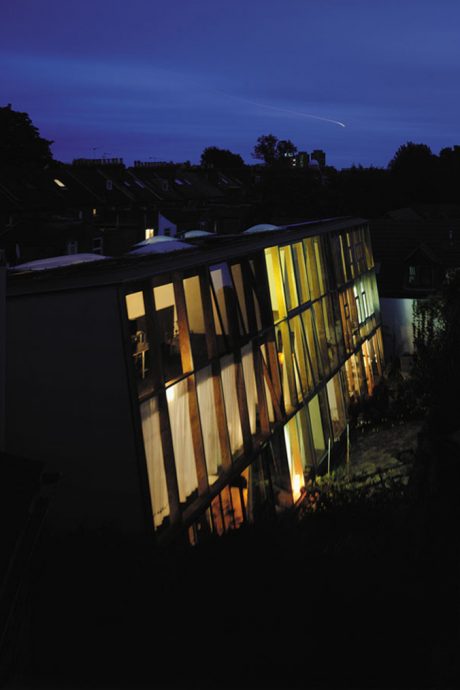 The great walls of window let the outside into the home. As Silvia and I sat and talked, my cheeks grew warm in the sun – I squinted through bright light, looking out to blue on all sides, as if floating in a sea of sky. Even on gray days, light and heat are lured in and trapped, affording more breath and spaciousness than most English homes.
Despite the clever design, affordable build, innovative spaces, and unassuming beauty of Silvia and Allan's home, London councils are unwilling to invest in custom-build, cohousing and collaborative projects such as this. This style of building, involving using traditional but less predictable materials such as wood, and self-building on site, is risky for investors who want the sort of security that developers offer with shrink-wrapped, trucked-in homes – the sort of housing that is first a tradable commodity, and only second a home.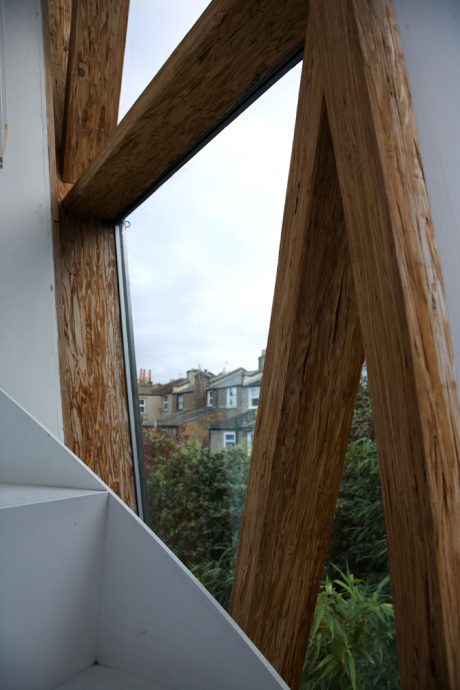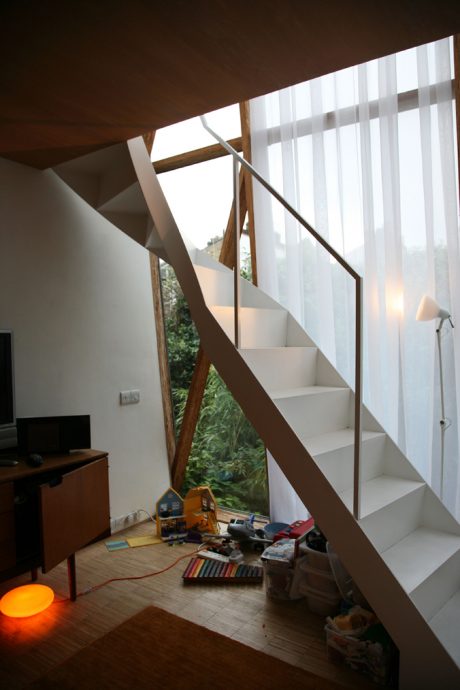 Silvia says we need to turn to private investors who are willing to help a custom scheme get off of the ground, and ultimately pressure governments to put faith in these schemes. In-between was funded through a mixture of joint savings, the Self Build Mortgages schemes, and money earned while the project was built. It can take years for cohousing groups to find land and secure funding, despite the passion, energy and genuine vision they put into creating housing in a market that is desperately in need of alternatives. There is a role for architects in advising local councils how to transform existing housing stock – much of it in disrepair and unlivable due to low housing standards in the UK (though this may soon change with the new National Housing Standard). Councils also need to lift restrictions on converting industrial into residential spaces. Silvia is teaching the next generation of architects to think about these alternatives through her cohousing unit taught at the Cass with David Kohn.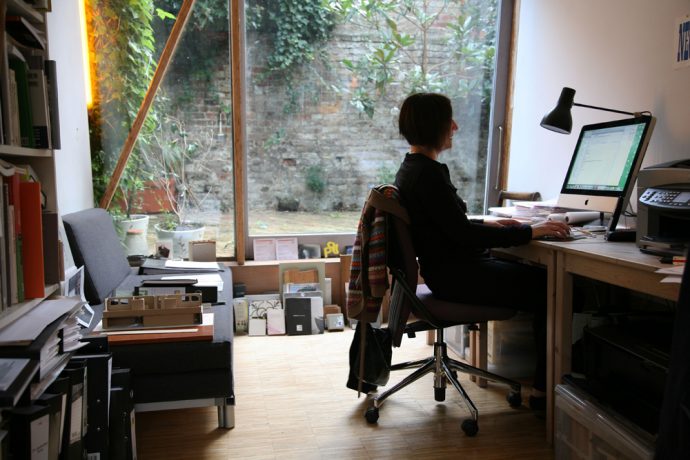 Young Londoners, Silvia warns, will soon not be able to afford to own homes in the city. She predicts either revolt – and loud demands for affordable housing – or sheer mutiny, when people and businesses will move out of London to the north of England where land and housing is more affordable and abundant. But, she says, in the wake of the housing bubble attitudes are changing, and have to change. Now fifty percent of Londoners rent their homes. If only by virtue of that near majority, renting is slowly becoming socially acceptable, indeed desirable – and not just an alternative to ownership.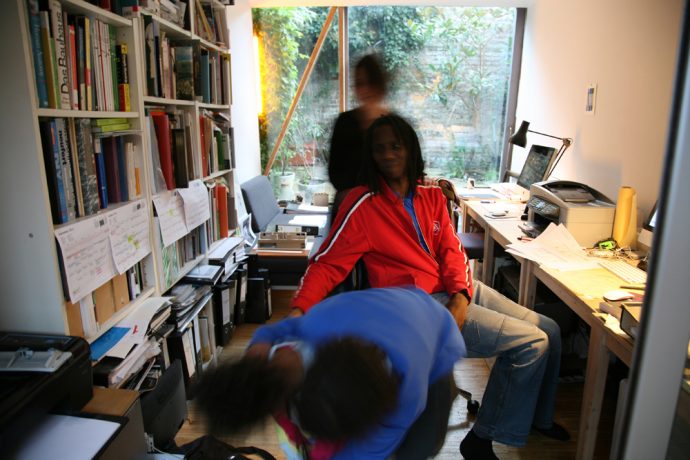 Despite this, in England a man's home is still his castle. Ownership remains a national obsession. The conservative government is pushing people onto the property ladder (or snake, as commentators wryly poke) with the Help to Buy scheme, which allows first home buyers to borrow up to 95% of a deposit on homes under £600,000. This is exacerbating an already unsustainable climate of housing shortage and price explosion. The government is also reluctant to amend legislation to make renting fairer for tenants and landlords. Currently rental leases are short term, offering tenants no security and not reflecting the reality that people do not want to move homes every six months or one year. This is a striking contrast to continental Europe where renting has long been the norm and people live in rented properties for decades, not just until they can afford to buy.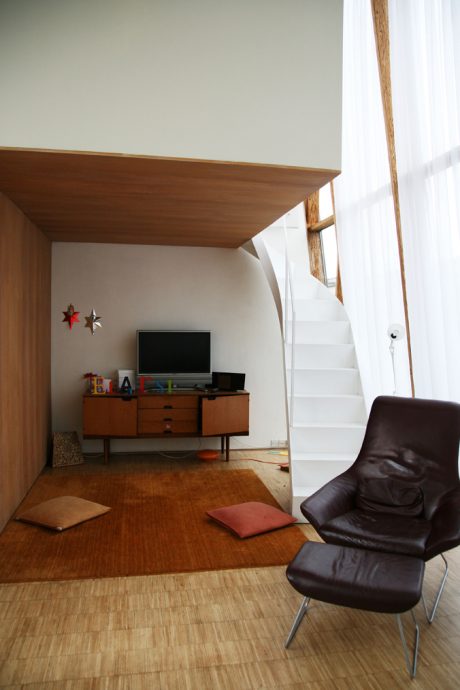 Extremely high land value has also made London a lucrative market for foreign investors, leading to the absurdity of dark streets full of empty, unlit homes in premium areas like Kensington, occasionally visited by their peripatetic owners. It's a phenomenon even the New York Times is talking about: Michael Goldfarb describes the London property market as being 'no longer about people making a long-term investment in owning their shelter, but a place for the world's richest people to park their money at an annualized rate of return of around 10 percent.' The collective pursuit of material self-interest even after the 2008 market crash that has marked our society for the past three decades is healthy in London. Yet both defenders of capitalism and its critics still need a place to call home.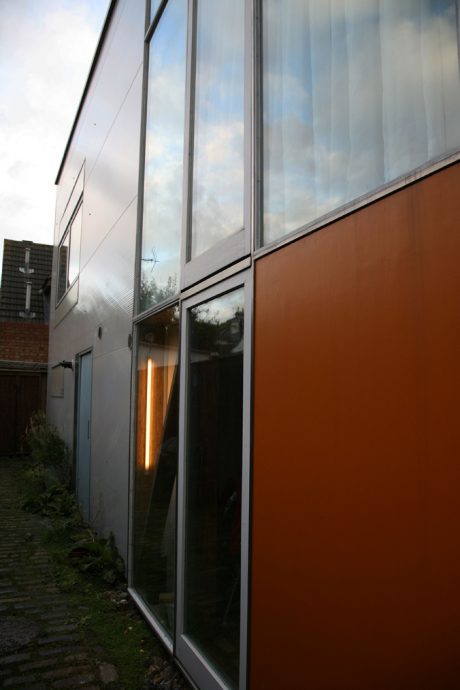 There is a misperception that security is only guaranteed by home ownership. Renting may in fact offer a model that better responds to the reality of contemporary urban life because it enables people to change the style, shape, size and location of their home with greater ease and can accommodate rapidly changing demographics with more people today living alone or in sharing arrangements. Cohousing and collaborative building are characterised by some shared elements and are notable for their economical and energy efficient credentials. In-between for example shares a garden and parking area. In bigger cohousing schemes, like LILAC, residents might have a common dining room and laundry, a shared car facility, play areas and regular community meetings. At the heart of cohousing is a common philosophy about positive social interaction and greater involvement in decision-making about how a neighbourhood, big or small, works. Cohousing schemes lay the foundations for a deeper attachment to home, family and neighbourhood, as well as respond to the increasingly prevalent experience of social isolation and loneliness, especially in a metropolis like London.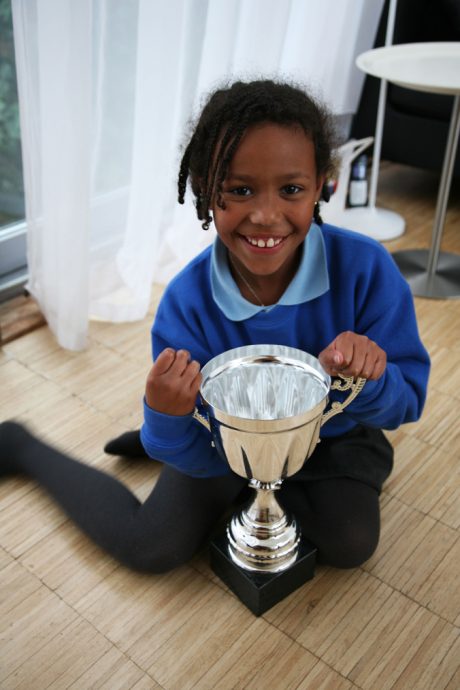 Whether it's called cohousing, self-build, custom build, self-provided housing, collaborative housing or intergenerational housing – the still experimental vocabulary of housing, despite established precedents – these are just some possible responses to today's rather limited housing typology which demand further exploration to ensure the continuing livability and sustainability of city housing.
In-between is not only an innovative cohousing solution but also a home that can be designed around the changing needs of a family. When Amaris was born, the double height bathroom was sliced in half to create a second loft room on the third floor (with a beautiful porthole to let in light), and the ground floor office will become a bedroom when the girls need more space, so Leia proudly tells me. In-between has won a clutch of awards, but it's Silvia and Allan's own endorsement that seems most important. In their practice they attempt to make high quality, beautiful yet economically viable projects and environments. Silvia says: "The stuff of life makes us hum. We question and reinvent typologies with a sense of optimism."
In-between is a home of imagination. It is a home born out of a desire to live differently and an endeavour to find and build in a space that sits in between conventional housing arrangements in London. It is a home that invites playfulness in children and adults alike and evokes a sense of that old, possibly lost, right to roam in the city. In-between's plunging windows, its porthole to the sky, and the loft room designed for dreaming remind me of Jules Superveille's evocation of home in his 1934 poem Les Amis Inconnus:
All that makes the woods, the rivers or the air
Has its place between these walls which believe they close a room
Make haste, ye gentlemen, who ride across the seas
I've but one roof from heaven, there'll be room for you.
Ullmayer Sylvester Architects are a young practice incorporated in 2005 following their participation in collaborative housing project In-Between. For more information on their work, visit: ullmayersylvester.com. Thank you to Henrietta Zeffert for the words and pictures and thanks also to Karoline Mayer and Kilian O'Sullivan for additional images.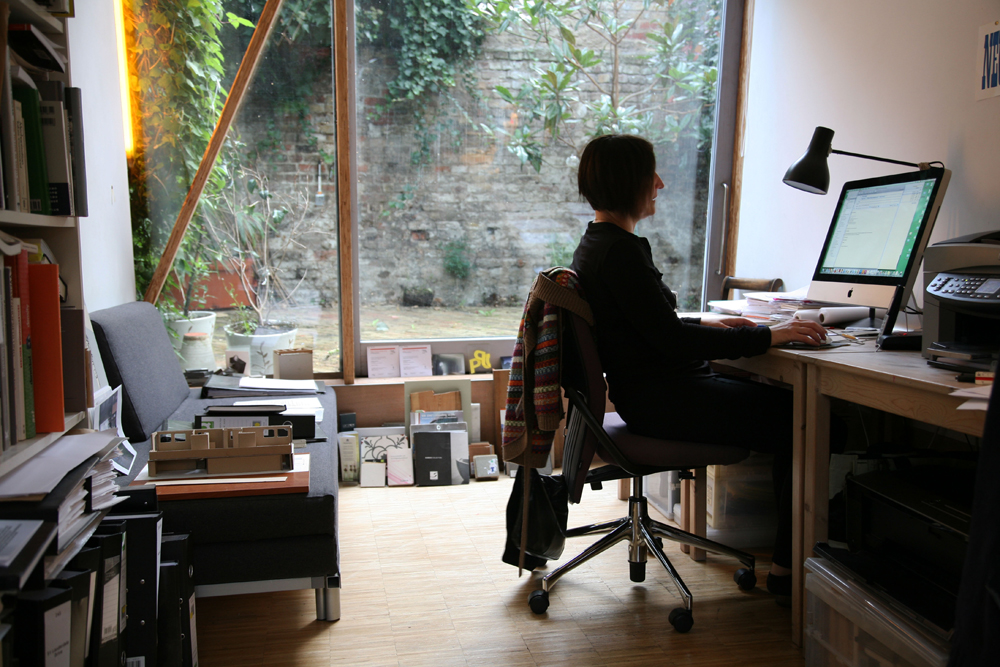 Silvia Ullmayer at home… and work in the Ullmayer Sylvester office. Photo by Henrietta Zeffert.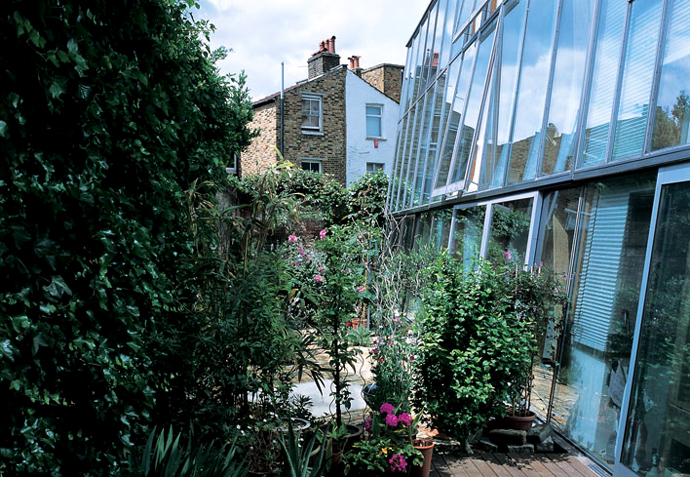 Simple yet visionary. The three-level, glass window-walled cohousing development built by Silvia Ullmayer, Allan Sylvester and friends. Photo by Kilian O'Sullivan.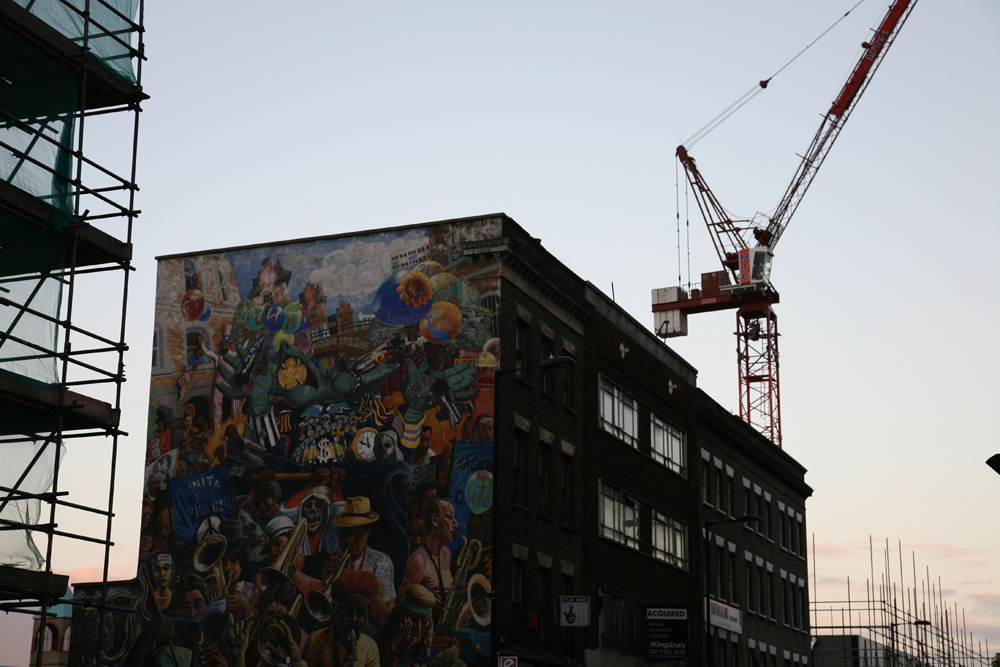 In fast-gentrifying East London and Hackney, many young people, or those on modest incomes, are getting priced out of the rental and ownership markets. Photo by Henrietta Zeffert.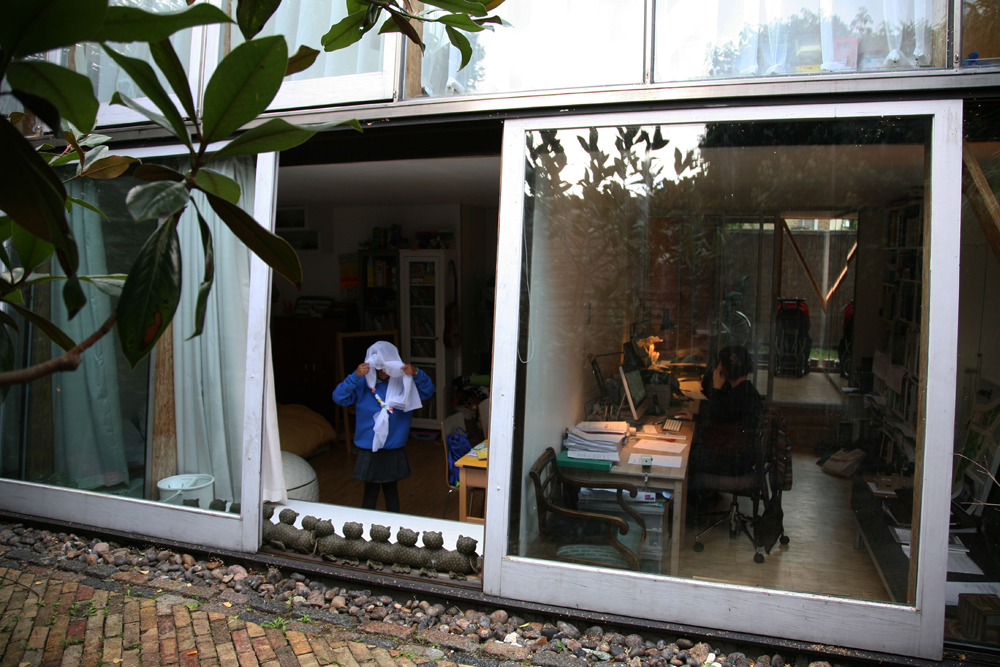 A house built for living. 'In-Between' is the family residence of architects Silvia Ullmayer and Allan Sylvester. Photo by Henrietta Zeffert.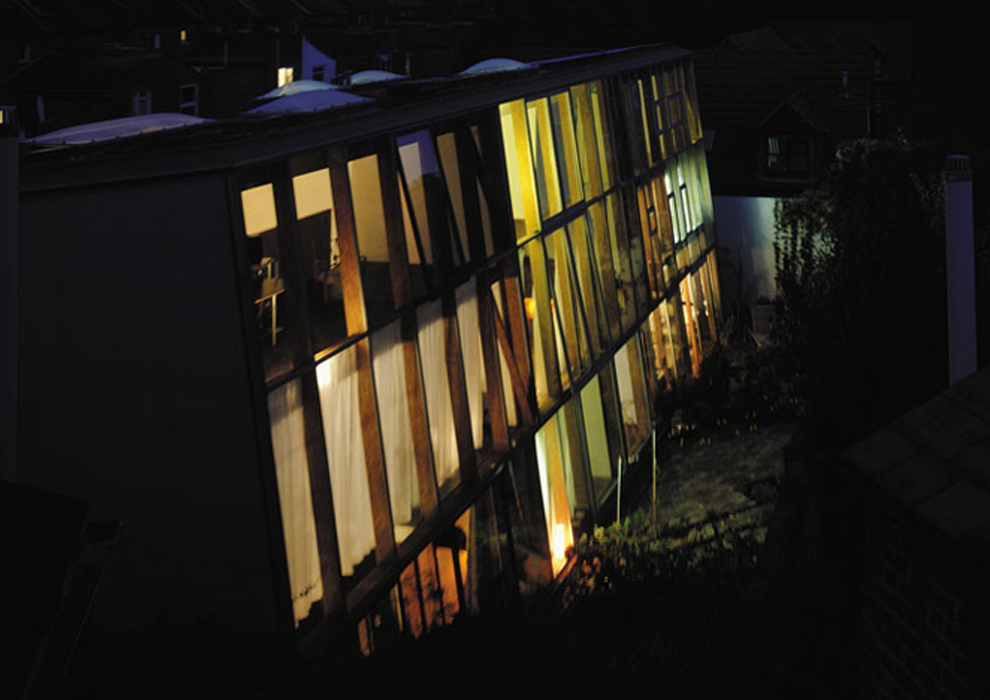 Whatcott's Yard is nestled between rows of traditional Victorian terraces in Hackney. Photo by Kilian O'Sullivan.