Culture
Spring leaves and sunshine mix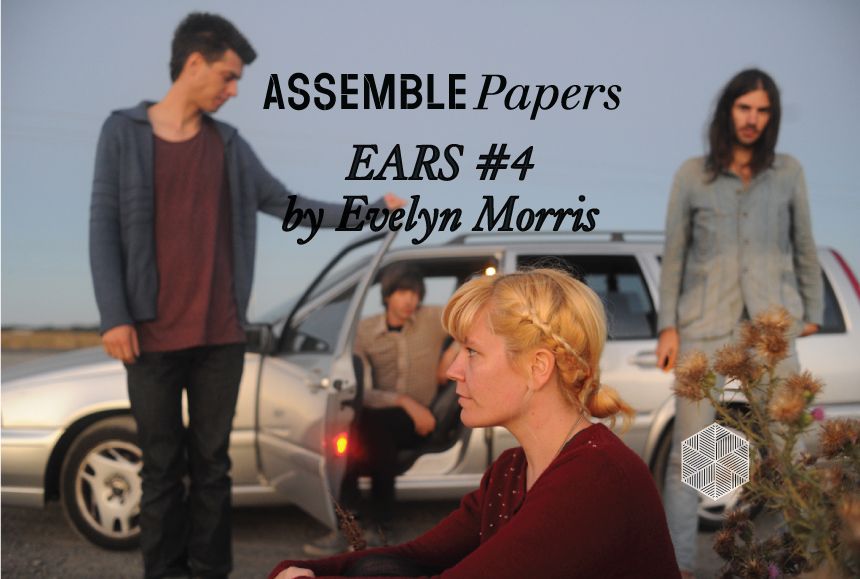 Sep 19, 2013
We've loved Evelyn Morris since forever. From her one-woman gigs in sticky-carpeted venues (where she sang and played every instrument under the sun) to closing our eyes to the full-band sound of her kaleidoscopic sophomore album Stem, she had us at a bespectacled hello. Lucky you, good listener – to send in Spring, the frontwoman of Pikelet has made this mix just for you.
Melbourne-based Evelyn Morris started her musical career as a hardcore drummer in local bands Baseball and True Radical Miracle. Around 2006, while playing drums for lo-fi LA superstar Ariel Pink on his first Australian tour, Evelyn was also making her own musical experiments. Layering ethereal vocals over guitar melodies and the decidedly 'un-hardcore' accordion, Evelyn ultimately founded her own synth-pop project, Pikelet. Pikelet has toured in solo and band mode (with players Matthew Cox of Witch Hats on drums, bassist/guitarist Tarquin Manek of Bum Creek and on synth Shags Chamberlain of Lost Animal), with Dirty Projectors, Devendra Banhart, Broadcast (farewell Trish Keenan), Shellac, Sufjan Stevens, Beirut and Goldfrapp.
Pikelet's third album Calluses has just been released through Chapter music and the band is halfway through an east coast tour to mark the occasion. We particularly love the Kate Bush-eqsue vocal calisthenics towards the end of the track Festivas. Upcoming gigs include Hobart (Brisbane Hotel, Fri 27 Sept), Melbourne (Curtin Bandroom, Sat 5 Oct) and Brisbane (Black Bear Lodge, 11 Oct). From the early inspirations of Colleen's atmospheric 'Goodbye Sunshine' to David Shire's haunting piano motif for Francis Ford Coppola's The Conversation, enjoy Evelyn's selections and accompanying field notes from her vast and varied musical collection and career.
Ears #4: Spring leaves and sunshine mix by Evelyn Morris of Pikelet – tracklisting
1 – Colleen – Goodbye Sunshine – Everyone Alive Wants Answers
This album has always been a massive fave and one that heavily influenced me and inspired me in early Pikelet days.
2 – Bo Hansson – Leaving Shire/Första Vandringen – Lord of The Rings/Sagan Om Ringen
A friend told me when I first played him the second Pikelet album that we sound like Bo Hansson. I wish it were really true.  When he told me that I went and listened and subsequently bought all the albums I could find.
3 – Deep Time – Homebody – S/T
An album I've been listening to at the record shop I work at. I like the vocals and the rhythmic interplay.
4 – Mandy More – If Not By Fire – But That Is Me
When I toured with Broadcast they were playing a comp of excellent music every night between bands. Trish gave me a copy of it on the last day of the tour and I have listened to it a great deal.
5 – Edu Lobo – Viola For De Moda – Missa Breve
Great Brazilian. This whole album slays. Very oddball, amazing vocal arrangements throughout.
6 – Ariel Pink's Haunted Graffiti – For Kate I wait – The Doldrums
A tune that did my head-in when attempting to learn it for the Ariel Pink shows that I played drums for. In fact I never mastered it. Still love it though.
7 – Jean-Claude Vannier – L'Enfant La Mouche Et Les Allumettes – L'Enfant Assassin Des Mouches
An album that completely split my head open when I first listened.
8 – Josephine Foster And The Supposed Few – All The Leaves Are Gone – All The Leaves Are Gone
Great guitar playing in this tune, and I love Josephine's singing on this and all the songs on this album. She lets loose a lot more. I once performed a duet cover of this tune with Laura Jean.
9 – C.O.B – Eleven Willows – Moyshe McStiff And The Tartan Lancers Of The Sacred Heart
One of the greatest and strangest albums out of the English folky freakies of that time.
10 – KES – My Side Of The Mountain – Jelly's In The Pot
The first KES album made me want to try to write songs rather than just play drums on them. When I told Karl that, he suggested I borrow a 4 track from Jarrod Quarrel (Lost Animal) so I did, and that is how I recorded and wrote my first two EPs that no one will ever hear. Haha.
11 – Roberto Cacciapaglia – My Time – The Ann Steel Album
My housemate Alex gave me the other Roberto Cacciapaglia album Sonanze and I became a big fan, and then later on he gave me this Ann Steel Album and I became completely obsessed.
12 – Roberto Cacciapaglia – 3rd Movement – Sonzanze
13 – David Shire – Theme From The Conversation – The Conversation OST
A friend at Triple R put a track from this soundtrack on a comp for me a few years back and I've since bought the whole soundtrack and watched the film… loved both of them immensely. I started to experiment with writing piano pieces more seriously after hearing this and a few other instrumental piano tracks around that time.
Leaves and sunshine: Spring mix by Evelyn Morris of Pikelet by Assemblepapers on Mixcloud
Original image by Karl Scullin courtesy Pikelet and Chapter Music. A huge thank you to Evelyn for taking the time to put together these tunes and personal insights. Also a big thanks to Guy Blackman at Chapter Music. For up to the minute Pikelet happenings, visit the band's facespace.