Culture
Things revisited: Henry Wilson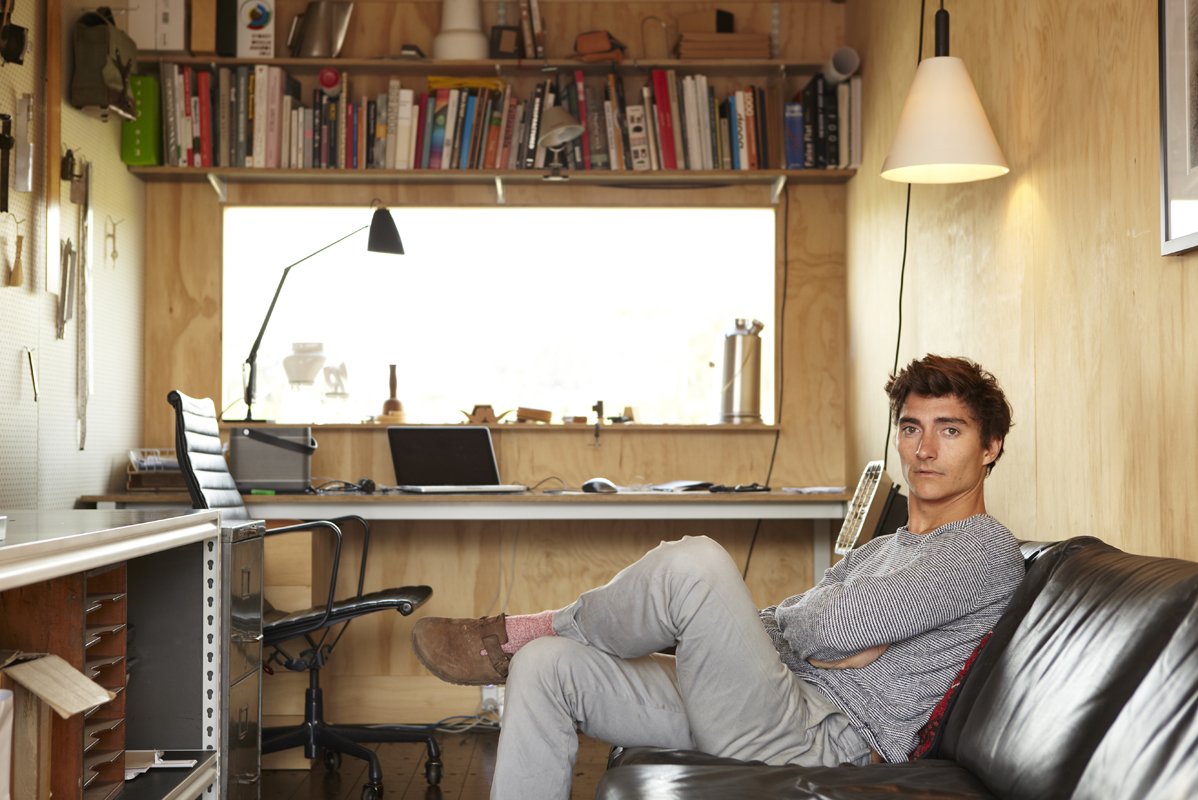 Jul 25, 2013
In the fairly fickle and trend-conscious world of design, Sydney-based Henry Wilson has managed to forge a reputation for sturdy, no-nonsense craftsmanship. Timelessness and pared-back resolve – an elegance borne out of design for necessity and longevity, not planned obsolescence. His pieces are revisited, remixed and re-designed takes on existing, but perhaps previously outmoded objects. In Henry's work, authorship is blurred, but not the integrity of his design. His things revisited series includes reworkings of 'classic' pieces such as the Anglepoise lamp, a vegetable-tan leather cover for the TOLIX chair, and a 'hacked' update of the Wassily chair. According to Henry's less-is-more philosophy, he begins each new project only after it's passed his own strict "design ethic" checklist, which includes these questions: will it last or outlive its owner? Is it honestly resolved and therefore beautiful? Does the world actually need this object, or does something already exist that better serves this function? 
Scouring hard-rubbish, tips and junkyards is where Henry gleans the most inspiration and the blueprints for his designs. "Inspiration with the lost analogue world. Things that have been made redundant or cast aside for whatever reason… yet they may hold answers to modern day problems. Industrial connections, industry and military… here design needs to function, absolutely. It's a design process that has to exist. There's no authorship to it… it's just the way it has to be. I find that very interesting". His approach to sustainability is to look at what can be salvaged and repaired from what is already in existence; to look to 'classic' objects (such as those in things revisited) as models of design that has stood the test of time. To Henry, the designs he adapts are already open, straightforward and simple. "There's no trickery, which is often through design via engineers. It's about design through need, not just form-giving. These are all things I try to inject into my own work. Openness and adaptation. The only reason I can adapt the Anglepoise lamp or Wassily chair is because they are sort of 'nuts and bolts' pieces. And you can repair this kind of design. Which is another big component of my work. Either you make it so well it never breaks or you make it so it's easily repaired".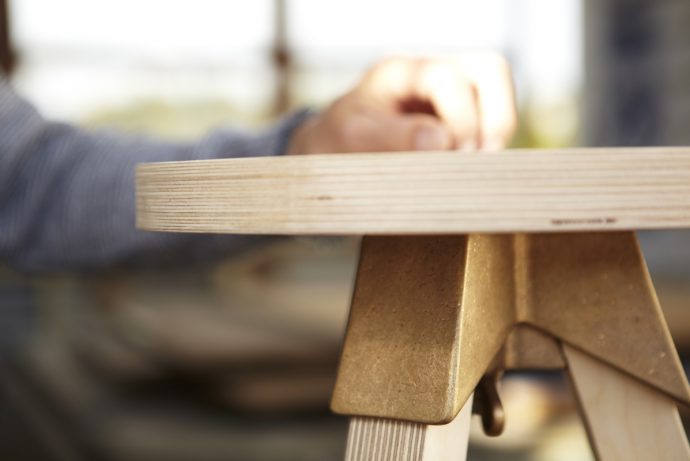 In 2011, Henry won the Bombay Sapphire Design Discovery Award (a prestigious mantle and the most sought-after design-nod in Australia) with the A-joint, a sand-cast joinery system made from reclaimed metals, "almost indestructable" (says Wilson) that can be used in countless configurations and forms, from tables to workstands, stools to temporary shelters. "The A-joint in particular I'm confident to say has a lifetime warrantee. You couldn't break it and believe me, I've tried! Also, in my work, I try to keep stylistic embellishments out of it. The fact that each piece has got a utility component to it, it's hard to attribute it to a specific time. Each object is boiled down to what it is… there's nothing that can date the object. I try to do that with my pieces".
In 2012, Henry secured the top spot in the inaugural SOYA Craft and Object Design award category, which includes a mentorship with Australian expat superstar designer Marc Newson. Newson is world-renown for his fluid, futuristic and luxuriant pieces – think the bulbous Lockheed Lounge or the curvy Ford 021C Concept Car. A doyen of the international design world, Newson's products, interiors and transport designs appear to strive for new, ever-more shapes and typologies rather than simplify, improve or refine existing ones. Henry's recent trip to London was in part to meet the man himself; a meeting that hasn't yet eventuated as Newson's office cancelled at the last minute. A meeting is now "booked in" for December, when Newson will visit his extended family in Sydney for Christmas. There appear to be glaring differences between Newson's bravura and Wilson's quiet, 'tread lightly' ethos. It makes one curious to see how the mentorship will work out – which way the knowledge might flow if given the chance.
In 2002-05, Henry studied under craftsman, author and curator Dr. Rodney Hayward (who continues to be a mentor and collaborator) at the ANU's School of Art, "probably one of the last schools in the world that has a focus on 'the making' aspect. I studied woodwork and essentially, it was all about putting wood pieces together. Something designing itself – I was first introduced to this idea with Rodney. One of our first projects was to design sawhorses. A seemingly simple task, but what goes into making them is myriad. Each step is tantalisingly close to the next step. Once you start, you can see the end in sight and you are burning to get back to it, like a really good book". After graduating, Henry journeyed to the Design Academy Eindhoven, Netherlands in 2008 to study a Masters in Man and Humanity. "In the 90s and early 2000s, there was a big rush or trend towards a kind of 'jokey' design, a la Droog. In a way, this course was a counter to that, to see what design can do".
On the morning we spoke by phone, Henry was in one of his self-styled shipping containers at his studio and workshop in Rozelle, surrounded by neighbouring boat builders and resourceful types. While he has gained sought-after distribution through reputable local and international distributors such as Matter in New York, Australia's Corporate Culture and the international design community Svpply; and exposure through his industry awards, he has managed to buck the usual emphasis on commercialisation, marketing and 'brand'. "There's this typical format: make an object and then somehow, somewhere, it gets seen by the creative director of a major label. And then you're taken up. You're given this kind of nod. You get wrapped up in this thing. It's a cycle… you only get time to reflect if and when you're big enough. You see that in really established designers like Jasper Morrison. Also, there's a lot of independents out there making a lot of stuff… you can either have a 'this is incredible', or 'this is terrifying, how am I going to make it in this world' attitude". Upon returning to Sydney and setting up his studio in 2010, Henry continues to navigate the "rat race" system of the contemporary design world without losing his standards or his head. Key champions of Henry's straightforward, rational approach to sustainability are Liane Rossler and Sarah King of supercyclers who early on, recognised the integrated nature of recycling, reuse and care in Henry's design. While supercyclers is not a formal alliance, its members share a common approach to environmental sensibility and sensitivity in their varied design work across food, publishing, product design and ways of living.
A current project of Henry's is the vide-poche ("empty pockets" in French) coin dish, sand-cast out of bronze and aluminium. The idea for vide-poche grew out of a conversation Henry had with a lawyer friend who was working on pro-bono human rights cases, about how professional skills can be used for greater good. After some pondering, Henry came up with the idea of the coin dish, a receptacle that can be placed on a desk or hallway table, for the contents of pockets: keys, coins, cash. Thirty percent of the profits from the sale of vide-poche will go to Amnesty international – a reminder of what you possess, what you might be able to part with, or be lucky enough to share.
On what he would like his legacy to be, Henry hopes his objects will serve their function "well past my lifetime. That they'll continue to adapt and create and give people a bit of enjoyment. I'm not trying to save the world at all with my design, it's just about engaging people, creating awareness about how things are made and made to last".
To view more of Henry's work, visit henrywilson.com. Many thanks to Susannah Wimberley for these wonderful photos.