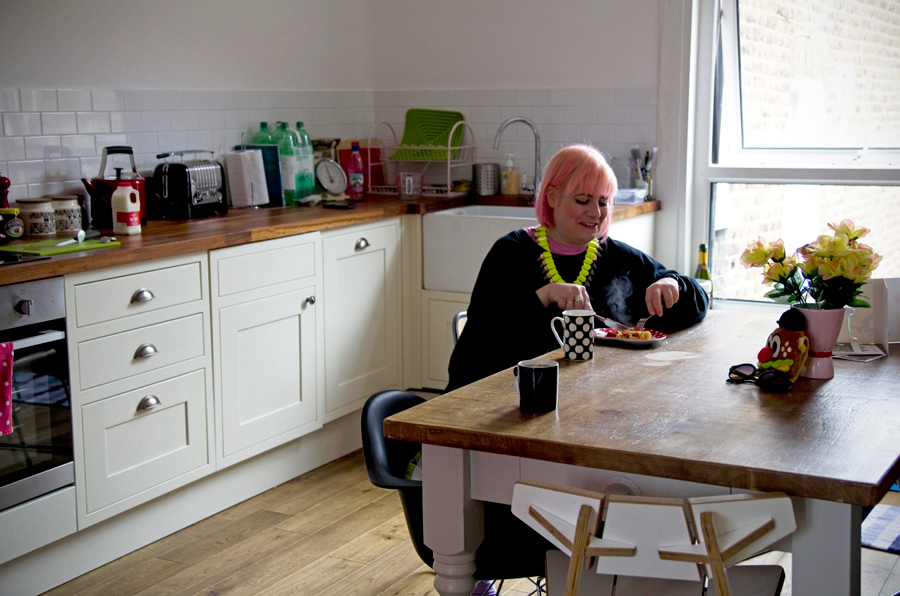 Jun 20, 2013
Lazy Oaf is an independent fashion label founded in 2001 that channels pop graphics and '90s nostalgia, stocking throughout the UK and beyond, from the Tate Modern to Melbourne's own Lenko. Continuing our collaboration with interiors blog 'What's in your bedroom', Olivia Howitt takes a candy-coloured visit to the North London home of Lazy Oaf's director and founder Gemma Shiels.
Bob and I live here. Home is my refuge, my getaway. Work is pretty much my whole life, so it is really important for me to have a place where I am totally comfortable, representing my other interests! I love loads of natural light and open spaces, which is hard to get in London. I have managed to own this space and completely make it my own, whereas all the other places, I have been "passing through". It also means you can take your time to furnish it and invest in the things you really want forever. My home is the first place that has truly been mine and I can be as OCD about it as I want. No one can moan at my extensive Mickey Mouse collection in the kitchen! I think that this place represents me more than any other home I have lived in. My neighbourhood is really quiet, it is quite village-like which is nice to chill out too. It has the best bakery, with amazing jam donuts. I like working from home when I have to start designing the next collection, as I like to shut myself away form the busy office and have no distractions. My favourite space is my couch, I sit in the same spot and from here I drink a lot of tea eat drippy pizza and shout at the TV. My daily routine: well, it is all up in the air since I got a puppy. It now starts at 6am to let him out and then we go back to bed for a wee bit and thence have breakfast, go for a walk and then go to the studio for around 9am. At the studio, I catch up with everyone, get through a tonne of email and admin. Talk through projects and plan what we are going to do. General "boss"-type things. I would love to say I design all day, but it only happens in bursts. With a shop, website and over 200+ stockists there is always too much to do. I finish between 6 and 7 and then take Bob out again before dinner. After this we settle down in our respective positions and oaf out to trash telly or a box set. The things I love about London are…everything, I am totally biased! I love the tube, I love standing outside pubs drinking in the summer, I love the diversity and I love the shopping.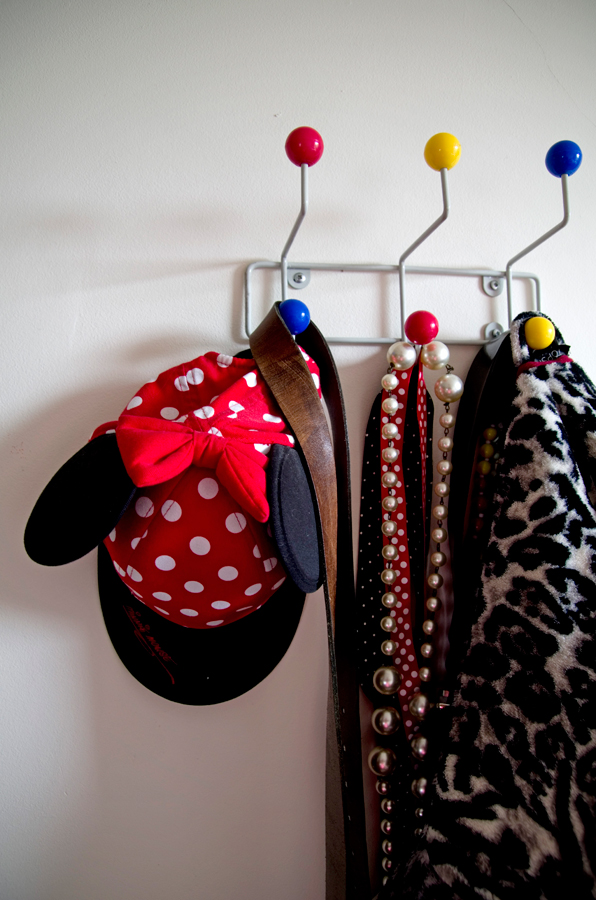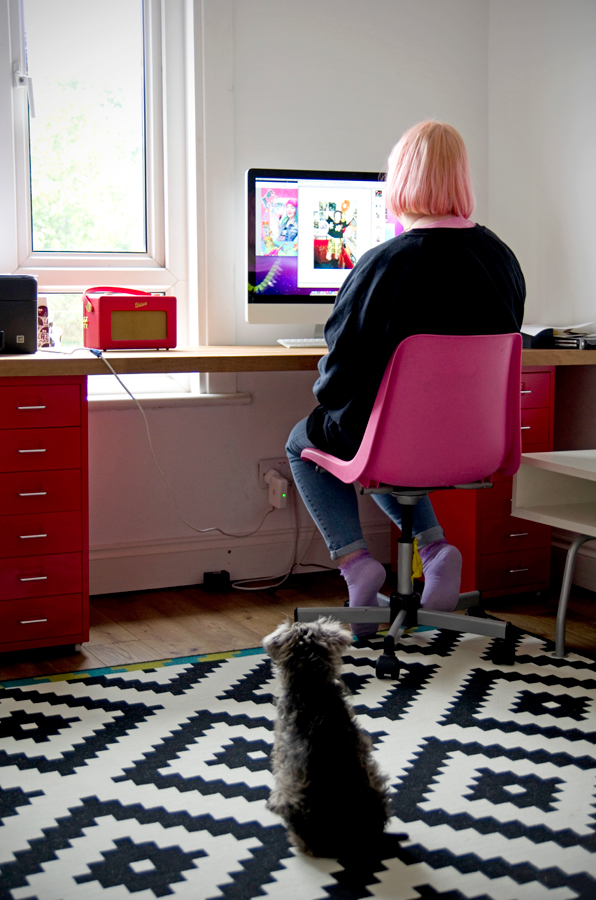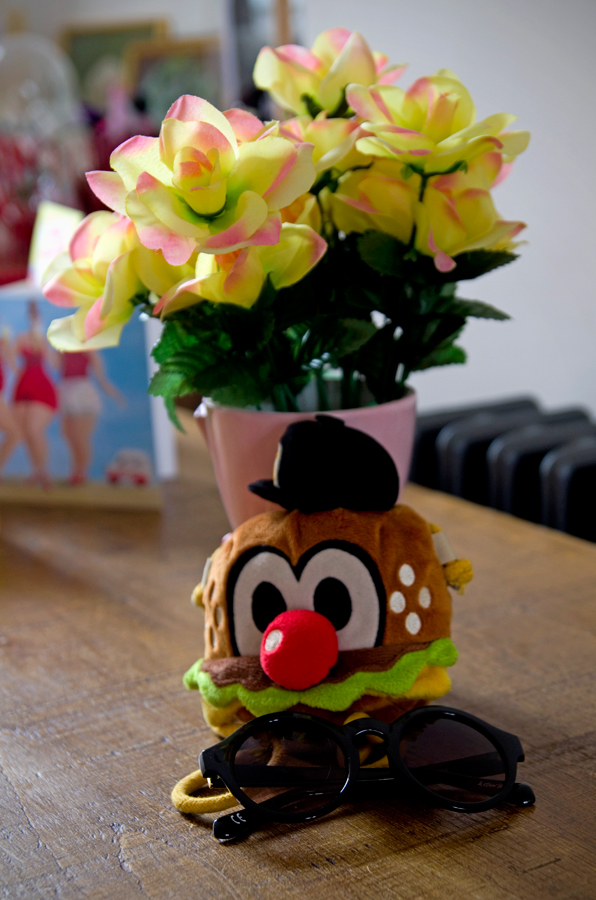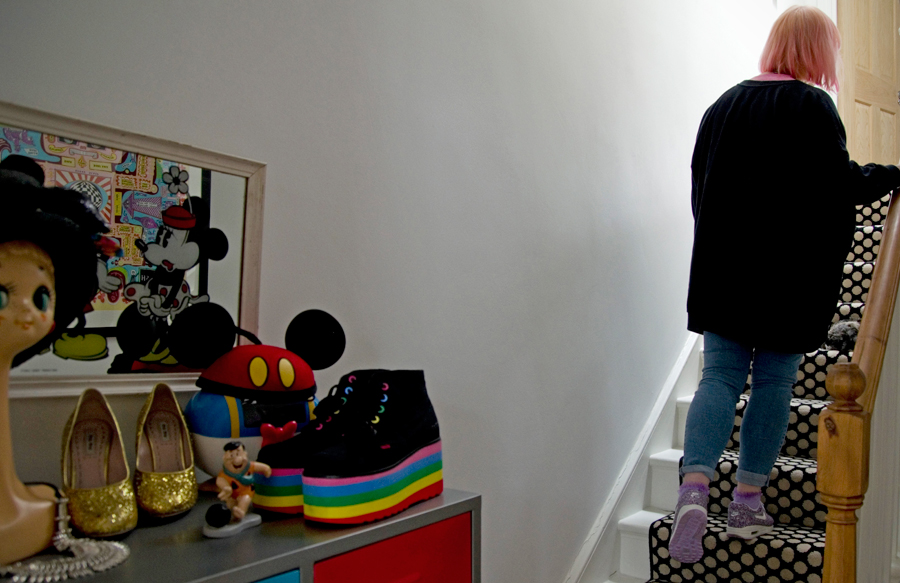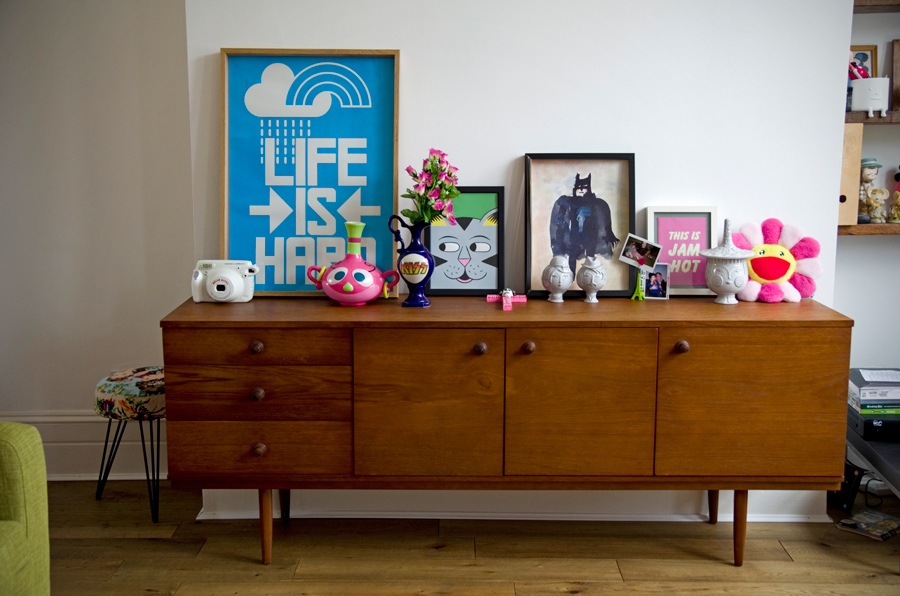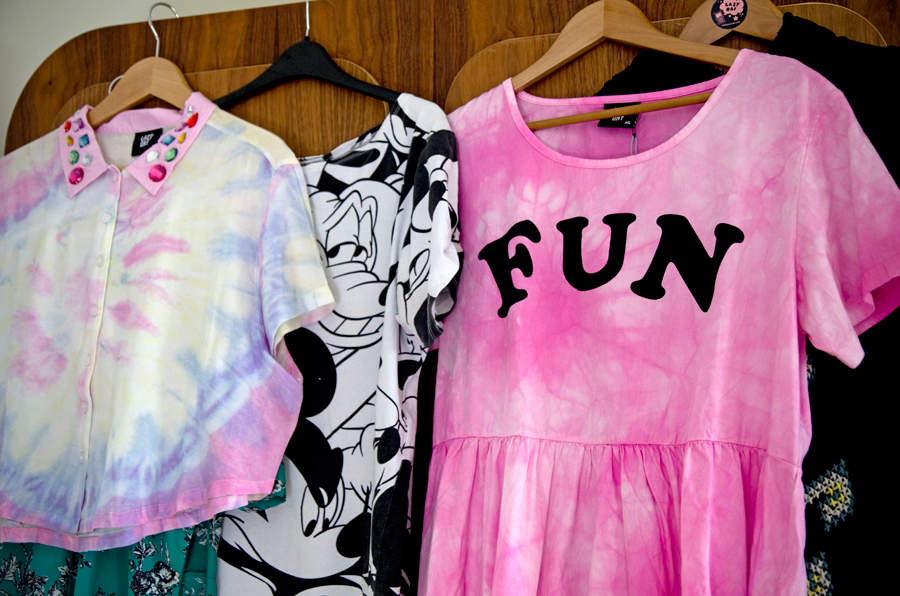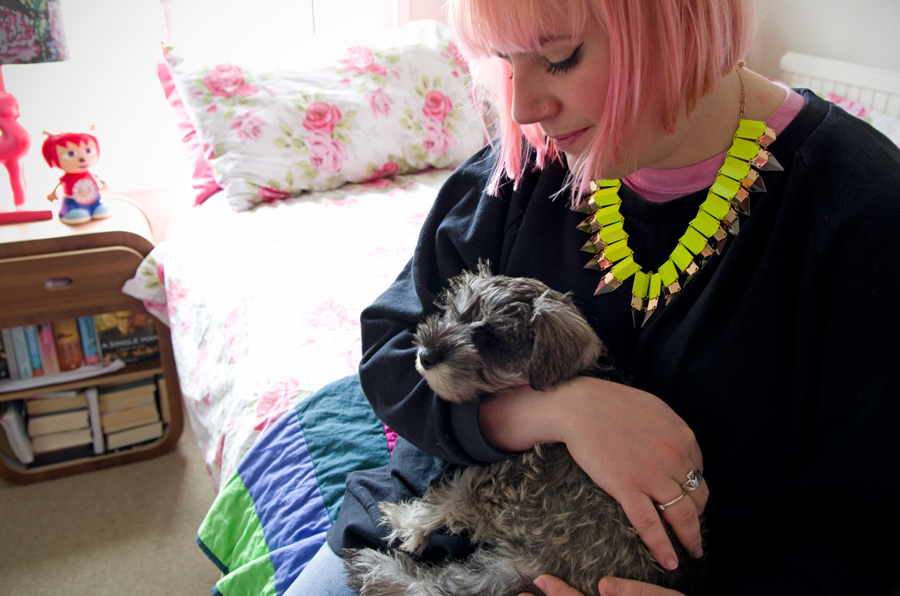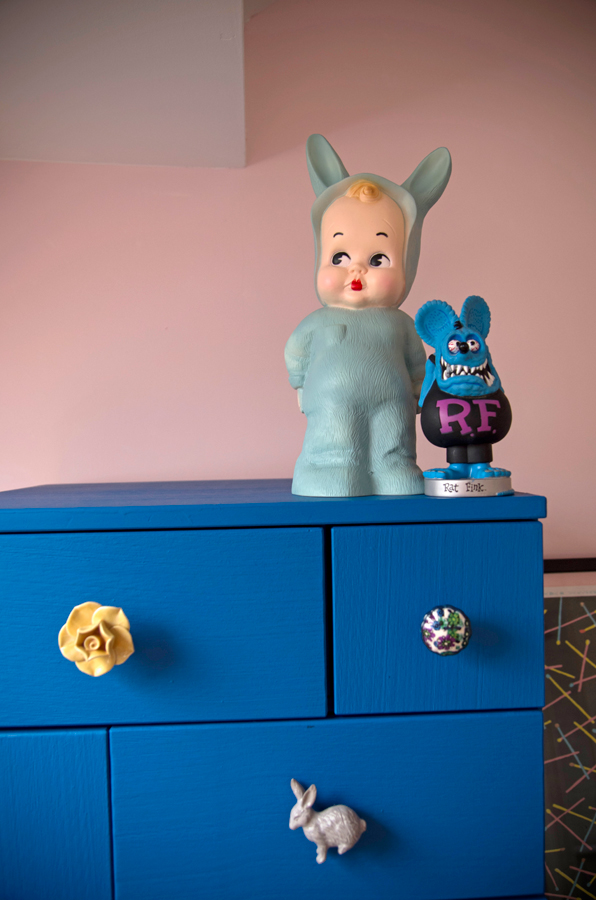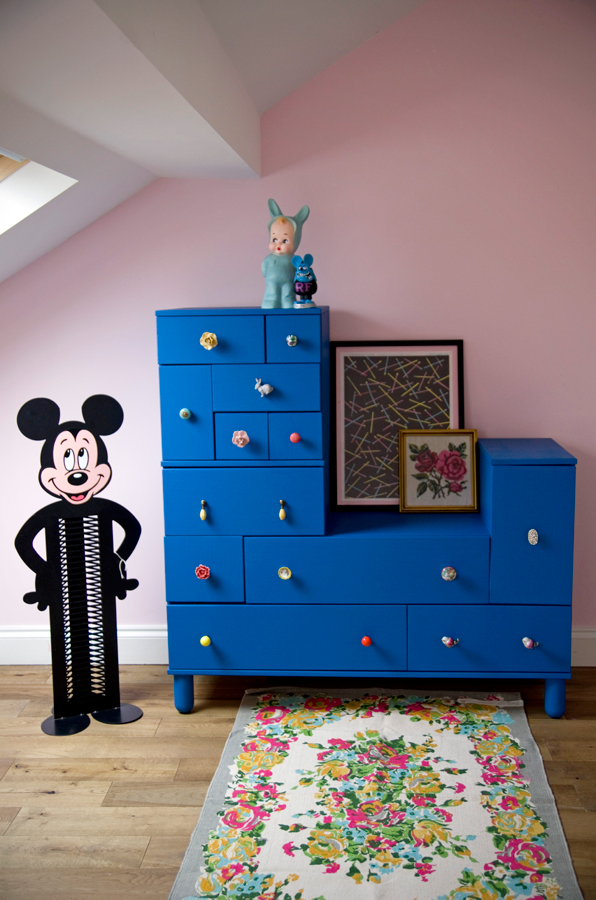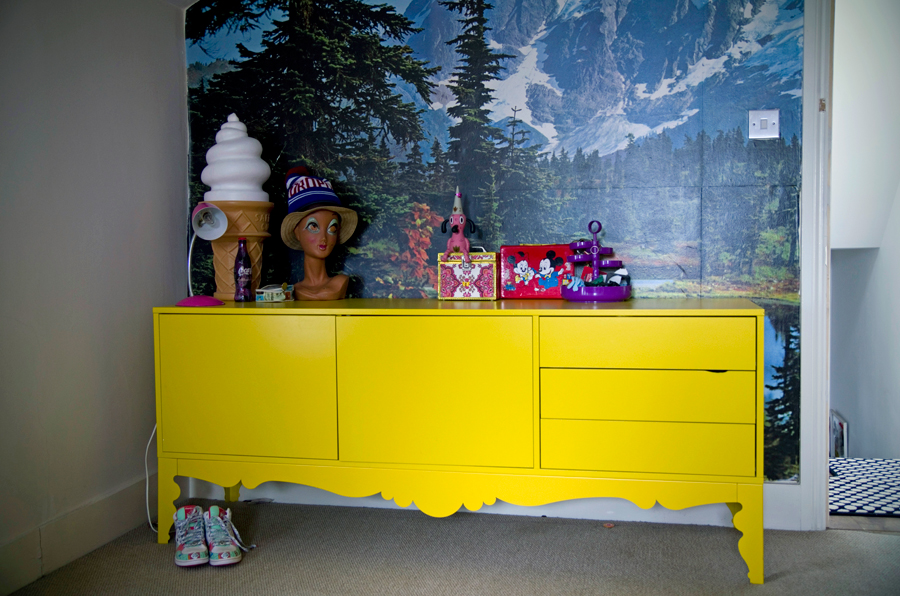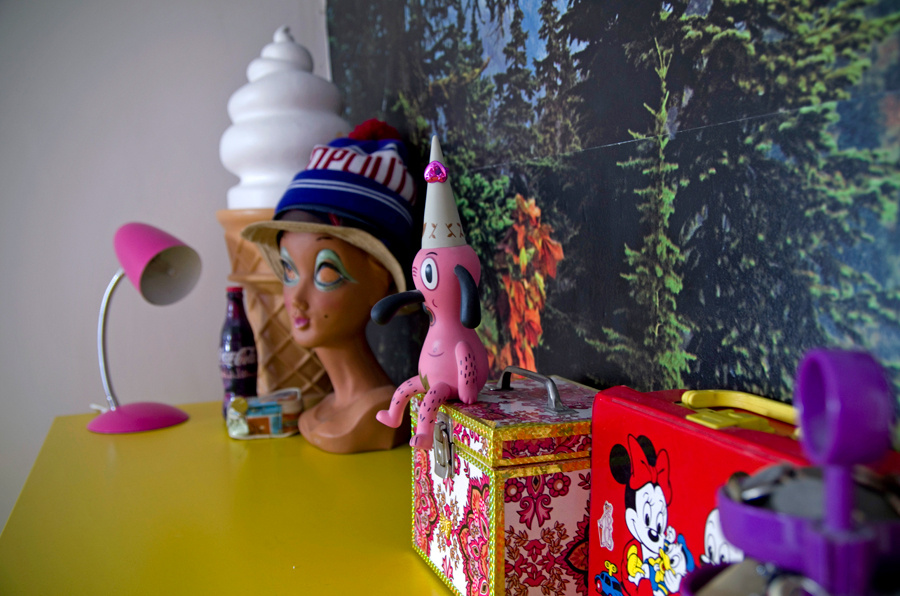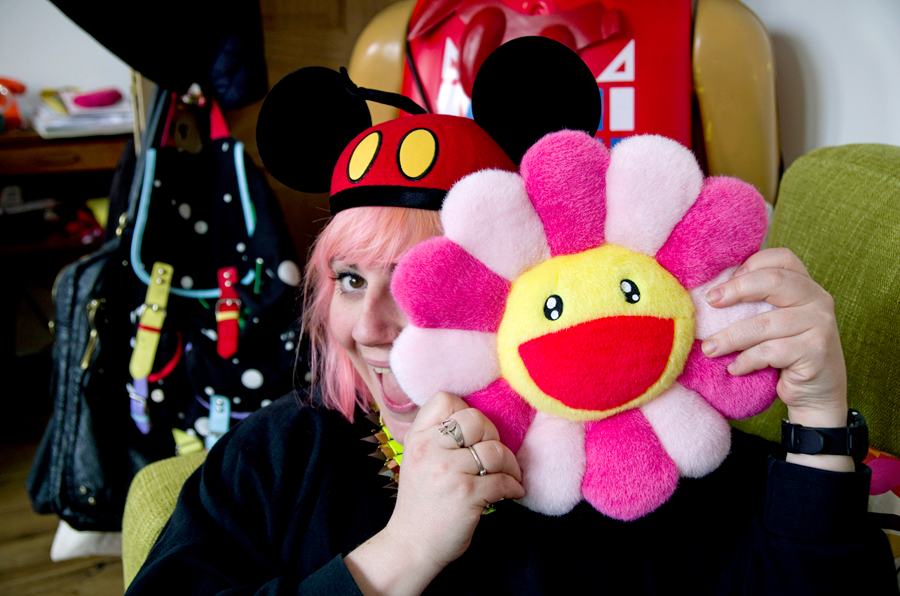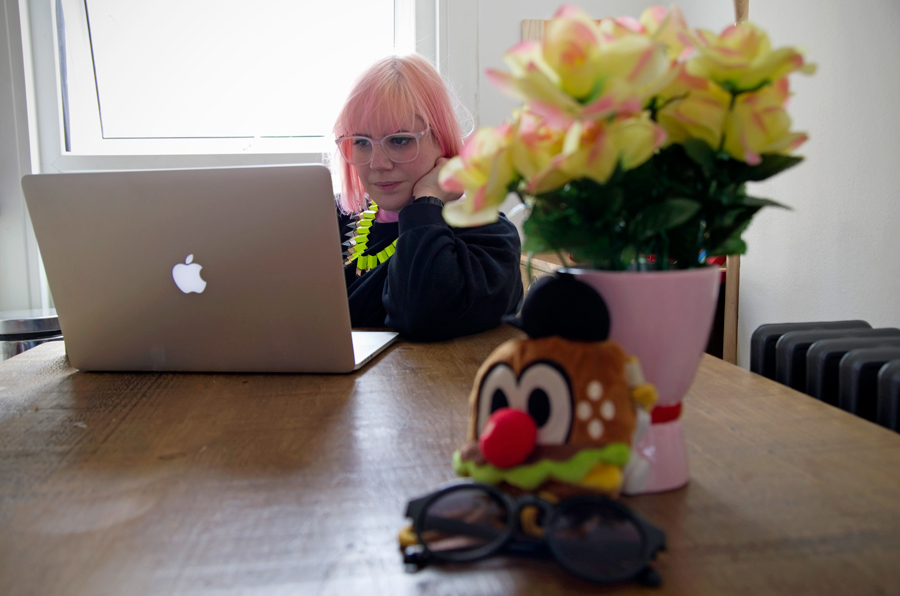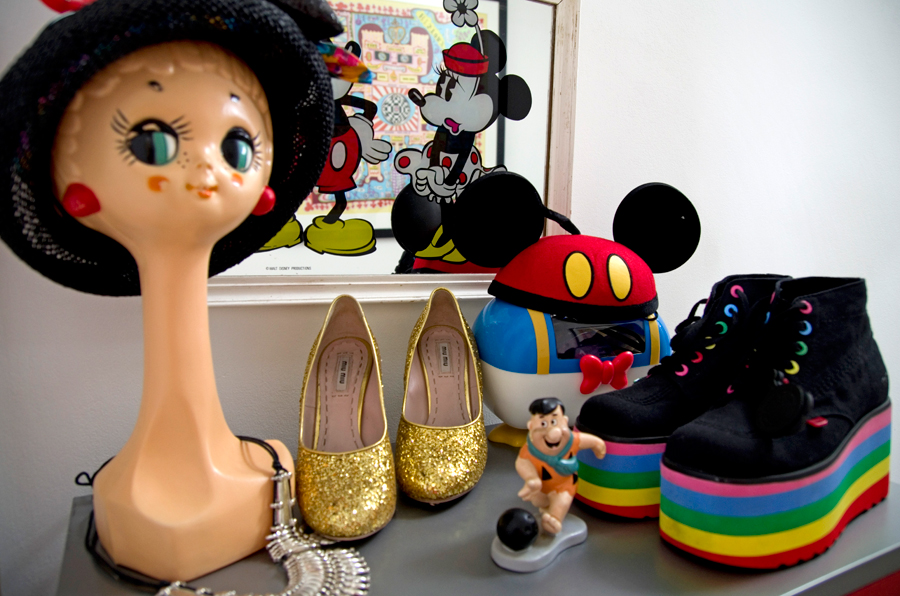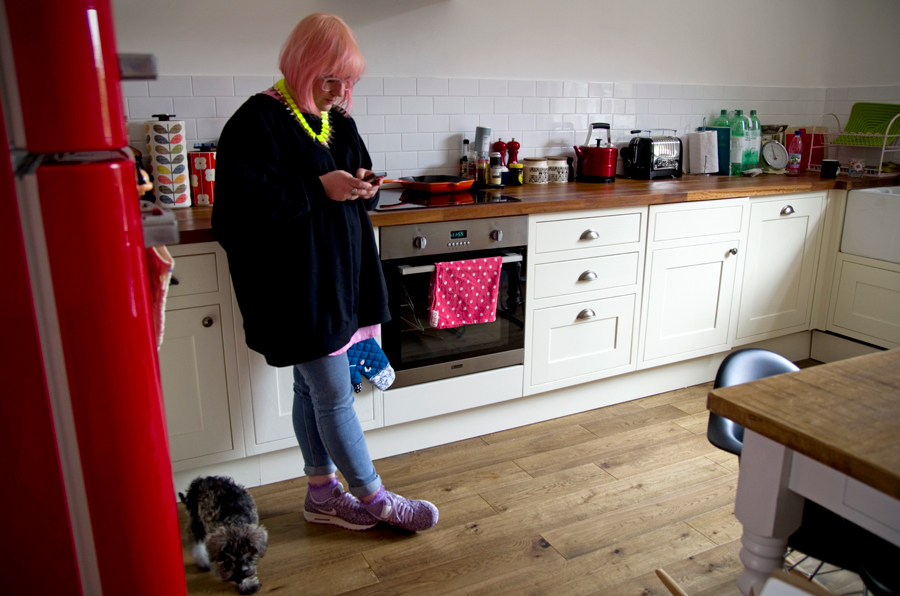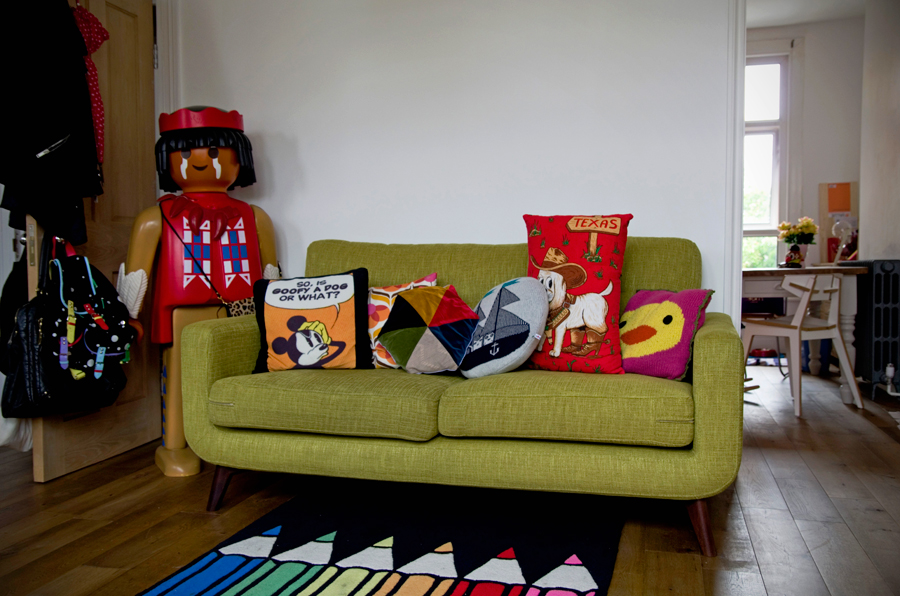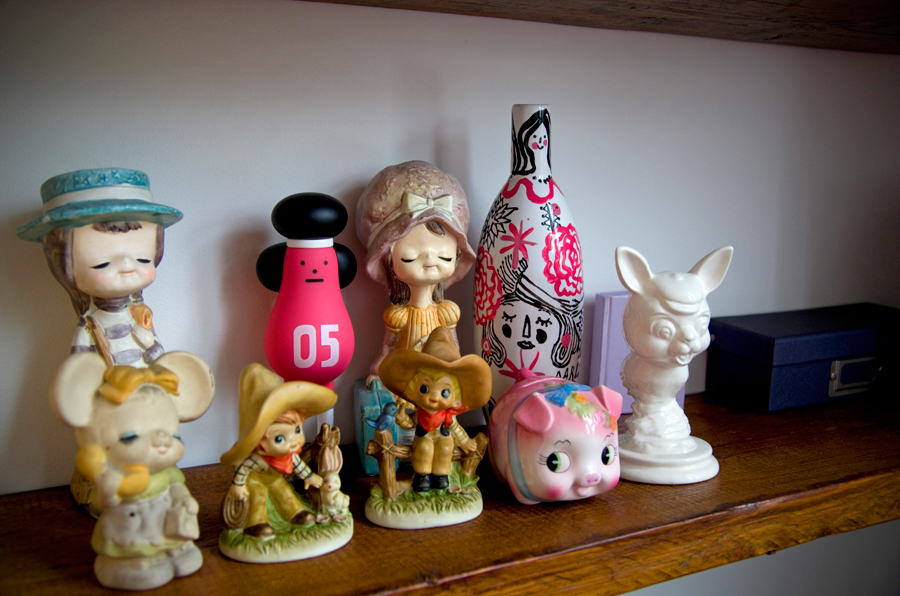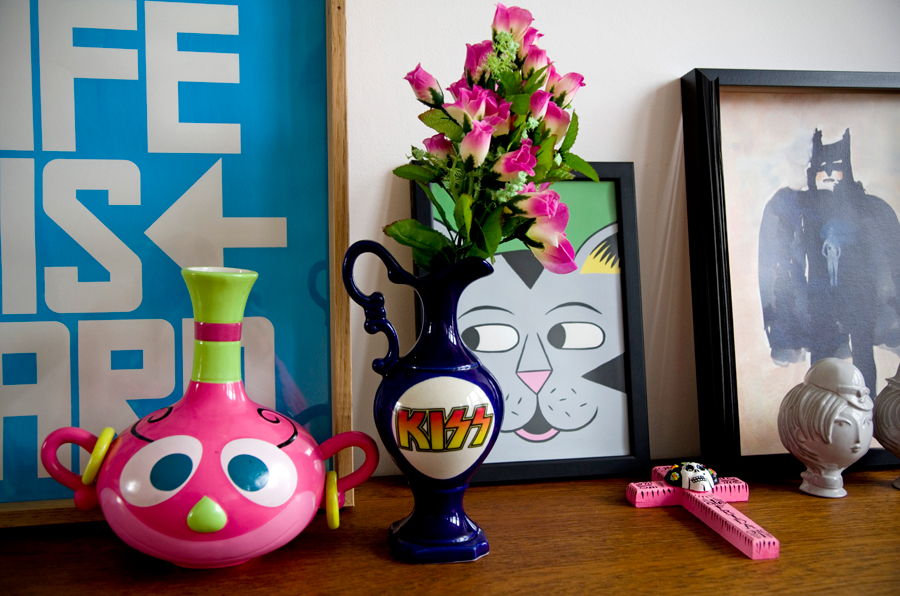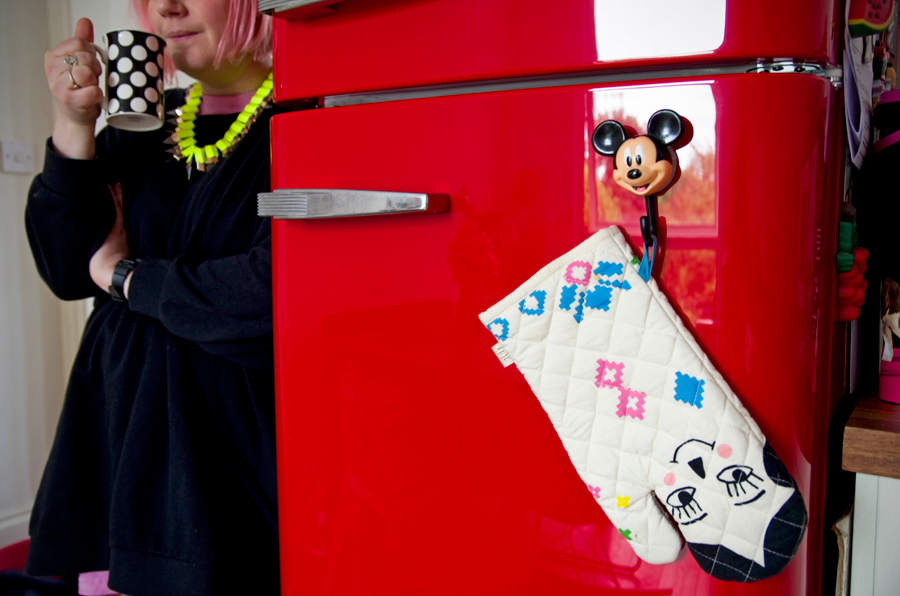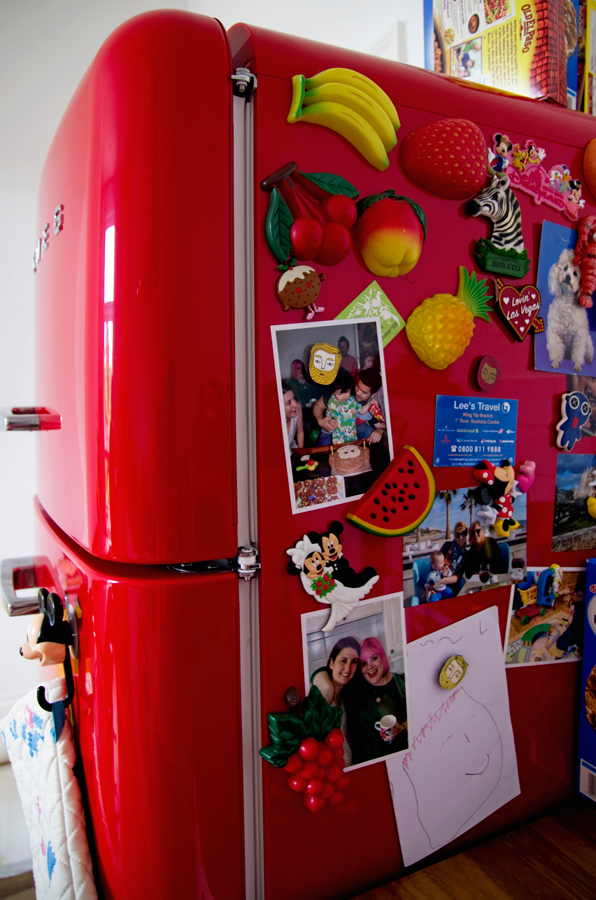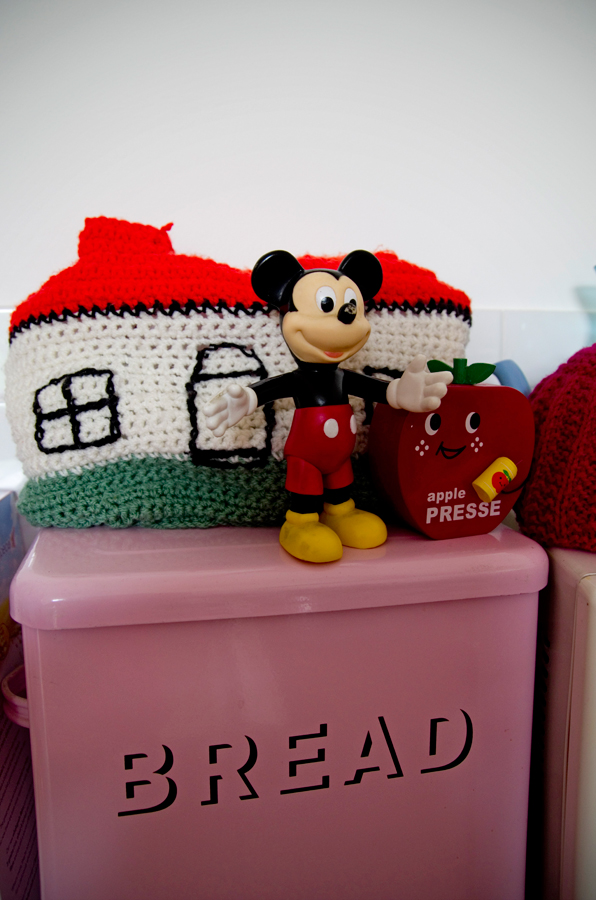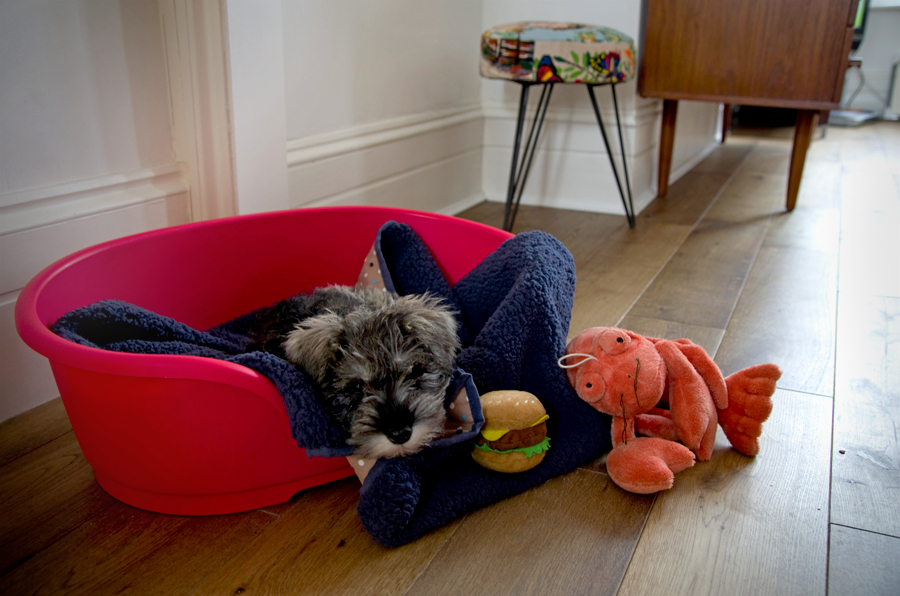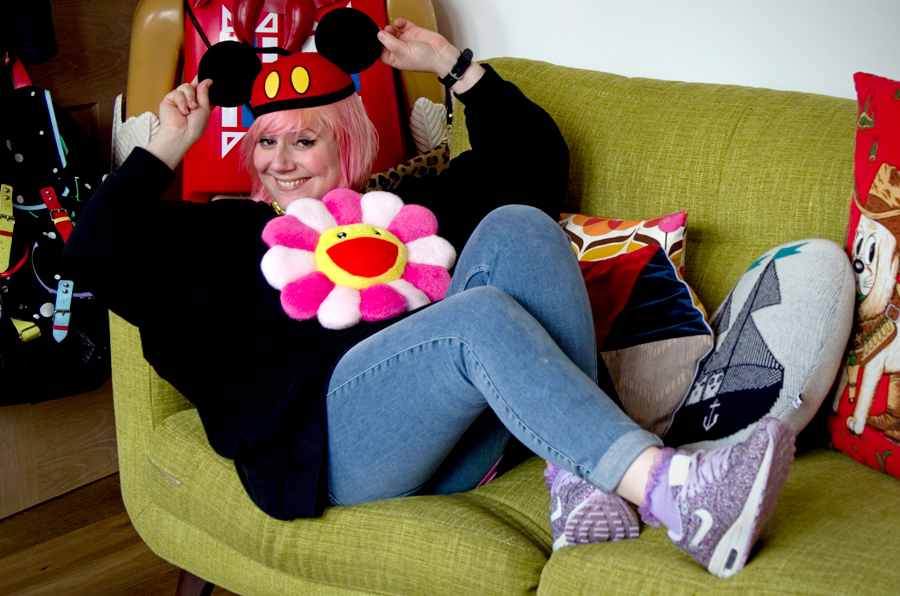 About Lazy Oaf
Lazy Oaf is my fashion label that I set up eleven and-a-half years ago from my dad's garage. We design and create men's and women's streetwear that is all heavily print focused. The label and designs are mostly inspired by me being a teenager in the 90s, it is bold, bright, irreverent.
Humour and eccentricity seem central to the Lazy Oaf philosophy. How do you balance keeping things "weird" and true to the LO vision in the notoriously fickle world of fashion?
It is quite hard, as you always question and second-guess yourself. I try to make things that make me or my friends smile… or I can see them wearing it. I don't want to make something that fits a trend.
Who are the designers, artists, pop icons and musicians who inspire you?
I love anything cartoony from the 80s/90s and I like artists like Leslie Hall, comedy such as It's Always Sunny in Philadelphia and I like to keep a toe in the illustration world.
Lazy Oaf seems to love entertaining (from live drawing events to parties). Are you a good cook? A good host? Do you also entertain at home?
I love cooking, I am definitely a feeder. My special is meatballs and spaghetti. I like to use chilli so be warned! I also flit around as a hostess; I prefer to go to other people's houses as I feel more relaxed and less like an irrational Monica person.
To view Lazy Oaf collections and to find out where to get your 90s fix, visit www.lazyoaf.co.uk. All photographs by Olivia Howitt. Olivia is the editor of interiors blog What's in your bedroom and our kindred London collaborator. You can view more technicolour photos from the shoot at Gemma Shiels' house and an extended interview here and for a sneak peek into more London bedrooms, check out Olivia's wonderful blog: whatsinyourbedroom.blogspot.com