Sou Fujimoto's Serpentine Gallery pavilion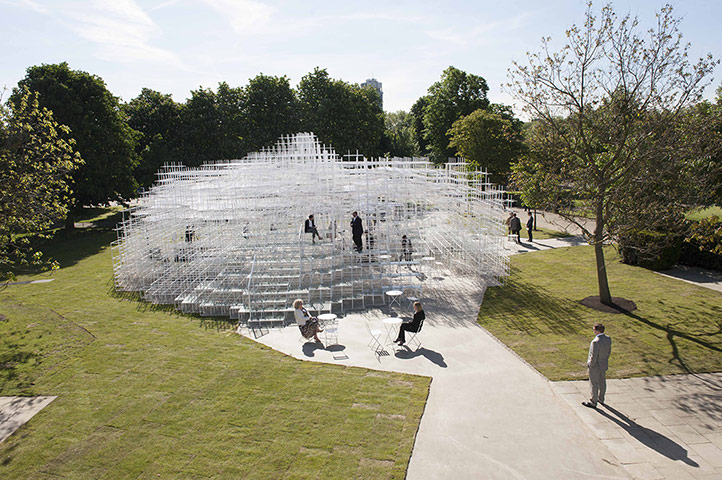 Jun 13, 2013
"It is a really fundamental question how architecture is different from nature, or how architecture could be part of nature, or how they could be merged…what are the boundaries between nature and artificial things." Sou Fujimoto
Curated by the gallery's director Julia Peyton-Jones and co-director Hans Ulrich Obrist, this annual commission fuses art and architecture, creating a space in which the public can linger, converse, work, sip coffee and soak in the experience of being within a site-specific piece of contemporary architecture. Past pavilions have included designs by Herzog & de Meuron and Ai Weiwei (2012), Frank Gehry (2008), the late Oscar Niemeyer (2003) and Zaha Hadid, who designed the inaugural structure in 2000.
Sou Fujimoto's cloud-like structure occupies around 350 sqm of lawn in front of the Serpentine Gallery. Constructed from latticed 20mm steel poles, the pavilion appears lightweight and semi-translucent, allowing it to blend into the green summer-autumn landscape of Kensington Gardens. The pavilion is designed to be a flexible social space (with a café hidden inside), encouraging locals and visitors alike to enter and engage with the architecture over its four month installation (June-October 2013).
Sou Fujimoto's architecture is inspired by organic structures and explore the space between nature and 'artificiality'. Fujimoto's projects have mainly focused on residential and institutional projects in Japan, including Final Wooden House, T House and House N, to the institutional, such as the Musashino Art Museum and Library at Musashino Art University.
For more information on the work of Sou Fujimoto, visit his website (in Japanese): www.sou-fujimoto.net. To find out more about the Serpentine Gallery summer pavilions past and present, visit: www.serpentinegallery.org. Feature image (top) is by Ray Tang/Rex Features courtesy the Guardian.
Watch Sou Fujimoto speak about his Serpentine Gallery pavilion in this video by Dezeen: