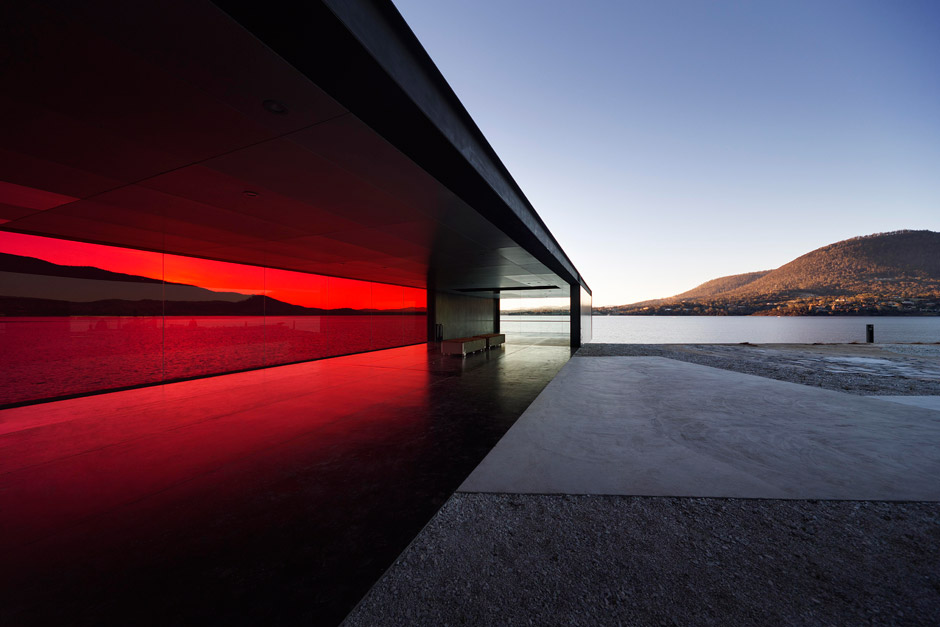 May 30, 2013
Over the course of a day, Room11's Aaron Roberts and Thomas Bailey (co-founders, along with Nathan Crump and James Wilson of the Hobart and Melbourne-based practice) guided us in, across and through a few of the practice's key Tasmanian projects, including the multi-coloured public walkway commission GASP! (Glenorchy Art and Sculpture Park), the sleek black-clad Longley House and the modular timber design of Thomas' own residence, Little Big House (we first waxed lyrical about Little Big House late last year). Established in 2005, Room11 continue to forge a reputation for sophisticated, minimal and environmentally-sensitive architecture designed for the Australian context. We're pleased to debut our first moving image piece above, a collaboration with artist, cinematographer and filmmaker Jon Mark Oldmeadow, along with a further interview with Aaron and Thomas below – and stunning, hot-off-the-digital-press images (debuting for the first time ever, right here on AP, by photographer Ben Hosking) of GASP! stage two.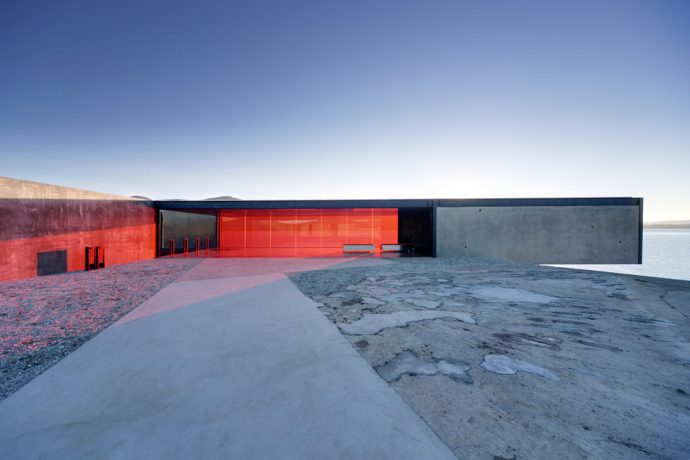 You maintain two bases in Melbourne and Hobart. Tell us more about how these two offices operate and collaborate?
Aaron: Room11 originated in Hobart and we practiced solely from there for a number of years. The decision to open another wing of the practice in Melbourne came from the desire to continue practicing together even while members of the group chose to live in different places. It wasn't that Melbourne was chosen as a strategic move for the practice. The same has happened in a minor way when members have travelled abroad for extended periods. The "remote" office in Melbourne is now however a solid base, which throws up challenges in terms of collaboration, but given the current and future advancements in video conferencing and online design tools, the process of collaboration is realistically an issue of making time for the two studios to connect and critique projects. We still believe in the value of the face-to-face design sessions, so members from each base travel regularly between the two sites, recently tied in with either competitions or short-term teaching roles at universities.
Thomas: The internet. Plus, we travel back and forth quite a bit.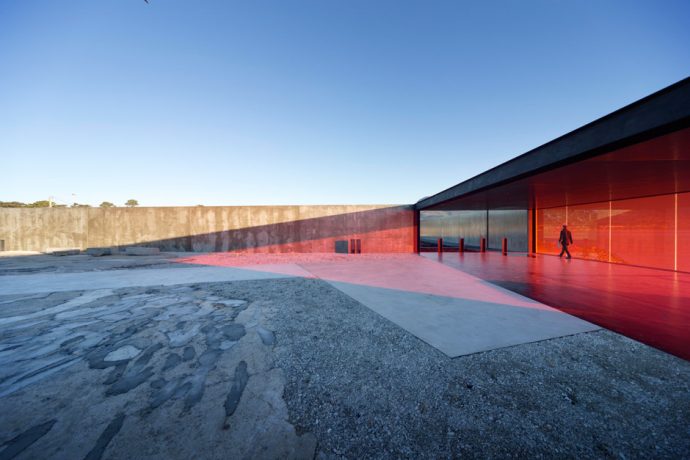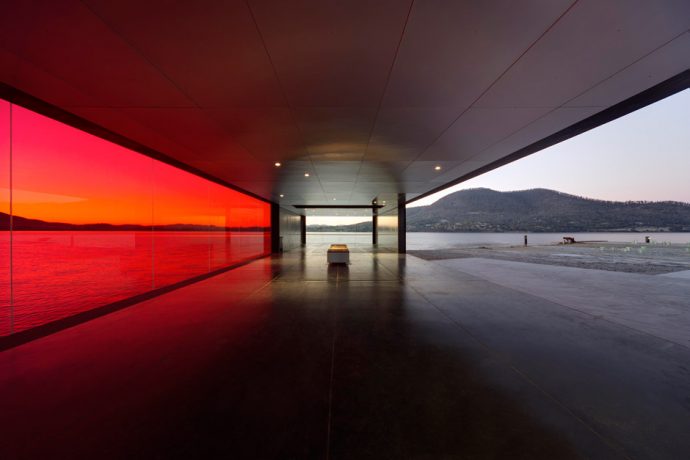 What are you currently working on in Melbourne and in Tasmania?
Thomas: Here in Hobart, we're working on a number of fantastic residential projects, an artist studio and are busy finalising GASP stage two among a few others.
Aaron: In Melbourne, we're working on some competition entries, some multi-residential projects, a cellar door, and an office/showroom which changes colour as you walk around it.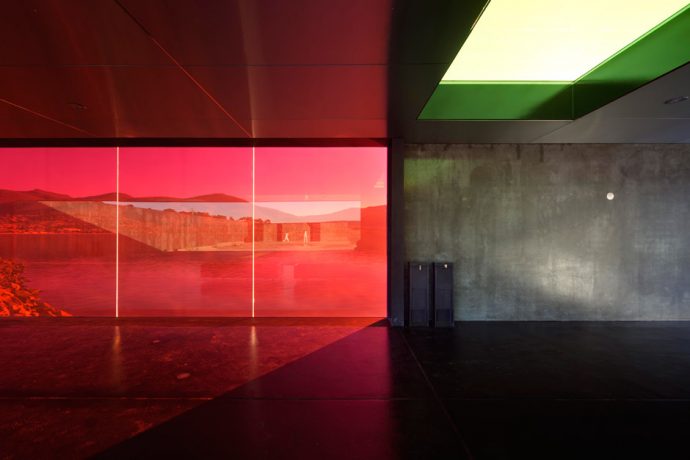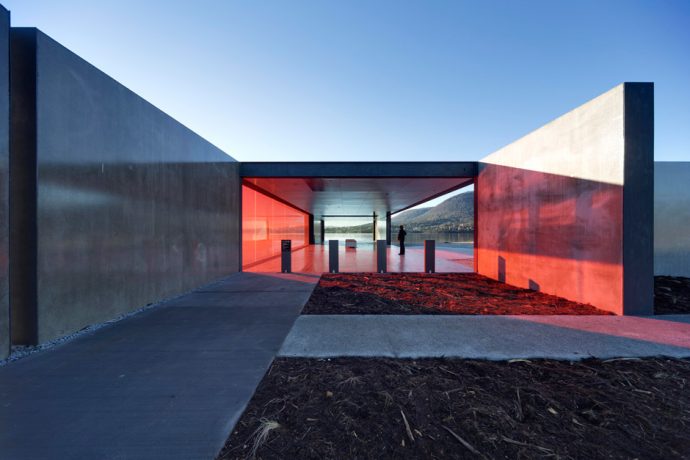 Aaron, you were heavily involved in the sound art scene in Hobart in the bad old days. What about now, is the sonic experience still a part of the design process and consideration of the lived experience for Room 11?
Aaron: I used to co-run an event called the "cluster" with various musicians and video art collaborators. The notion of place was always key to these events, one for instance was held in the rivulet tunnels under Hobart, the aural reverberations echoing for great distances through the concrete tunnel system. For me, these events provoked ongoing desires for collaboration and to create experientially rich environs. Sound in architecture and the other primary senses of smell and taste are generally under-utilised and seen as secondary to sight and touch. From a sensual point of view, smell is something we utilised as a marker of arrival and departure from the ARH house, its entry portal wrapped in oiled celery top pine.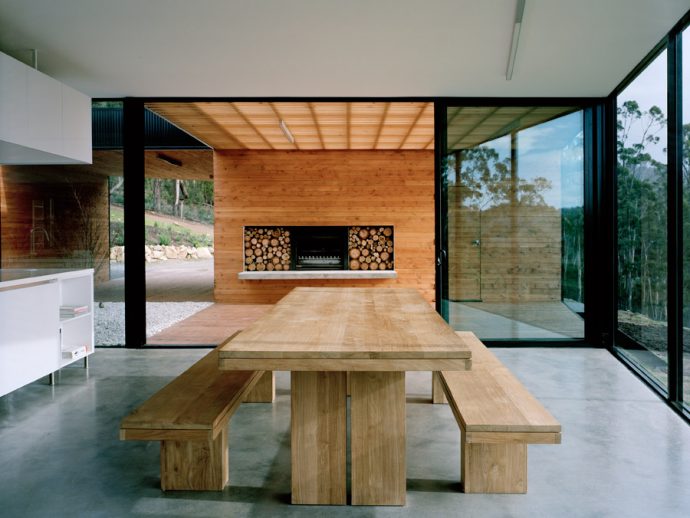 In terms of sound, the idea of the progression of chords within certain classical pieces influenced the gradation of the colour scheme at GASP, and Susan Philipz recently produced a site-specific sound installation along this walkway. Designing with sound in mind, as a part of the lived domestic experience has (unfortunately) been largely contained to the zoning of sound systems. We are always on the lookout for future collaborations, particularly of the sonic variety!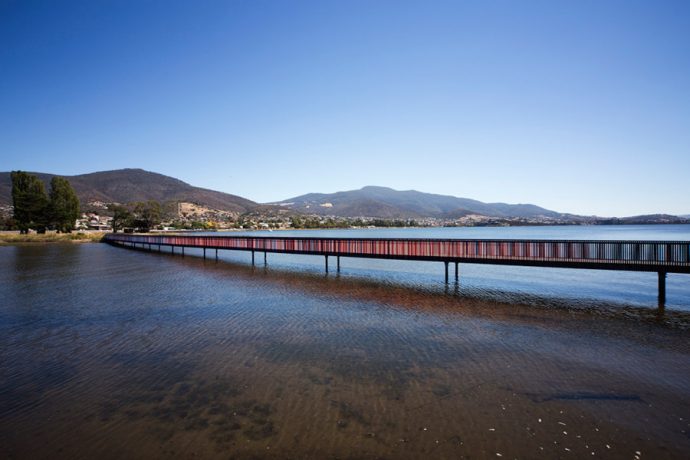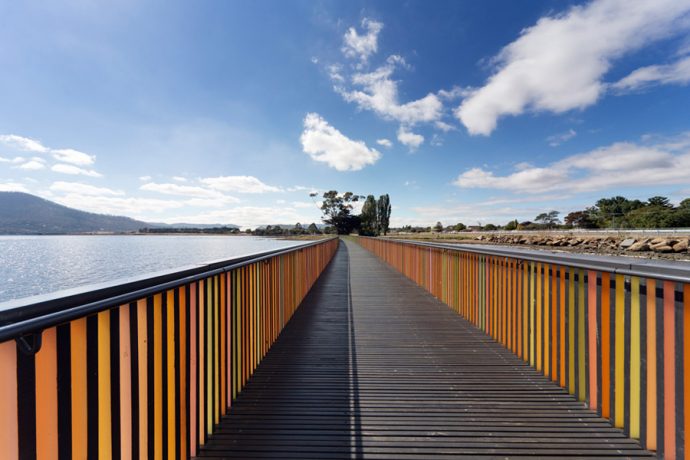 You mentioned that "aesthetics are almost secondary to the architectural outcome" and that the connection between the interior and exterior, the body in space and the experience of daily life drives the design. Are there particular examples where you have experienced this in the spaces and designs of other architects and if so, where/when?
Thomas: I think Zumthor's work, the Kunst Museum in Liechtenstein by architects Morger and Degelo and all the great architects Aalto, Sigurd Lewerentz, Van Der Rohe respond to the body and physicality in surprising ways. Certainly, I have very strong recollections of Corbusier's concrete walls, they are far more gentle and sensitive than I expected, like frozen veils.
Aaron: Experiencing this is not as common as one would like, particularly as much design is currently obsessed with form or facade. A recent trip abroad allowed me to experience the amplified sensuality of the Therme Vals by Zumthor, passing through its thick leather curtains, rosewood change rooms and the slate bathing spaces gives one the feeling that the space is directed at senses beyond sight and hence aesthetics. This was again experienced visiting bath houses in Japan and is probably something felt in bathhouses in many cultures. It's much more difficult to experience these heightened conditions in architecture of the everyday, within living or work environments, particularly where the aesthetics are seen as secondary. A wedding in the South Yarra Boyd House was the most recent space in which I felt the experience of the way the house operated was more important than the aesthetics.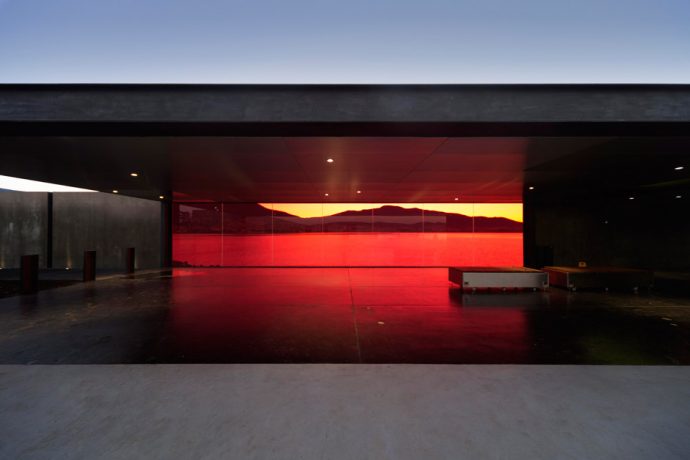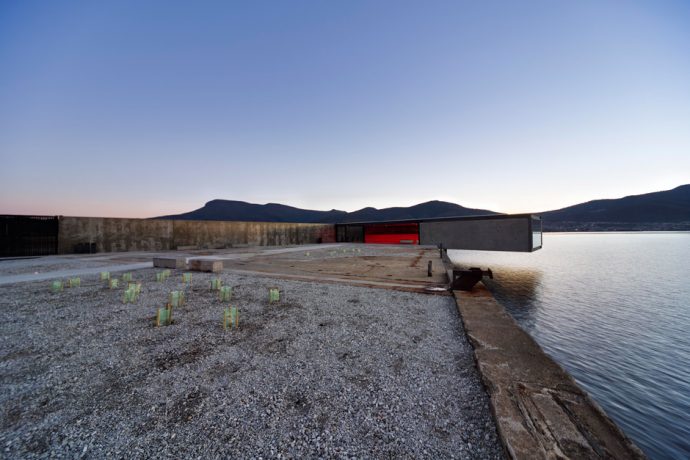 Is there a signature Room11 style? How would you describe your work to a child?
Aaron: "Style" is a difficult idea for me to come to terms with. In some ways I feel it describes output that is lacking deeper meaning. I think the output of our practice is shifting all the time now, due to new building typologies. There may be similarities, which I'd hope are driven by something more than style. As for describing our work, it depends on the age of a child… big shoeboxes with little gardens…
Whose work do you most admire in Australia and internationally (in architecture and also art, design, literature, music….? 
Thomas: We are architecture nuts, we enjoy Sean Godsell and Murcutt in Australia. Internationally, the projects I mentioned before… all great architects worth pursuing. In music we are pretty varied, from Sabbath to Arvo Part. In cinema, I enjoy Aki Kaurismaki and Andrei Tarkovsky. Art is difficult to talk about… for me, it is more a matter of delighting in a collection.
Aaron: In architecture, the Spanish practice RCR; art: Bianca Hester and Berlinde De Bruyckere. Design: the guys at Archier, Chris, Josh and Haddad are pushing some great work. Music: recently…The Savages. Book: Triumph of the City. Fashion: Alexi Freeman. Cinema: sci-fi, Children of Men.
What's your favourite building (or buildings) of all time?
Thomas: Too hard to answer… but the Pantheon is pretty good. Lewerentz's St Mark's Church Bjorkhagen.
Aaron: I have many that may be my favourite, but I haven't visited them yet (so I don't know if they'll stack up!). So in terms of actually having been there, the Toro-do, or lantern hall in Koyasan Japan.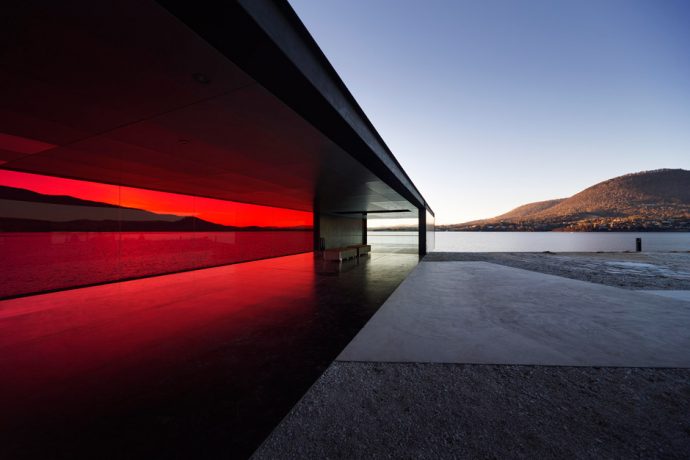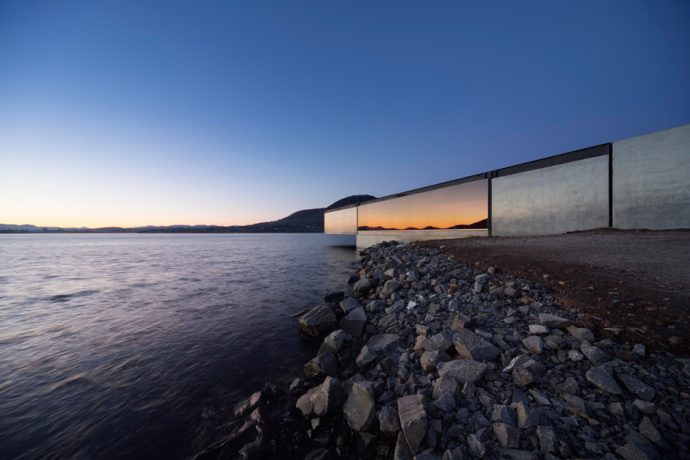 Environmentally sustainable design seems fundamental, almost a given, in the Room 11 design process, from materials through to ethos. But you also note the limited "good" ESD can do while Australian cities continue to sprawl or "erode the periphery". Can architecture make a difference? And what in your opinion can be done to go "beyond architecture" towards true sustainability in cities and in Australia? 
Aaron: Beyond architecture, public transport has a huge influence, designing our cities around high speed rail, reviewing potentials for distributed work environments or hubs linked to transport networks and stations, reducing pressures on city centres. We face very serious issues relating to energy production and food security. I'm interested in how hybrid, symbiotic infrastructures can be utilised to improve efficiencies and sustainability. At a crude level this is akin to utilising waste heat from industrial districts to heat homes, and at a geo-political level using the Mexican border fence as a giant solar collector as per Rael San Fratello Architects project for the WPA 2.0 competition. This idea of re-purposing infrastructure with dual or hybrid purpose and interlinking systems to reduce or eliminate 'waste' as an element I think is pivotal.
Thomas: At the macro scale, we can be advocates for urban consolidation and we can discourage development that destroys the periphery. At the micro scale, we can make our buildings perform as efficiently as possible and encourage clients to buy land on established public transport routes or close to their place of work. In short, we can publicly and privately encourage sustainable practice.
To view more of Room11's work, visit their website at: room11.com.au. Cinematography by artist and filmmaker Jon Mark Oldmeadow: jmo-mi.com. All photos by Ben Hosking: benhosking.com.au.