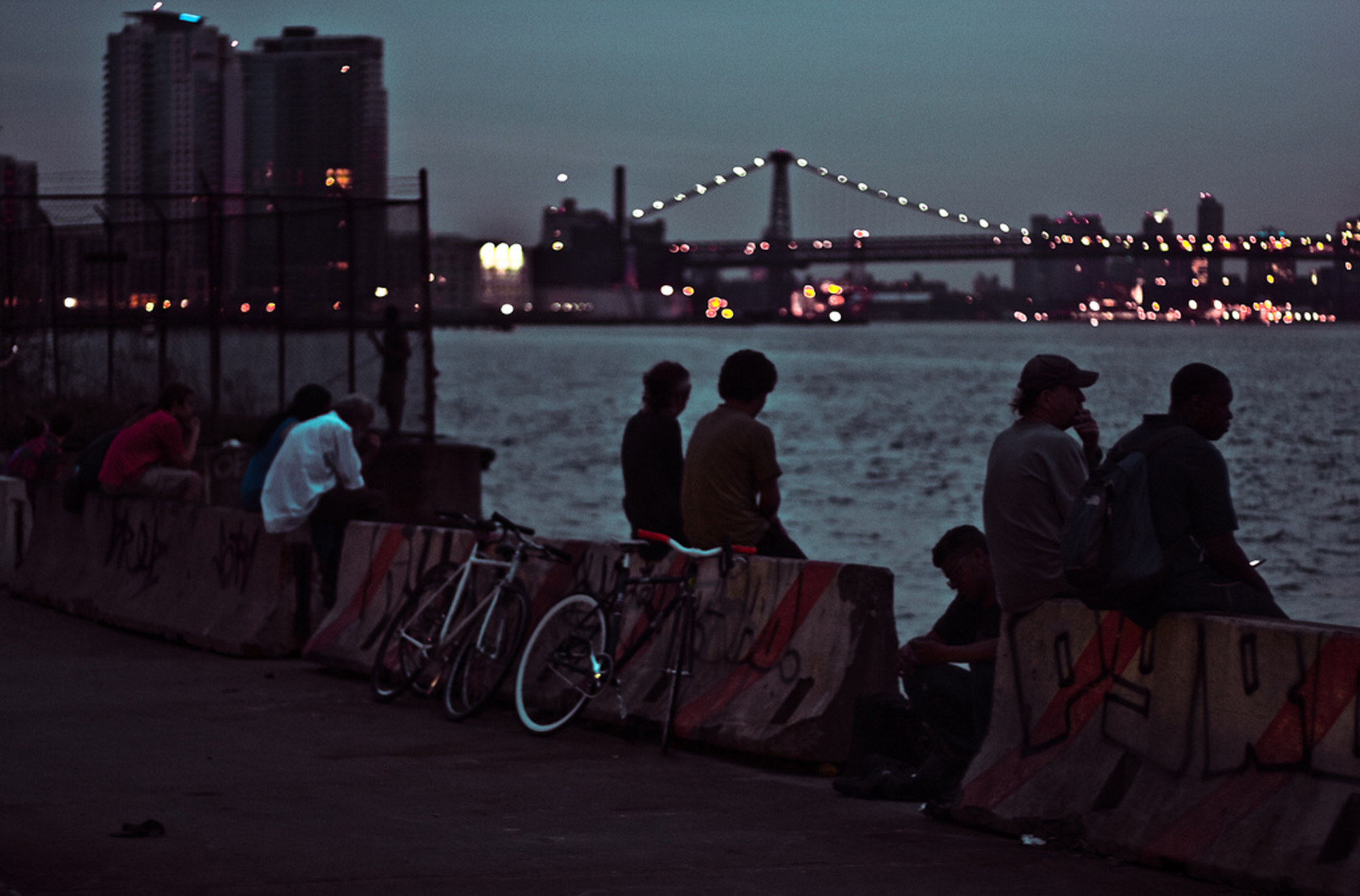 May 9, 2013
Last summer, I spent three months riding around New York City on a steel frame Colnago. I interned at The Paris Review by day and wrote by night. The bike carried me between these two activities, every morning and evening. My commute took me from Sunnyside in Queens, where there are few bike paths, past a cemetery, into Greenpoint in Brooklyn, where there are many bike paths, and across the Williamsburg, a beautiful cycling bridge. It has a separated bike path with a long, smooth, steady climb, and a spectacular view of Manhattan. After the bridge, I'd drop into the Lower East Side, past hairdressers, vintage clothing shops, and celebrities, and then skirt southward along the eastern edge of SoHo down to the office in TriBeCa. In all, that summer, riding saved me four hundred dollars in subway tickets. About seventy percent of the route was along bike paths, of which a majority were well maintained and respected by drivers and pedestrians. There was a sense of camaraderie: most cyclists smiled at each other; sometimes, we'd coalesce at a traffic light and ride en masse for the next block or two. One day, as I was crossing Allen St, an attractive girl (a volunteer for the NYC Department of Traffic or DOT) stopped me, made me iced coffee, and thanked me for choosing to ride to work. This was the right way to commute. I spent so much time on the bike that it became an instrument for reflection on society and life in general. The bicycle mediated my experience of the city, lending immediacy to my relationship with urban space, the movement of human bodies, air quality, and traffic. In turn, in my own way, I felt as if I was helping the city become greener and nicer.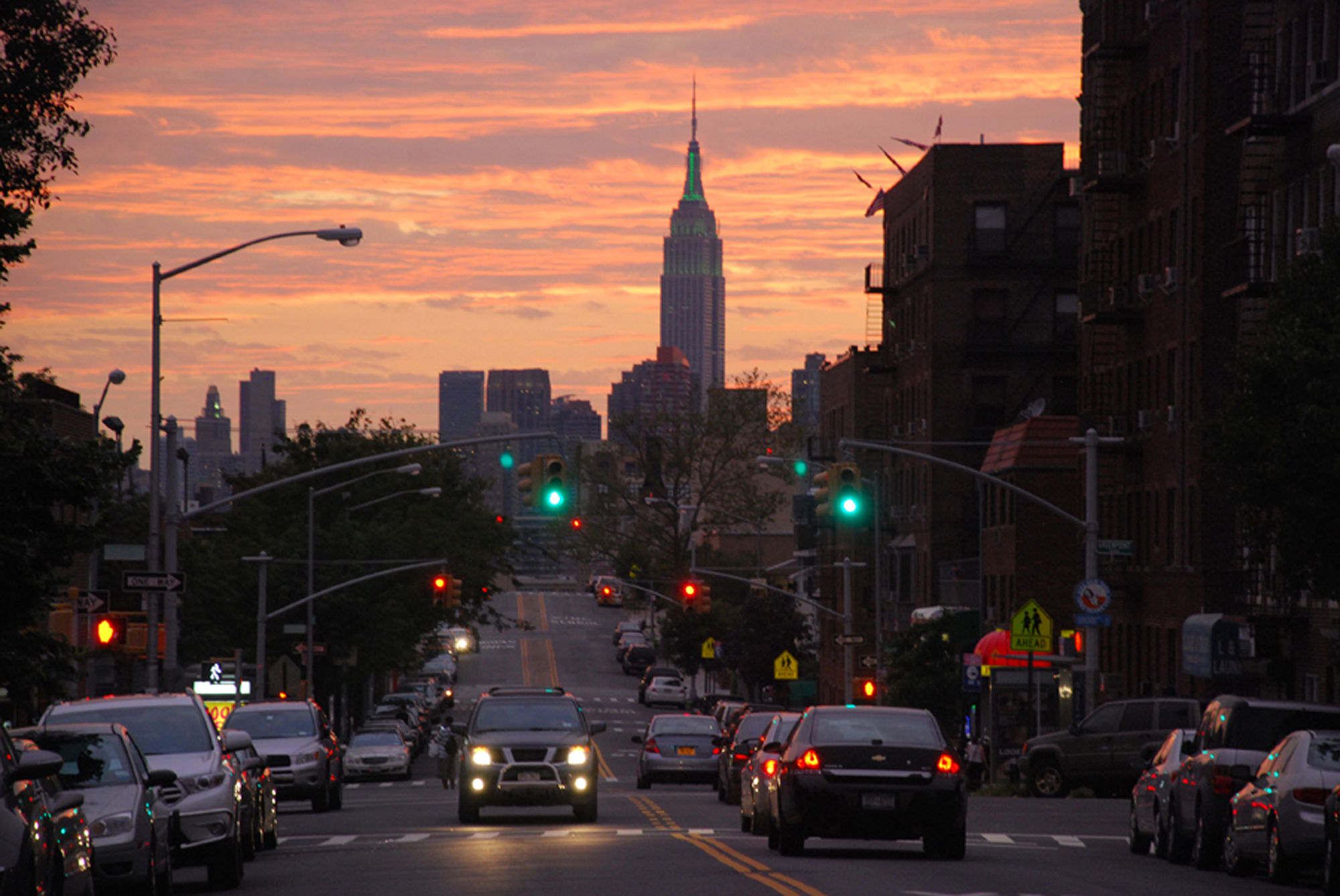 Every Saturday, as a way to unwind, I rode across the Ed Koch bridge (bumpier and narrower than the Williamsburg), through the Upper East Side, and into Central Park, which is closed to motor traffic on weekends. All three lanes of the 10km road that winds through the park are left for joggers, tourists, horse and carts, and cyclists. I'd race against men and women on fancier, newer, more expensive bicycles. These impromptu encounters were usually very competitive (no surprise: in New York City, everyone is out to prove themselves). Nonetheless, there was that same sense of partnership between the riders that I experienced on my weekday commutes. We felt as if we owned the lanes, and that there was no other traffic, just human, horse, and car-shaped obstacles. I started riding along 6th Avenue, which has no bike lanes. I got in the habit of shouting at people who got in the way – for their safety, but also to avoid the inconvenience of having to stop. As summer drew on, it seemed to me we were moving faster. In a sense, we were.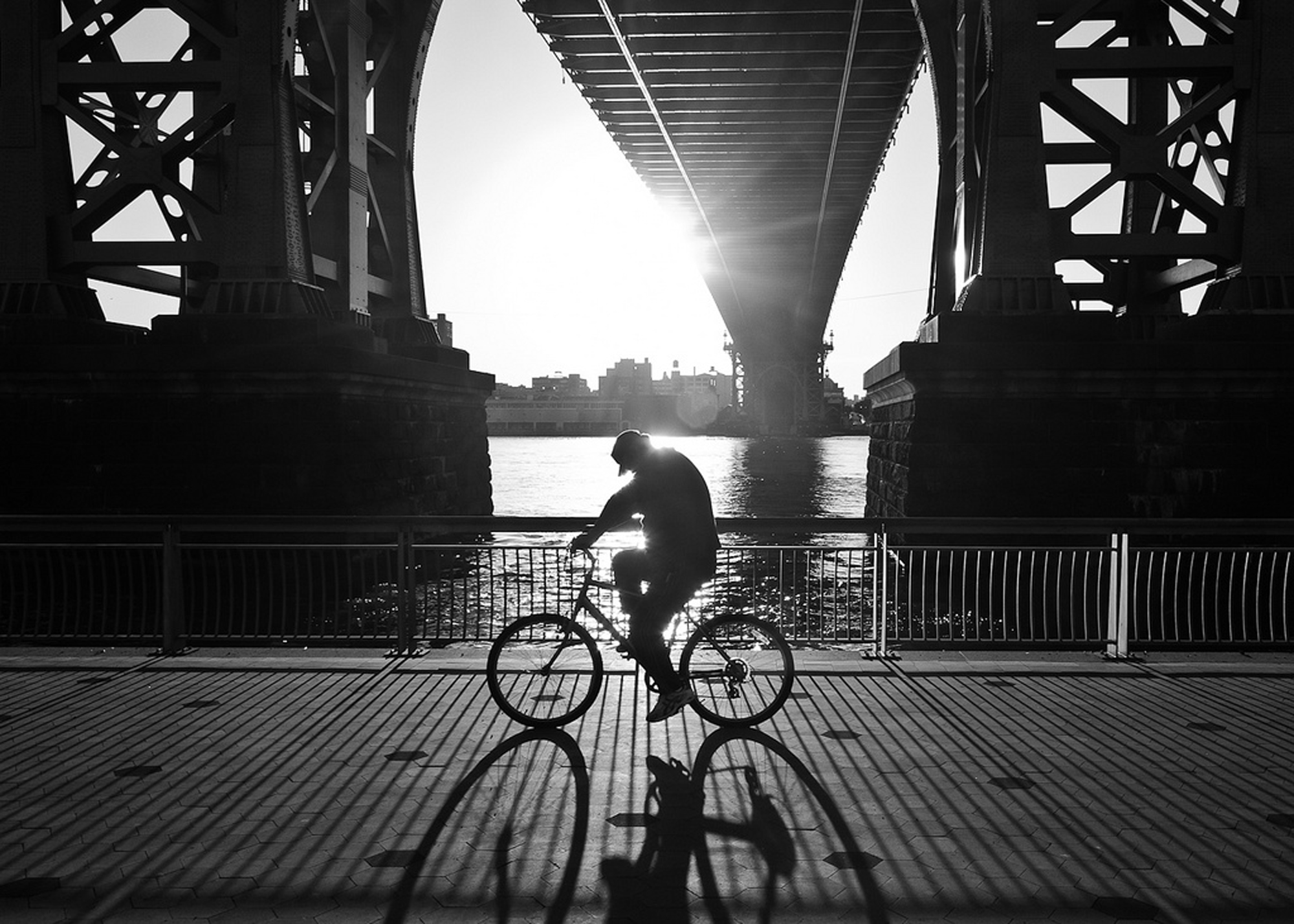 In early August, a series of articles appeared in New York City newspapers about how Central Park had become dangerous for pedestrians as a result of the "speeding bicyclists who treat roads like Olympic velodromes." Around that time, the DOT released their statistics for traffic injuries for 2011, which showed a spike in bicycle related injuries and fatalities over the previous two years. I had a brief exchange with a woman handing out pamphlets about the statistics on a street corner. "Look," she said, "so many people are crashing their bikes and dying." I pointed out that the increase in accidents had much more to do with an increase in the number of bicycles on the city streets, but she didn't seem to understand my point. A friend fell while riding a bicycle in Bay Ridge, Brooklyn and fractured her ankle. People started telling me to "be careful" or "ride safe" whenever I headed out on my bike.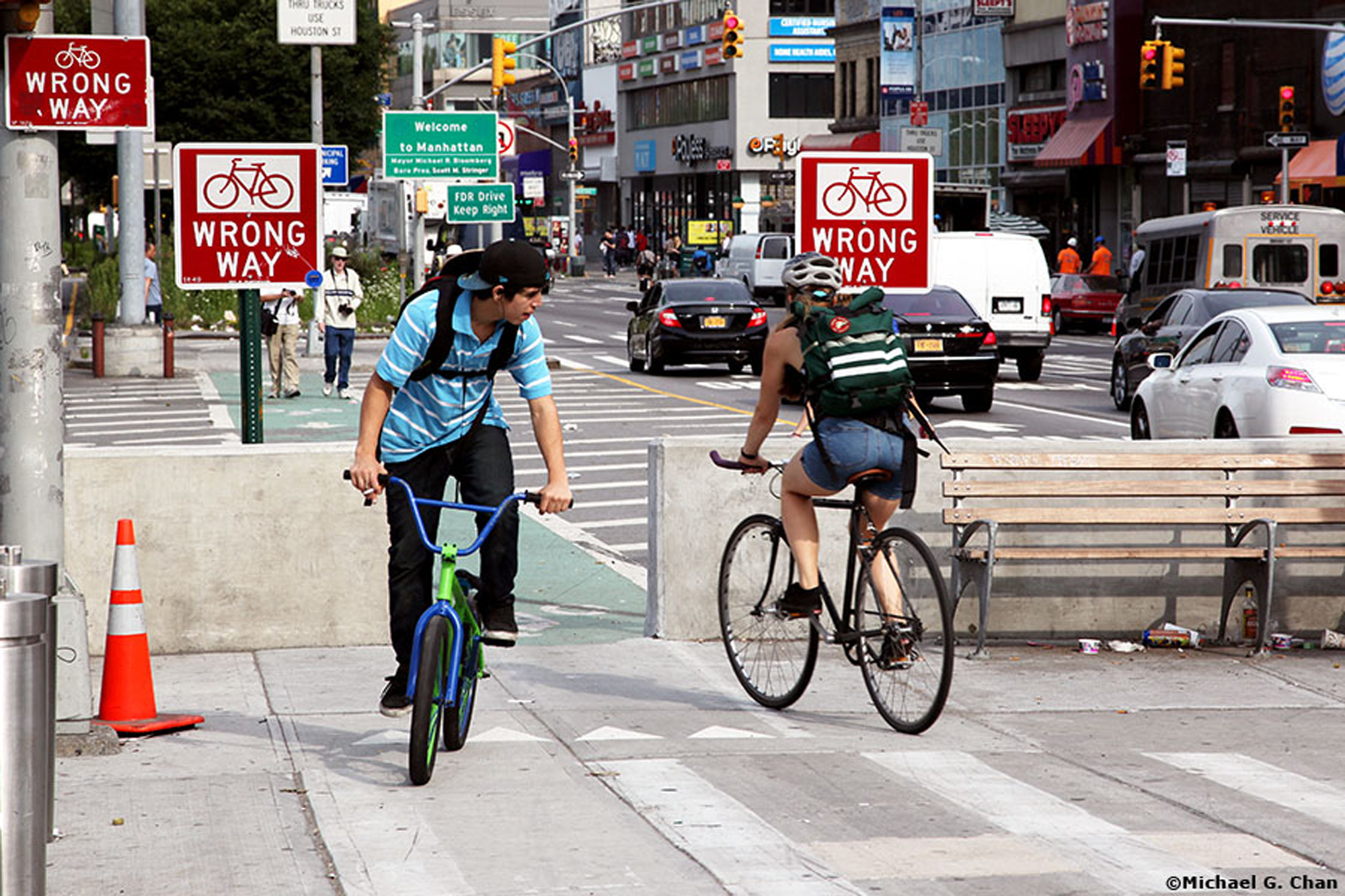 Then, a man cycling along Greenpoint Avenue, about five blocks from my apartment, was struck and killed by a hit-and-run driver. The tone had changed. I realised the meaning of the ghost bikes dotted along my commute. Cycling in New York City didn't seem like such a perfect mode of transportation anymore. By the end of summer, I was only commuting about twice a week. The last time I rode in Central Park, there were policemen at every pedestrian crossing, fining cyclists who didn't obey the traffic code. At one crossing, a woman was screaming at us: "stop! stop! stop!"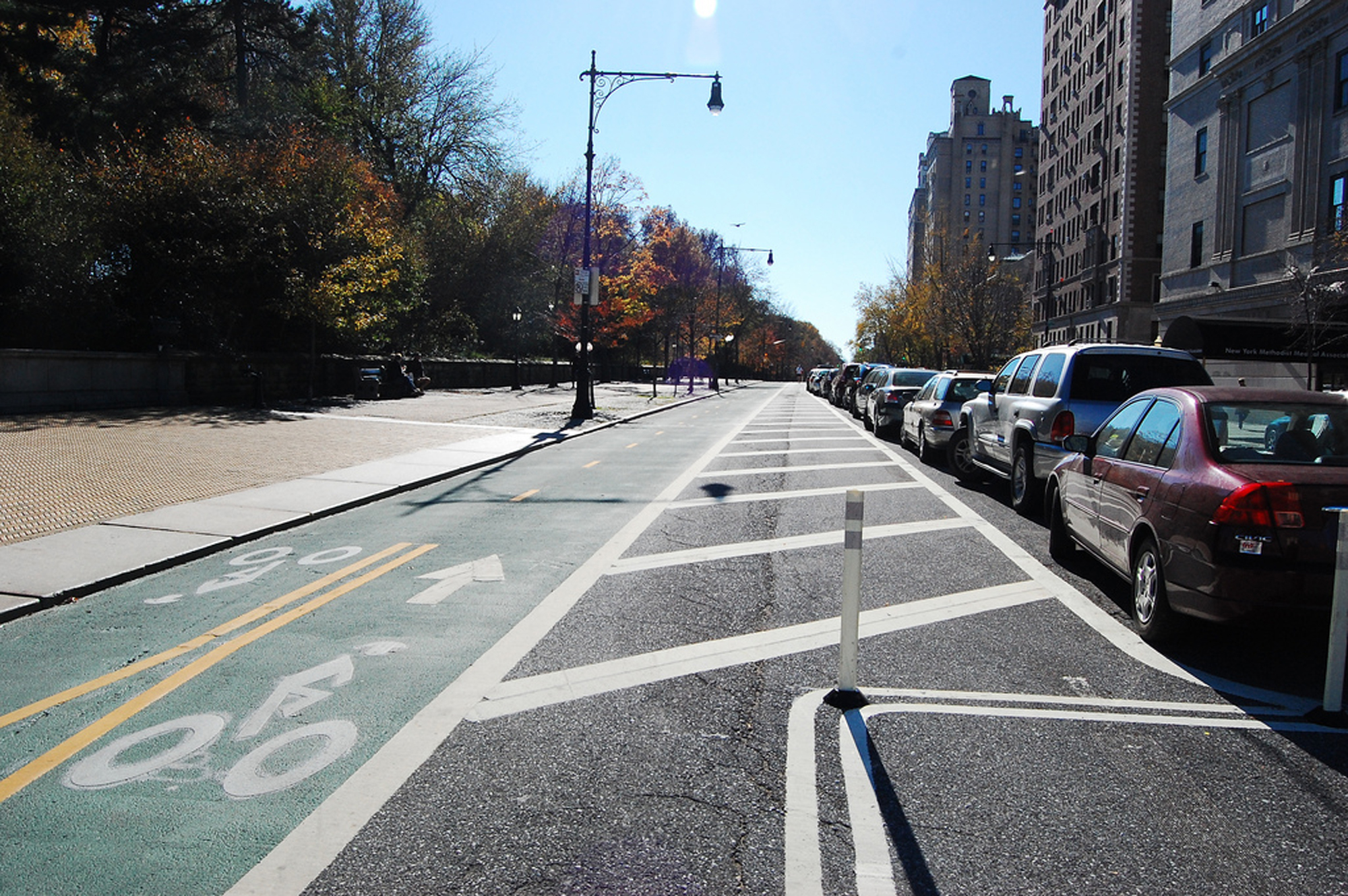 Improving New York City's bicycle infrastructure has been a major policy during Michael Bloomberg's tenure as mayor. Since 2002, when Bloomberg took over from Giuliani, the city has added about 480 kilometers of bicycle lanes to the city streets. In 2008, the DOT embarked on a program to double bicycle commuting by 2012, a goal they actually reached a year ahead of schedule. Earlier this year, the New York Times described the city as having become a cycling heaven. But the events of late summer showed a different perspective on cycling in New York City. What seemed for so long like a benign, non-issue (who, we asked ourselves, would ever oppose more bike lanes?) began to boil. In February came the news that we had, until then, thought unthinkable: none of Bloomberg's potential mayoral successors plan to continue the bicycle infrastructure program. Some candidates have even said they would probably remove some cycle lanes. To many, the bicycle program is just another example of Bloomberg's unilateral project to form the city according to his own vision. How, I asked, could this be?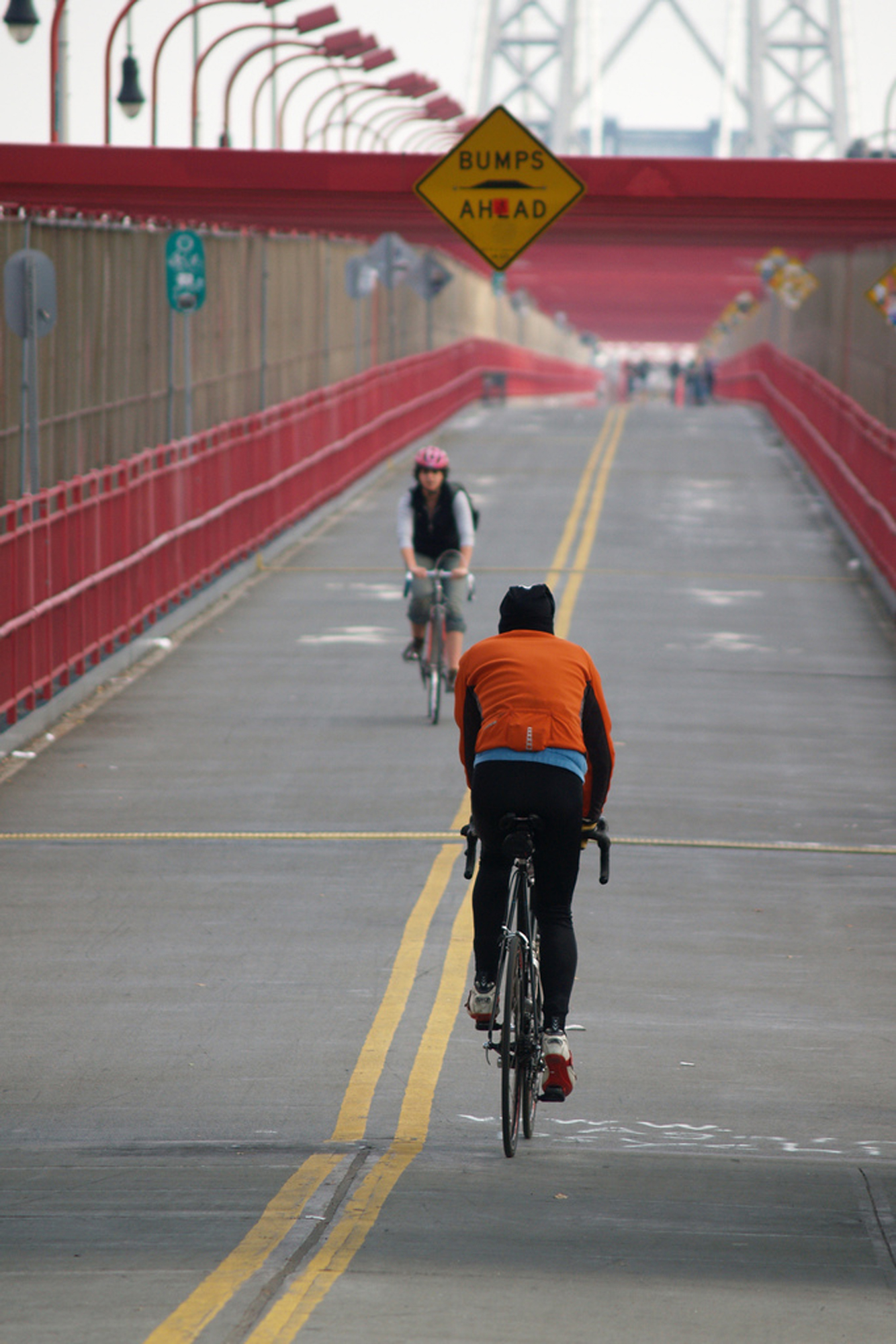 I think what us cyclists forget is that to other people, cycling is not necessarily the morally obvious cause that we think it is. The facts are apparently a little irrelevant. A second debate has raged in New York City about whether increased cycle traffic helps or hurts local, storefront business; the DOT statistics clearly show that they help, but that hasn't changed the fact that people still think that bikes hurt business. When cycling, it is easy to feel like a more conscious urban citizen; to see the health and emotional benefits. But how is this visible from the comfort of a car, or even a sidewalk? An estimated 200,000 people ride each day in NYC, but several million don't. This, I realised as I was riding through Prospect Heights a few months ago, is the issue. People talk about the arrogance of the cyclist, weaving in and out of traffic, ignoring traffic lights, and shouting at pedestrians who wander on to bike lanes; this is the peril of taking the morally superior route to work.
Ultimately, it has something to do with communication. The only time I communicated with people in cars over summer was when I was angry, or scared. The only time that pedestrians communicated with me was when they were angry (except for one man who stopped me to compliment me on my bike). Cyclists believe that if you're not cycling, you're in the wrong; the non-cyclists park their cars on bike lanes; and the Hasids feel affronted by female bike riders, or "hotties." Cycling is about bringing yourself into more immediate contact with your city, and yet there is a danger that it can alienate you from the non-cyclist majority. On the bike, it's possible to forget that you are part of a complex urban ecosystem, of which the cyclist is just one part. I get the sense that sometimes people think that we behave like an invasive species. And though, yes, in part, we do want to claim more and more of the city habitat from the car, the bicycle is ultimately a tool for coexistence.
Feature image (top) by James McDowell (courtesy CC-license via Flickr).