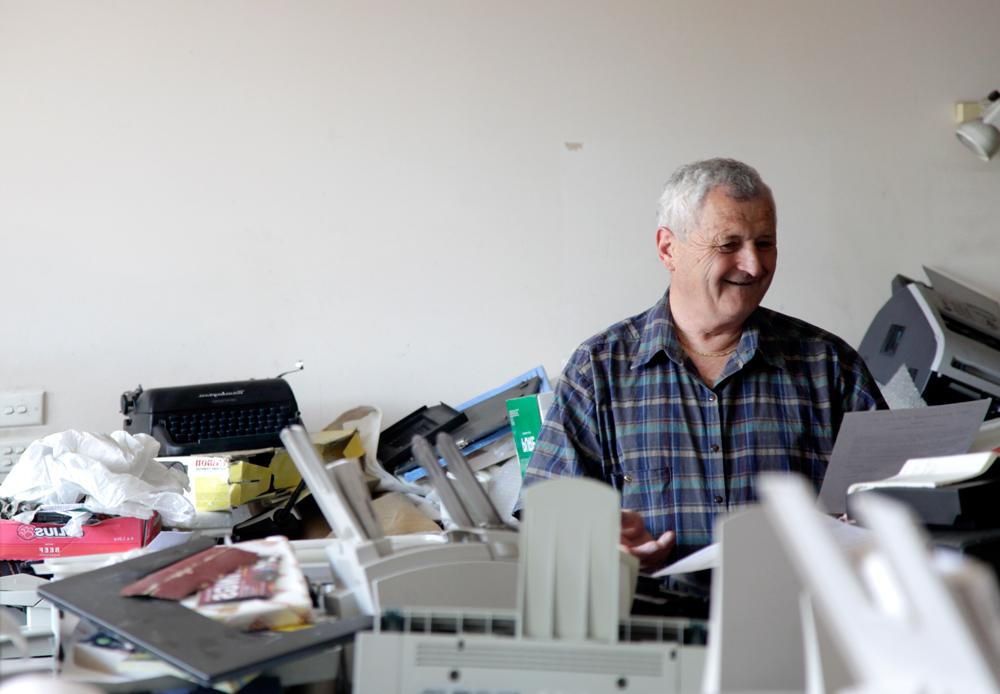 Nov 29, 2012
Welcome to Back to the Future, a celebration of small business heroes who remain quietly triumphant, despite urban gentrification and renewal. Self-made bosses at the helm of some of the most interesting, idiosyncratic shops and establishments we've come across. Tom fixed our typewriter. And, after a bit of coaxing, he told us of his 20-years on Elgin Street – a tale of typewriters.
"I arrived in Australia in 1966 with my first wife and began working immediately as a typewriter technician in Melbourne for a firm at 192 Elgin Street. Before that I had worked for a year in Germany, several months in Austria and former Yugoslavia where I originally learnt my trade. When I arrived in Australia I didn't speak any English, so I found a man who used to be my countryman and was a foreman at a typewriter repair company. In 1969 we started up our own business a few shops down. In 1985, we went our separate ways. I bought out his share of the business and moved into 188 Elgin Street where I have lived and worked ever since.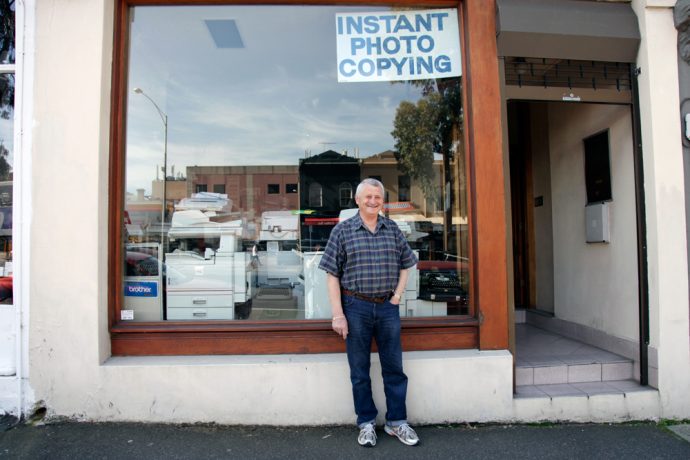 Elgin Street has changed a lot and will continue to change constantly; there are a lot of hairdressing salons here at the moment, they come and go but I stay. I would have to be the longest resident and business on the street; I like the pizza place a couple of doors up. And Percy's pub. I know Percy very well.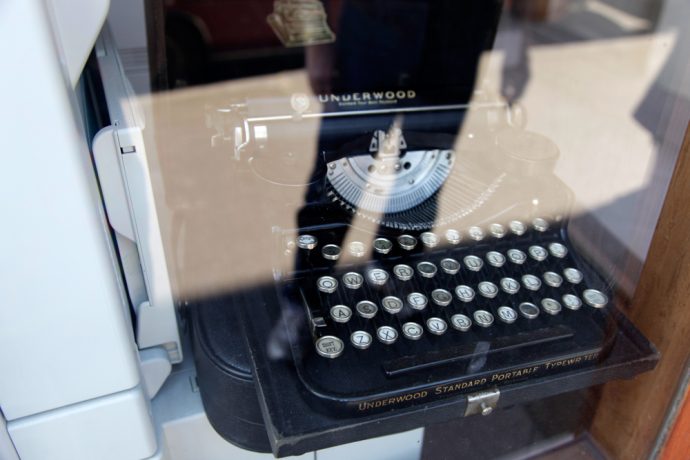 When I began my own business Elite Office Machines, we specialised in manual typewriters. But as electronic devices became more and more accessible in the 80s we incorporated fax machines, printers and photocopiers. We had to adapt in order to survive, typewriters weren't enough to sustain the business, and I was lucky that I owned the property I was working from. Learning new technologies wasn't that complicated, you learn as you go and once you know how to repair something you can fix just about anything.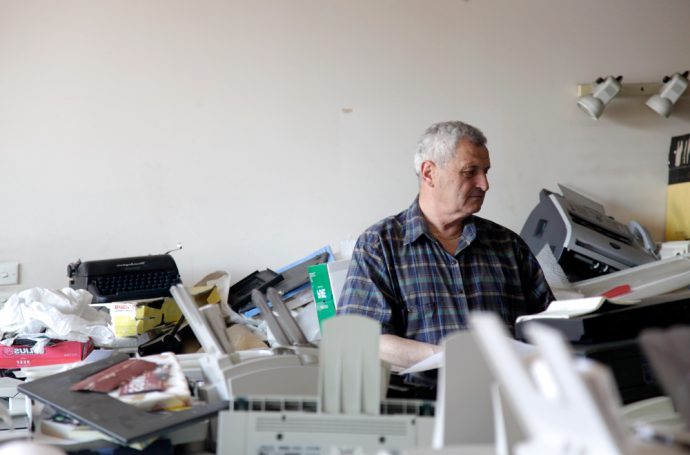 A client of mine promoted my business on the internet; I was amazed because I'm actually computer illiterate and have no interest in computers whatsoever. Actually if I need to type a letter I would rather write. I know they are good for finding anything you want, but I don't want to learn, maybe when I get a bit older I'll start to play with the games, but otherwise I'm not interested. I don't even have business cards; I must have built some kind of a good reputation over the years because customers prize me as 'the best and cheapest'. The other thing is that they don't have anywhere else to go! People say 'I found you on the internet' and I say 'I beg your pardon'! I wouldn't even know how to do that! I have been here for so long that people recommend me and say 'there's a place on Elgin Street'. Customers and other people advertise for me, I don't need to spend any money on it!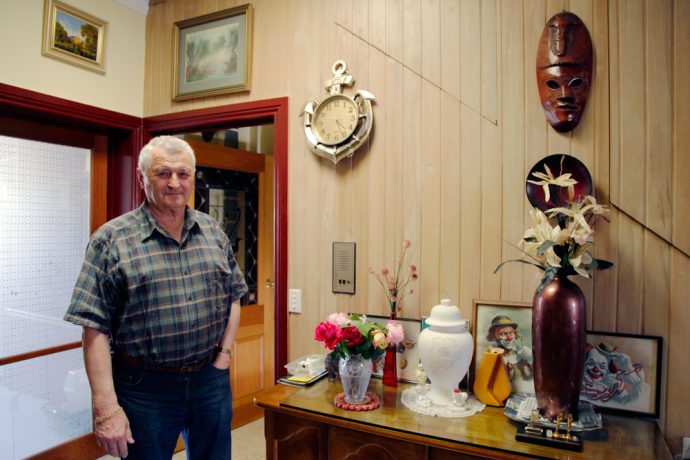 There has been a resurgence recently with typewriters and a demand for servicing, not only older people with a sentimental attachment to their typewriters but younger generations also. It's good for me because I have nothing else to do except fix typewriters! I must have a couple hundred machines in my shop and upstairs, maybe even more, three, four hundred. I'm not sure, I have accumulated so many over forty odd years. When I arrived in Australia there were only manual typewriters and soon electric ones so I began repairing them too. At the moment my two sisters are visiting, and they're going to help me get rid of some of the machines I have. Nobody wants to collect photocopiers, and eventually maybe I will solely repair typewriters again.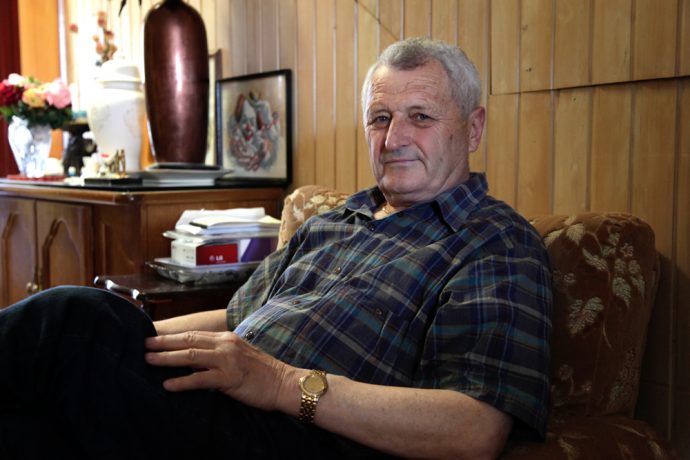 Apparently there's another couple of guys in Melbourne working as typewriter technicians, but I would be the only one who works from a shop, I'd say. I work on demand 9-5 every day, sometimes even on Sundays. Because I live upstairs its easy, I'm always working. I enjoy repairing typewriters; it's a pleasure fixing something that doesn't work. People bring me their rusty old machines and ask me to just make it work. I say 'sure no problems', I enjoy it. I'm like a typewriter doctor!"
Interview compiled by Sarah Lyons, photographs by Eugenia Lim. Many thanks to Tom for his time, typewriter skills and candour. As you might have guessed, Tom is not on the world wide web apart from over on Three Thousand, but you can give him a call to make an appointment on +613 9347 6311.