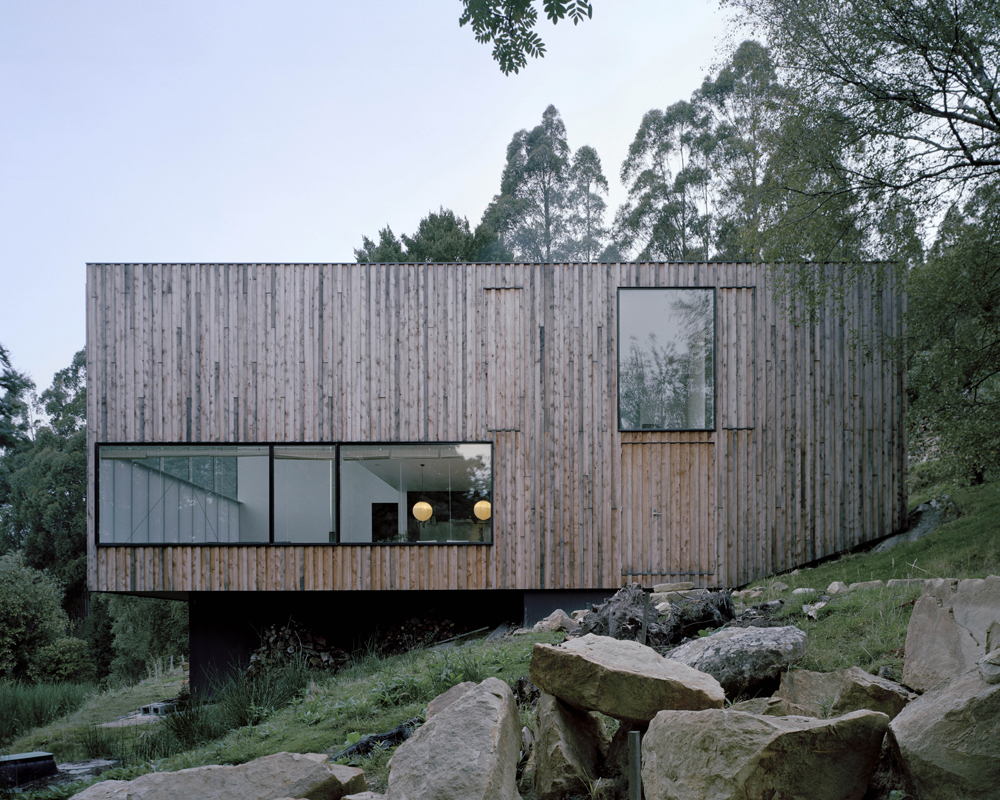 Oct 31, 2012
On the eastern slopes of Mount Wellington in Fern Tree, just 13km from the Hobart CBD, sits 'Little Big House', a home self-designed by architects Thomas Bailey and Megan Baynes of Room11. The house sits on a former vacant lot between established houses, gardens and trees. What appeals to me is its simplicity and pared-back design – with its modernist form, untreated timber cladding and mirrored glazing (which reflects the surrounding trees and sky), it's as if Little Big House has always existed, in just the right place. The home, like the couple (who describe their rectangular dwelling as "just a box") is understated, sensitive to its surroundings in a sloping, alpine environment. The exterior of 'the box' is clad in salvaged celery top pine (sourced from a friend's father's specialty timber mill in Huon). As Thomas explained, the build process was a relatively sleepless but exciting phase. Working full time and with a new baby, Thomas racked all the timber cladding and did the internal joinery, painting and some carpentry on nights and weekends.
Large, double-glazed windows are positioned across the ground floor and mezzanine level to focus views and sightlines at various heights over the Hobart hilltops and Derwent river. To frame a view of the open sky, polycarbonate cladding on the eastern and western facades create luminous shadow walls while editing out a view of the road and power lines. Having lived here for 3 years now, the couple and their two children adapt and reconfigure the living, entertaining and sleeping spaces with their changing needs. Megan, who "has a thing for rearranging interiors", constantly moves furniture and the family of four even shift bedrooms from time to time. Internal sliding partitions can divide the open plan space for quieter activities. Originally designed with an air of asceticism, as a kind of minimal artist studio dwelling, the space has now adapted and relaxed to include many "miscellaneous teddy bears and kid things".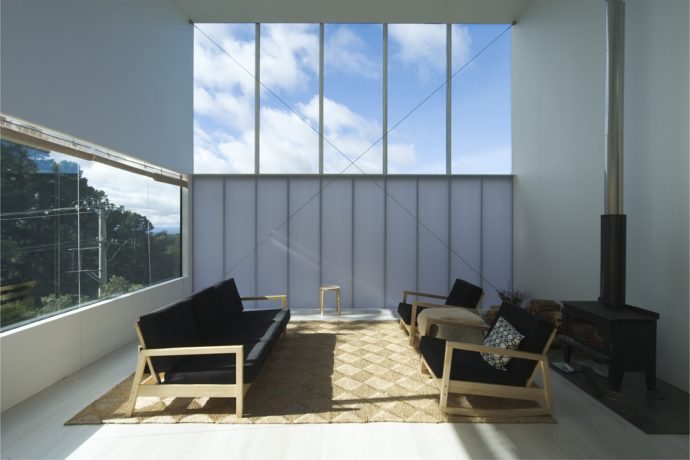 Determined to minimise the impact of their home on the landscape, Thomas and Megan sited their home in an area of existing development, rather than extending the suburban fringe of Hobart. As Thomas explains: "we looked for around 2 years for a piece of land after we returned from study in Europe. We wanted to live in Tassie, particularly in Fern Tree – close to a city of sorts. And, as urban designers, we felt it was important not to be part of the expansion of the suburbs. It was tempting to get a bush or rural site and put a building on it… then have to drive 2 hours to get to work. But for us, that didn't seem morally justifiable. Of course, that made it harder for us to find a good piece of land! In the end, we found a plot in Fern Tree with a good bus service and I cycle to work most days. Fern Tree was one of the first settlements outside of Hobart – since the 1920s it's been a place people go on hot summer days. The people who move here look for something a bit different to the suburban lifestyle – it has a cooler microclimate. Winters in Fern Tree are dramatic and cold."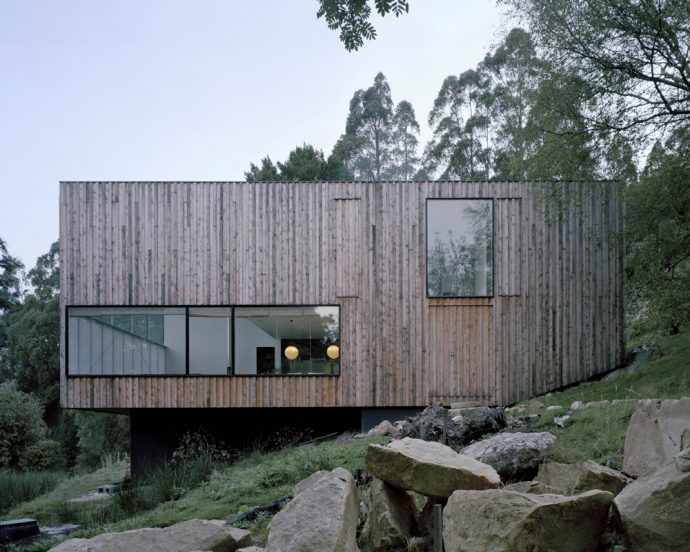 All photographs courtesy Ben Hosking, except the photo (above) of a wintery Little Big House by Megan Baynes.
Architects: Thomas Bailey and Megan Baynes
Project completion: 2009
Materials:
Exterior
Salvaged celery top pine
Danpalon
Double glazed argon filled windows
Internal
Ceiling walls: Plaster
Floors: Tasmanian oak / suspended concrete slab
Sliding doors: Mirror
Size: 150m sq