Culture
Material storytelling: interview with Bo Reudler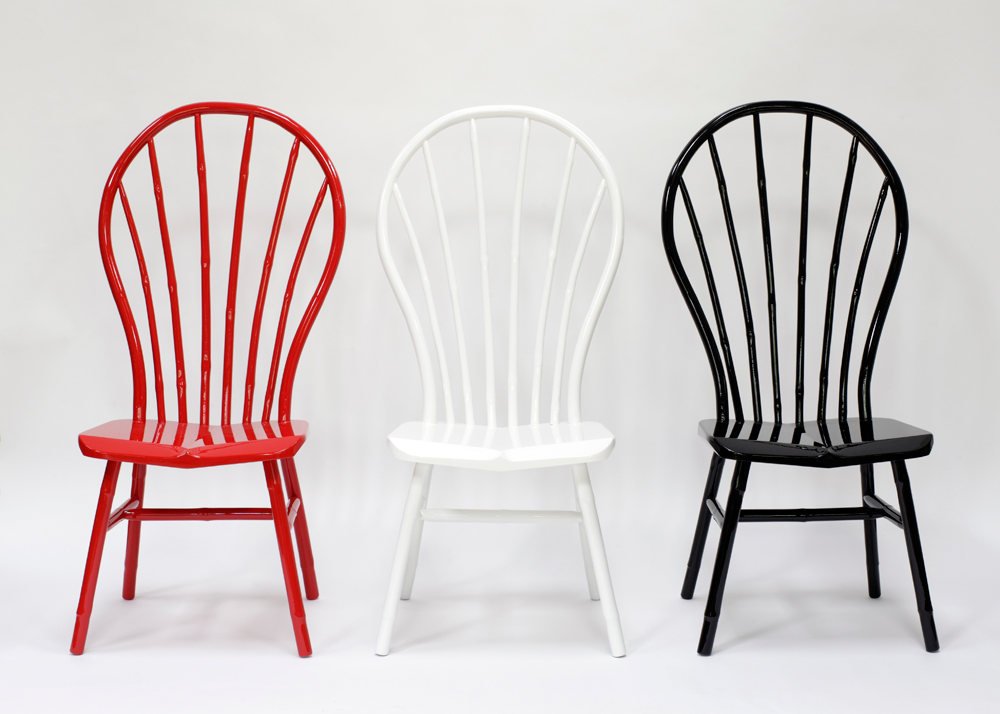 Sep 27, 2012
The 2009 Slow White collection showcased Bo Reudler Studio's unique ability to marry environmentalism with fairytale whimsy – no gruesome Grimms endings, just idiosyncratic, handmade beauty. Each spindly-legged piece was made from recycled timber and gathered forest wood (beech, birch, cherry or oak) collected by Bo. As both woodsman and carpenter, Bo left his computer behind, crafting each piece by hand, "knowing everything that went into the process, working consciously, smelling the wood, feeling the structure, composing." Bo Reudler has just returned home from the London Design Festival where he showcased his latest work, the Bamboo Windsor chair, a collaboration with architect Olav Bruin. We interviewed Bo across time zones to learn more about the 'aesthetics of bamboo' and finding beauty in familiar forms.
Tell us about your collaboration with Olav Bruin – what drew you to working together and was bamboo an essential part of this process? 
Olav and I went to high school together and back then we already knew I would be a product designer and Olav an architect. Years later, in 2009 while I was searching the Dutch woods in search of branches to use for Slow White, Olav was stationed in Thailand to manage the realisation of the Childrens' Play Den of the Six Senses Soneva Kiri Resort for 24H, the architecture office he works for. During this one-and-a-half year period he got really into working with bamboo and rattan and told me we should design a furniture collection from this beautiful material. I was quite skeptical at first since, like many other people I associated bamboo with cheap ass furniture. But then I found a special mutated form of bamboo with exceptional bulbous segments that reminded me of traditional European wood-turned furniture. We designed a furniture collection with this material, called it Haute Bamboo and presented it in Milan [at Design Week]. That was 2010. From then on we've been thinking of designing a 'pret-a-porter' version of our Haute Bamboo chair. In 2011 we made the design of this new chair and submitted it for Designboom's 2012 TIFF Award Competition [from a total of over 3000 submissions, Haute Bamboo was selected as the winner of the 'home interiors' category].
What is bamboo like to work with as a material? 
Bamboo is not a wood but a type of grass. Working with it is different than working with wood. Often the material requires different connections and handling. Bamboo has a strange smell as well if you work it. In the beginning it can be somewhat repulsive but after a while you're addicted to it. This must be the reason why we keep coming back to this material.
Bamboo furniture tends to have a certain 'look'. Was it important for you to shift bamboo away from its 'kitsch' reputation towards something more sophisticated? 
By removing the top layer of the material and coating it with a glossy linseed-oil paint we try and lift the material to a new aesthetic level. I think it is important to make people look at the material with fresh eyes. Bamboo is a great material to work with and rapidly renewable at the same time. It's important it overcomes its reputation as poor man's timber.   
Why did you choose the Windsor as the design to build upon? 
Some of the traditional Windsor chairs are wood turned in such a way that it almost looks like they are made from bamboo. So it felt perfect to use real bamboo. Besides that, the Windsor is a very familiar shape of chair to many. I like that. I like to make things that look familiar to people. Things people can relate to.
There's a narrative and sense of play in your designs. Do you see yourself as a storyteller of sorts? 
I see myself as a storyteller through matter. An object without a story is as a body without a soul.
Who, what or where do you seek and find inspiration? 
In nature and in solitude. Twice a year I lock myself away in a forest hut without connection to the outside world. That's where I come up with the ideas for my pieces. A week of doing nothing can sometimes be more productive than months of hard work.
Can design save the world? 
I believe you can save the world by fighting evil or adding beauty. I opt for the latter.
Photos courtesy Bo Reudler Studio, with images by Raoul Kramer and Bo Reudler.