Housing
The Cairo: romance and the minimum flat

Jun 18, 2012
A leafy art deco gem built by Australian modernist architect Best Overend, Cairo Flats was completed in 1936. This post-dated Overend's September 1933 article 'A Minimum Flat with Maximum Comfort' in the publication 'Australian Home Beautiful.' Writer James Stephens talks to former resident Kate Rhodes about the romance and quirks of her Cairo days.
Welcome to this column about the culture of apartments. While this section is called This Vertical Life, Cairo Flats isn't very tall. If anything, it's U-shaped. Cairo Flats is a horseshoe of brick and reinforced concrete from the 1930s that faces from Fitzroy onto the Carlton Gardens over Nicholson Street. It consists of 20 studios and 8 one-bedroom apartments, is bordered by greenery and embraces a garden on its own site that each flat opens onto or overlooks. Apart from balconies and stairs, the perimeter of the building is even, with bedrooms and bathrooms interlocking internally in the floor plans. The roof is flat, and was intended as a social – even sporting – space for residents and guests, accessible by curved, cantilevered concrete stairs.  The main building was originally accompanied by a shop and communal dining room, 8 car garages and two communal laundries.
Access to each flat is from external pathways on the west and south. The entry hall of each flat has a telephone, and all front doors are green with a round port-hole window. Each hallway opens onto an open timber-floored living space, which includes seating space for two over a meal. Despite the shop and communal dining room, each flat has a small kitchenette that sits next to the entry hall on the south or west, featuring a gas cooker, sink and storage space. The walls and ceiling of the living space meld in a curve with no cornices. Opposite the entry and kitchenette, the living space links to the outdoors through a large window and  door onto a cement-finished sun balcony with curved corners at ground level or cantilevered from the first floor, facing north or east.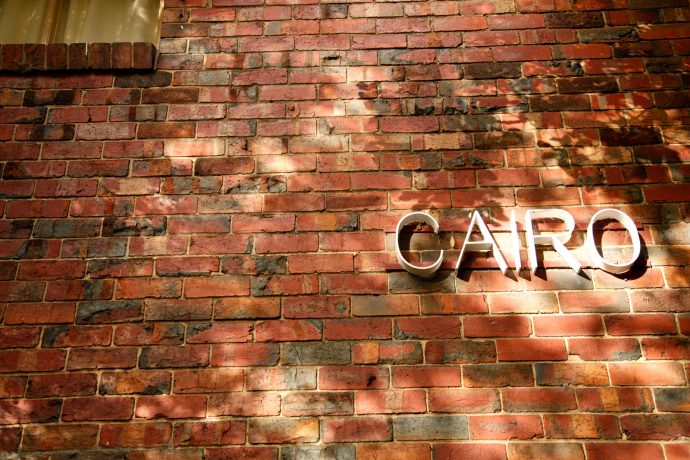 Built by Best Overend, Cairo Flats was completed in 1936. In Australian Home Beautiful, Overend described the desire for 'minimum flats' in London, where he had recently been living and working. Among other things, it included a floor plan of a 'minimum flat' that was not dissimilar to floor plans used in Cairo Flats. The 'minimum flat' allowed Overend to recalibrate the elements of a home. An economical layout and affordability met fashionability and comfort not normally associated with a bachelor pad, studio or bedsit. While slimming-down the private living space and kitchen area, the designer magnified the shared spaces, both functional and social, through the gardens, the laundries and the even the roof. There were flourishes in the use of finishes, including importing the design of curved aluminium door handles from London. The seemingly unsupported stairs were exotic, even unique, at the time of their design.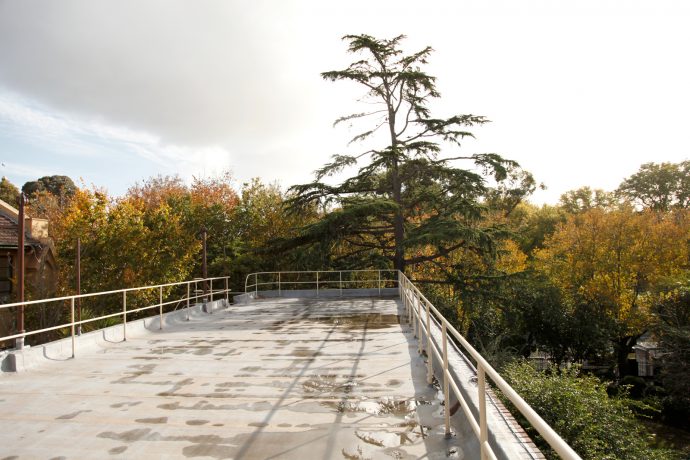 Cairo Flats has since been renovated, and the roof is no longer considered structurally safe for people to access. Until a recent residential conversion, the shop still operated as a milk bar on Hanover Street. The dining room is gone and The Cairo Flats are now simply residential. Yet what was meaningful then is still meaningful now, despite the changes. People are still drawn to Cairo Flats because of its history, its lean, spatial economy and  its connection to Melbourne's inner city gardens, and proximity to bars, the CBD, universities, museums and galleries.
Daniel Palmer (lecturer in art, design and architecture faculty at Monash University) and Kate Rhodes (curator at the Design Hub, RMIT University) are now married, but made their first step towards living together when they moved into two adjacent studio apartments at Cairo Flats over ten years ago as students. They'd been attracted by an ad stating 'Garden Setting, Nicholson Street'. The pair knew that Cairo Flats was architecturally significant, and so studied its history and layout before Dan applied to move in. Two months later Kate moved into the studio next door, and bingo, the couple of just a few months were living together.
Cairo Flats for a long time, has attracted residents who are art, design and architecture makers or thinkers. As Kate said, "At first, we didn't know anyone there, but soon found that we did". Two work colleagues were neighbours, and soon, another friend moved into the building. "I remember getting to know a lovely woman who would always lose her keys, and have cups of tea with us waiting for the locksmith to arrive".
"Our two studios seemed like a bigger space. We'd run between each other's rooms when working for last minute deadlines on articles. The doors were always open, and we'd spill out of rooms. Unless there was bad weather, we always had breakfast on the balcony, in our two butterfly chairs. But it wasn't spacious, and if your blinds were open, you were on show. It was lucky that we didn't own a lot of furniture and things. The bed was a couch when entertaining guests. Dan had a kidney-shaped coffee table that served as a dining table, and we always ate sitting on the floor. We spent a lot of time planted in front of our desks too. Dan has a huge library. Somehow it managed to fit. Things were always piled up – there were books in the bathroom cupboard. Sadly, the polish of the place had faded, and become a little harsh. The kitchenettes were decrepit. Repairs had not always been done with care; a lot were not in keeping with the history of the design. They had been let go. 'The rooftop was not safe anymore, so you weren't allowed up, but we went up to look anyway".
"There was a milkbar when we were there. It sold only one newspaper and one type of milk. That's all they had. They would close for the day when they sold out. It was beautiful living there though. The shared garden felt like your own garden…an incredible sense of green. We were conscious of living somewhere that was special, and we felt we were experiencing part of Melbourne's history".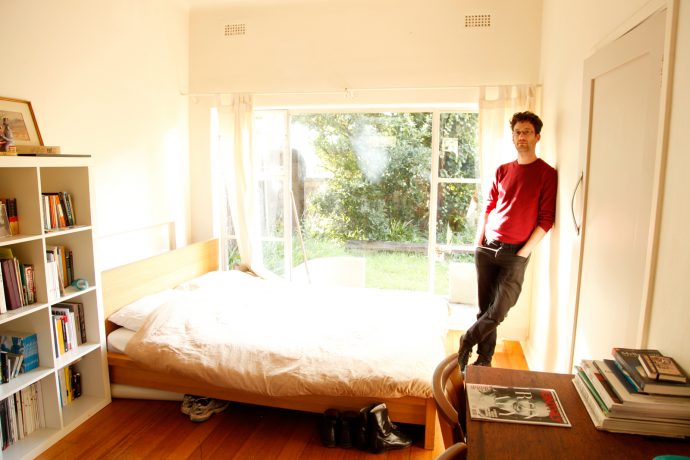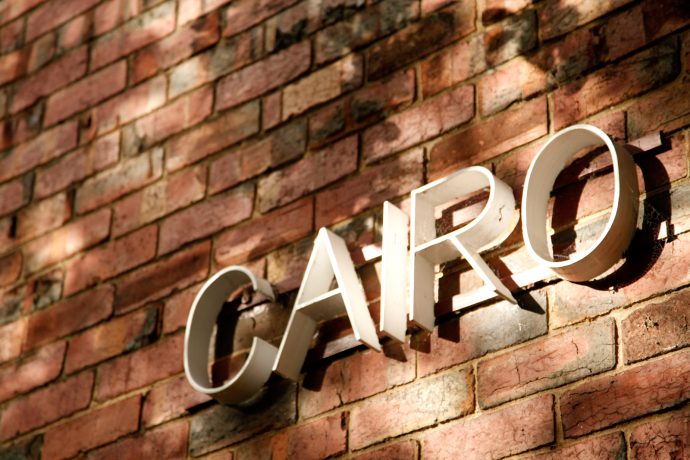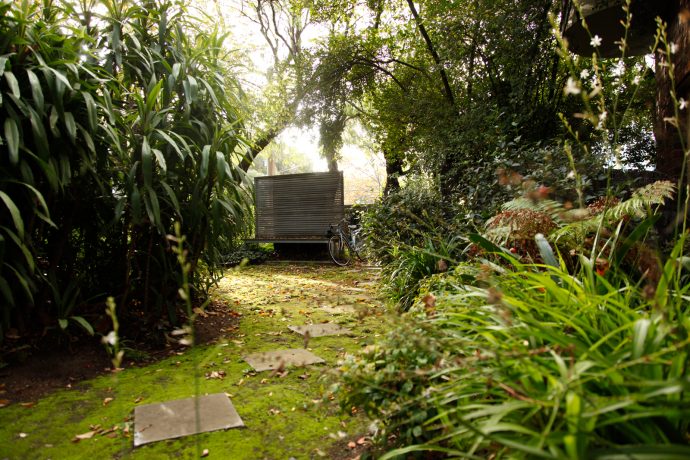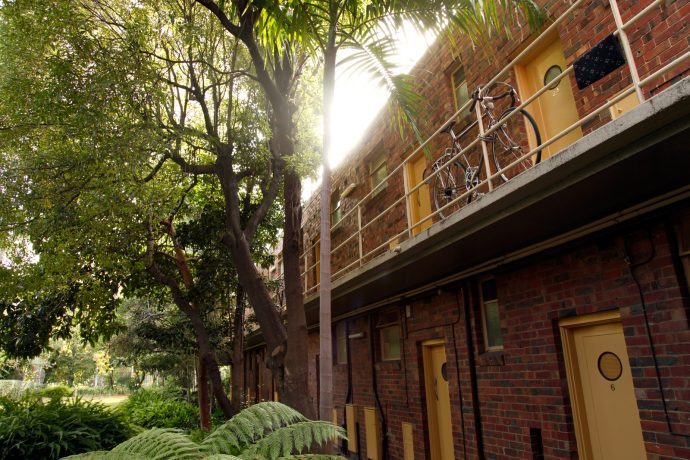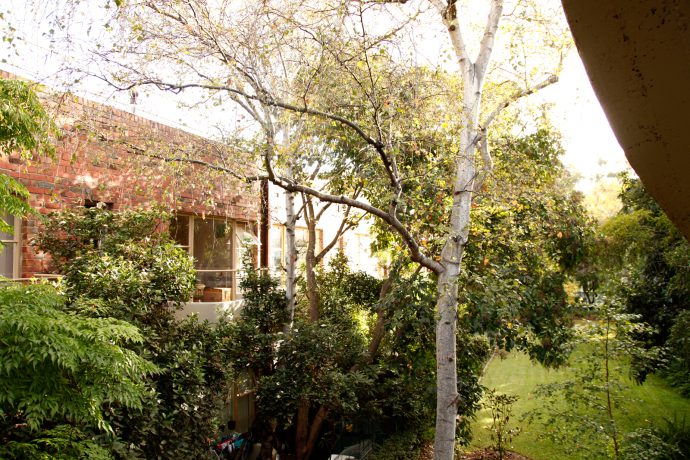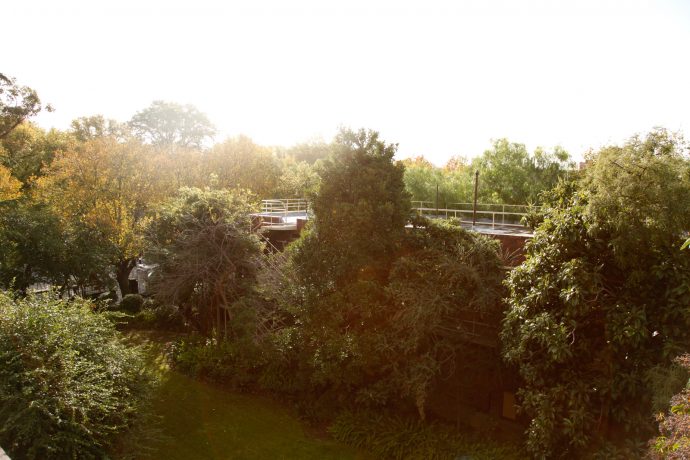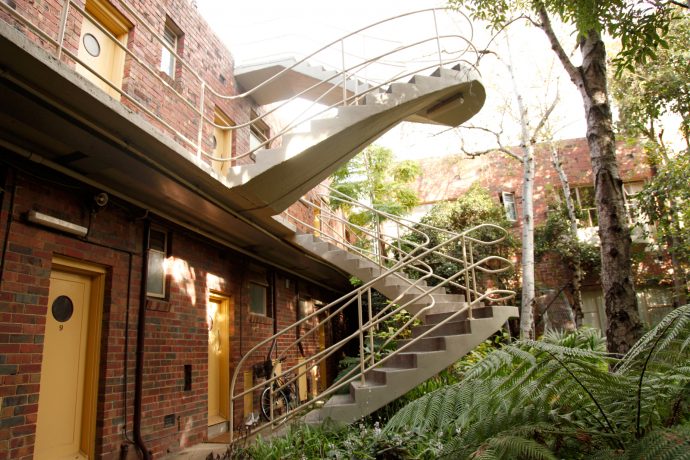 Photos by Eugenia Lim