Assemble Papers issue #2: The Space Between
SB: There seems to be a tradition establishing itself at Assemble Papers where the editor takes a hasty baby hiatus (be it for Ida or MPavilion) just as the print edition is about to be finalised.  Needless to say, as Rachel said before me, it's an honour to be on board for the release of the new issue!
It's with excitement we're setting up our map of recipients for Assemble Papers issue #2 – a number that has doubled since our last edition – and we hope to have most of this 10,000 strong stack sitting in cafe windows, retail spaces, galleries and the hands of readers by early next week.
The project couldn't have been achieved without the incredible Tristan Main, MPD Printing, Rachel Elliot-Jones at the helm, not to mention all of the Assemble team throwing themselves behind it. We'd have nothing to print and staple if it weren't for the  valuable contributions of talented writers, photographers, illustrators and designers. And, lastly, of course, the ideas – the fundamental philosophies that continue to intrigue and inspire us, underpinning everything Assemble does. So from me, I hope you enjoy issue #2 at every turn – and now, over to REJ.
REJ: Welcome to Issue 2 of Assemble Papers in print. This edition is inspired by Melbourne's new public architecture commission, MPavilion – initiated by the Naomi Milgrom Foundation – with Sean Godsell's inaugural form soon to be revealed amidst the lush foliage of Queen Victoria Gardens.
Taking cues from MPavilion and what it means for Melbourne, we have curated content around the theme 'The Space Between' – celebrating small footprint living beyond good design of buildings to the "choreography" of the public areas that surround them. We share the thoughts and insights of local legend, Rob Adams (Director of City Design at the City of Melbourne) and interview OMA's David Gianotten, who muses, "good urban spaces are on the boundary between public and private, deliberate intent and improvisation, trial and error".
From acknowledging the human scale within the urban context to human-centred solutions to compact spaces – we pay tribute to ingenious Melbourne architecture, including the minimal living mastery of modernist Roy Grounds, the contemporary innovation of Edwards Moore, and the body architecture of Lucy McRae. We investigate our home turf from ground level and then 1000 feet above it. We nod to the beauty of simplicity and entreat you to explore the "undiscovered country of the nearby".
And so, we hope you'll prop this printed matter under your arm and find a public spot to lean, lounge, perch and read. Go out and enjoy 'the space between' in your own surrounds. Because to us it's not just about living small, it's also about living well.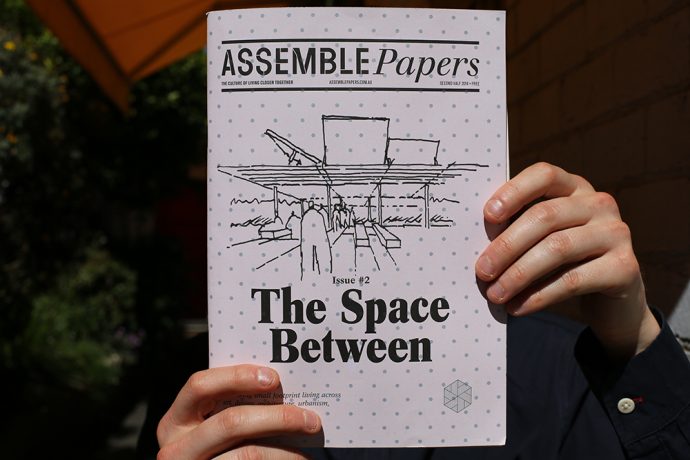 Special thanks go to Tristan Main, MPD Printing in Sydney, sponsor Scanlan & Theodore and partner, MPavilion. If you'd like to get in touch regarding the issue please contact us via email at [email protected] 
Recent Articles
Cultural appropriation is an uneasy topic in architecture, but a new generation of young design practitioners is ready to change the paradigm. Louis Mokak, director of Indigenous Architecture and Design Victoria (IADV), questions Australia's colonial heritage - both in thought and practice
Tomoko and Takaaki Shiratori have lived all over Japan; from a 'New Town' in Yokohama, to Aichi Prefecture and now in Nerima, Tokyo. Their shared love of gardening means the rooftop is filled with fruits and vegetables, while Tomoko has a passion for reading aloud and talking, which she says, keeps her energised!
Jurien Bay and Wedge Island in Western Australia were landscapes once dominated by informal settlements. However, suburban developments are now reaching WA's central coast. Felix Joensson, from our West Coast partners Future West, asks the question – how do we create beachfront suburbs with soul?