Mitch and Kylie: collecting heirlooms
Tucked sway in Sydney's Edgecliff, Kylie and Mitch live amidst their collection of eclectic furniture, ornaments, artwork and a bounty of rare books and magazines. "Our favourite things to do at home include listening to music, eating, making coffee and re-organising the space as new bits and pieces find their way into the house." On their daily routine, Kylie says: "I start the day wishing I'd woken up earlier. Then I get ready for work or get ready to enjoy my day off. I always end the day cooking and watching some documentary on TV or online. Thank god for documentaries!". For Mitch, "a typical weekday starts with reading emails, going to work, coming home to more work, then checking emails and going to bed. How sad! Weekends are freer to enjoy the house, fortunately."
The record, amp and speakers are beautiful. The player is always on; it is the couple's absolute favourite and essential item. Mitch's dad is a record connoisseur, a "legit" music buff. The record player (a 1974 JVC turntable and Sansui Amplifer from 1973) is a family heirloom. Unusual fabrics on the cushions from Rouse Phillips Textiles, a unique pair of deco chairs (refurbished by Kylie's parents), ikat-patterned rugs and poofs, pop prints and nudie sculptures. I move around the space in a circular fashion from living room, to study, to bedroom – the doors that once separated these spaces have been removed. The effect? A spatial merry-go-round that adds freedom and flow to what would be an otherwise compartmentalised apartment. Kylie and Mitch had been living around the corner in a similar style apartment when the lease suddenly ended; this new abode "popped up and felt right straight away". Their home combines fashion sense with a design eye, brought together with loving care and a neatness that is welcoming (not obsessive). A bespoke introduction to new ways of seeing.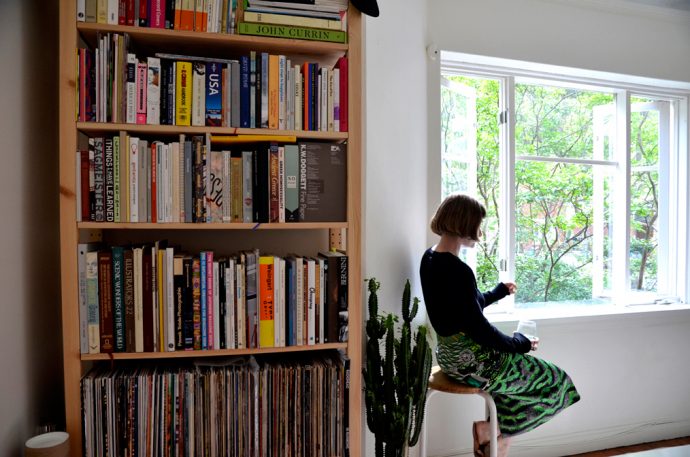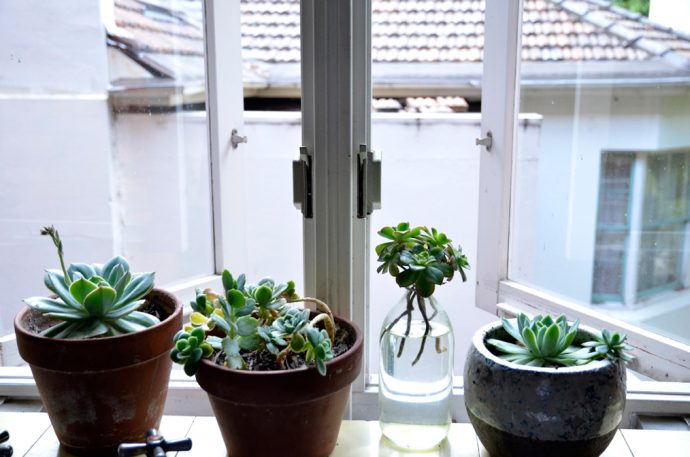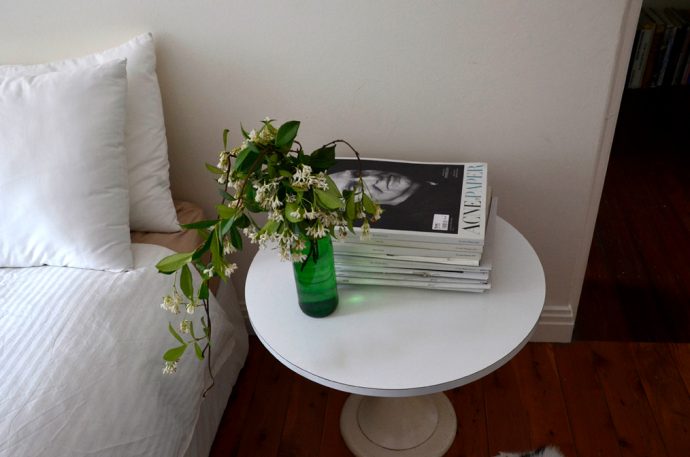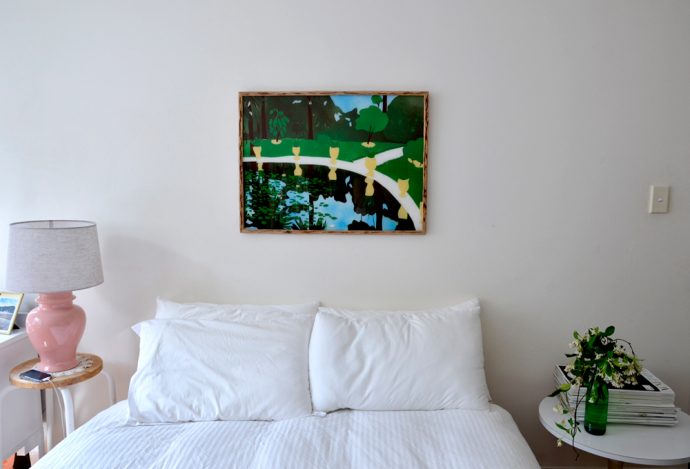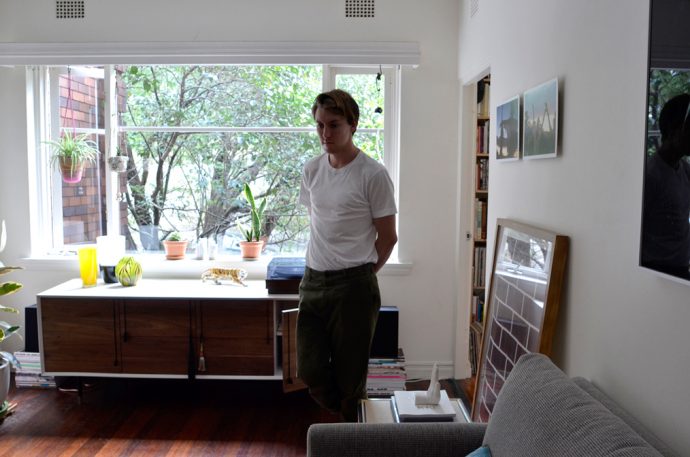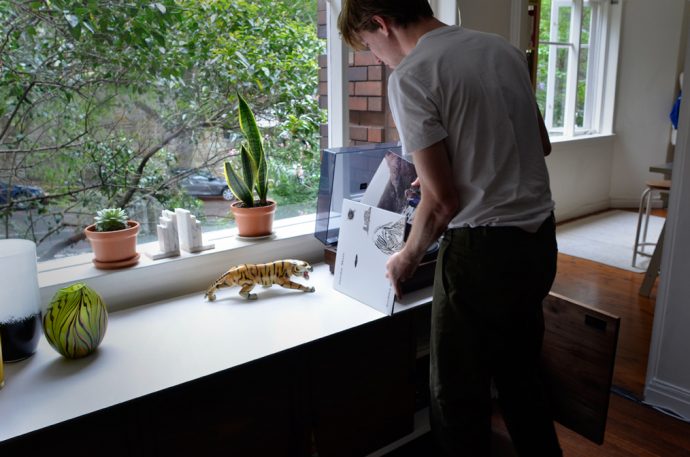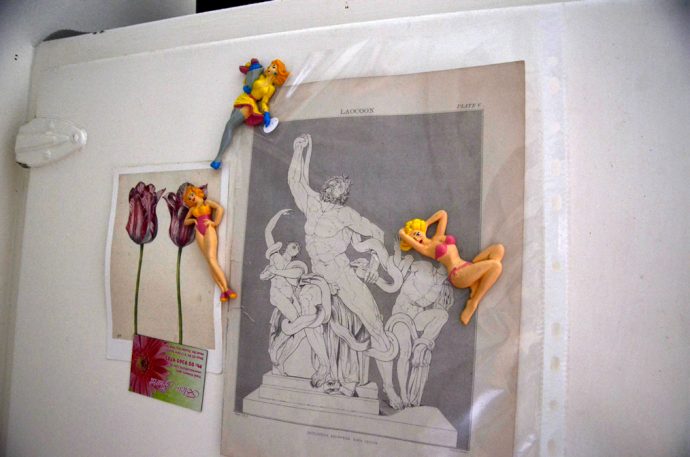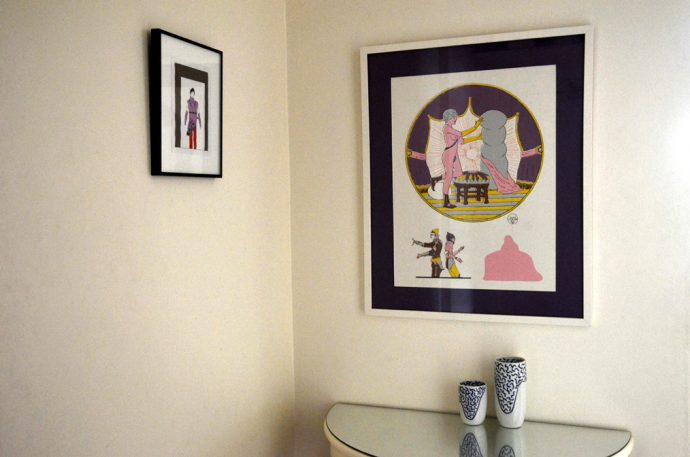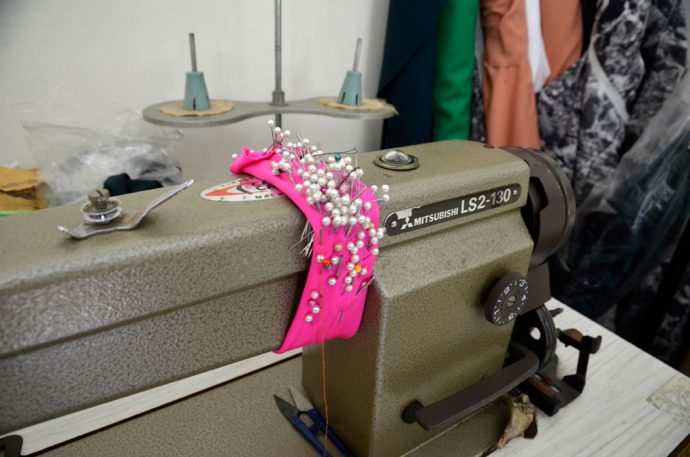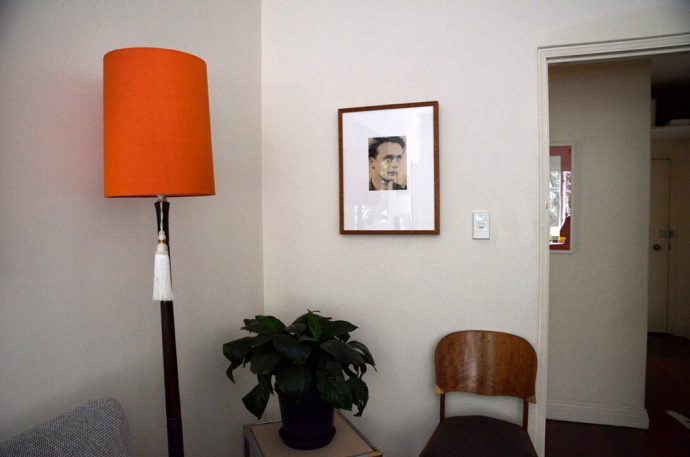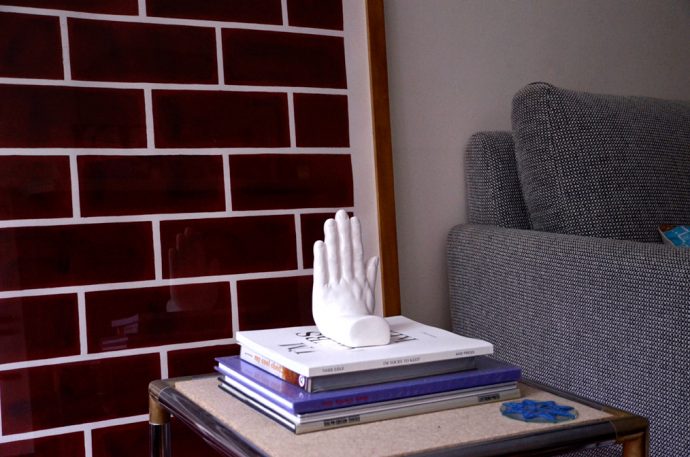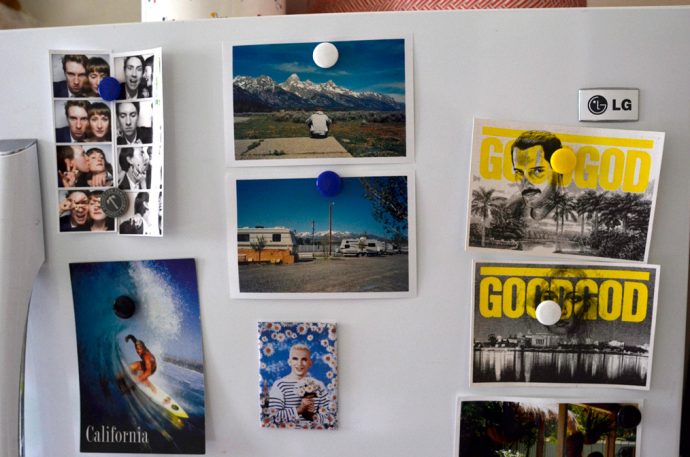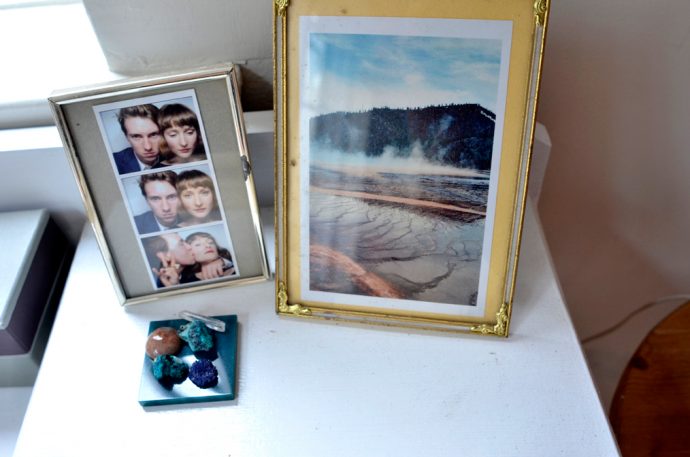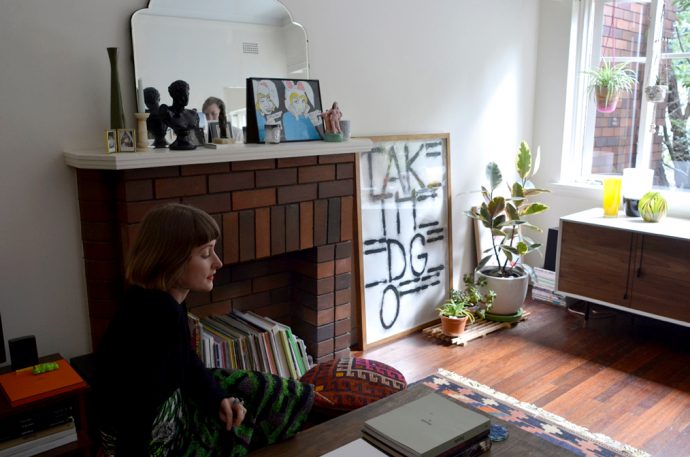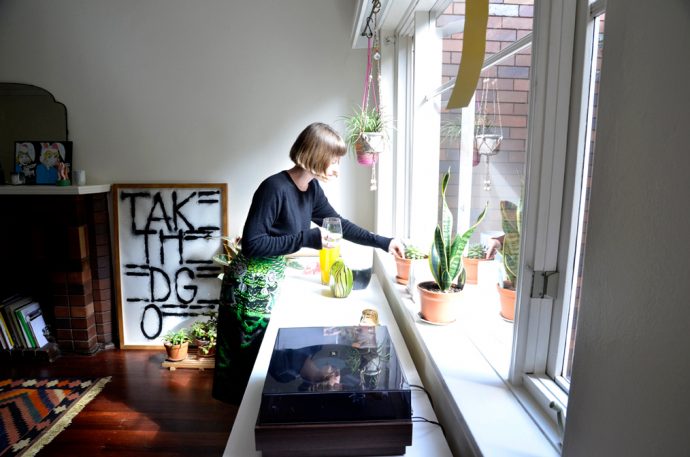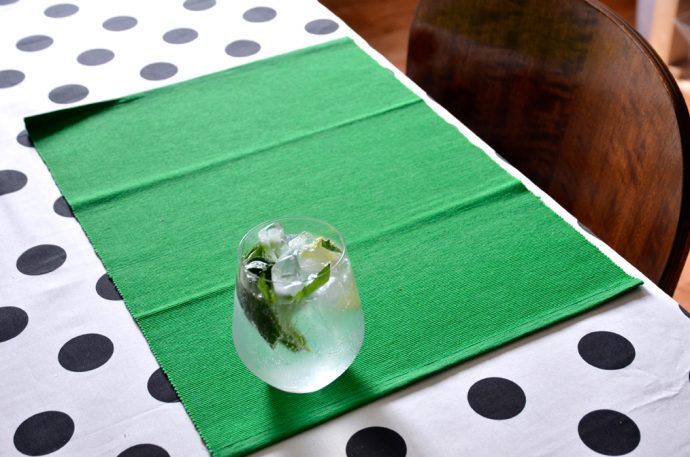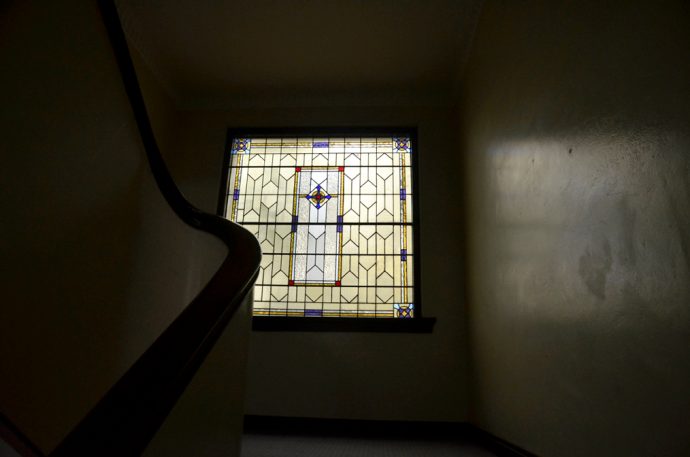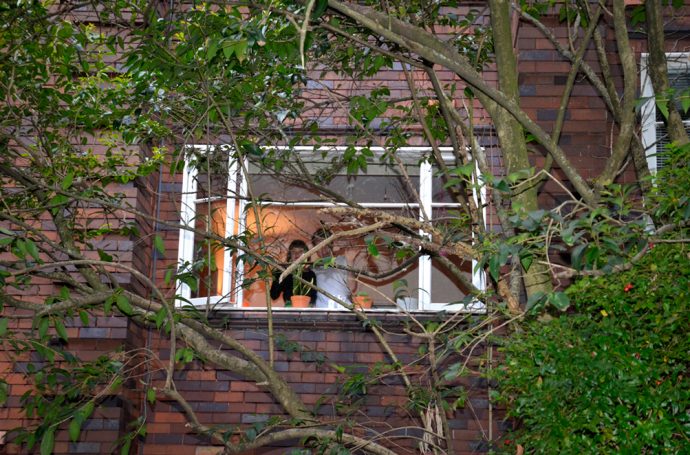 Kylie is a wardrobe stylist for SBS. Collaborating with a small team, she works on programs including World News, Insight, and Dateline and she is also a talented maker and creator, of all things fashion, in her own right. Mitch runs an online bookstore and creative service with Sarah Grieve called Gang Atelier. They stock local and international independent art & photography books, comics, unique periodicals and other travels through visual culture. He also works as a designer with film and design studio Collider.
All photos by Sydney-based artist and photographer Rafaela Pandolfini. A huge thanks to Raffi (you might remember her work from this tropical photo essay published on AP earlier in 2012) for this pretty peek into Mitch and Kylie's place.
Recent Articles
Onigiri is a staple found everywhere in Japan: from the aisles of convenience stores to fancy food halls. This week, the wonderful Julia Busuttil Nishimura shares two quick recipes for home made onigiri with mustard greens and umeboshi, and mushroom onigiri (scroll down for more), for a rice-filled belly on the go
As a number of Melbourne's prominent gay venues started to close down, Sam Cremean felt a sense of loss. This prompted him to investigate what was happening to gay neighbourhoods internationally. He discovered that these important spaces were slowly disappearing from cities around the world
Where European architecture starts with the exterior shape of the building, Asian buildings are imagined from the inside out. Curators of the acclaimed Indonesia Pavilion at Venice Biennale 2018, Ary Indra and David Setiadi, elucidate how 'emptiness' is sculpted in Indonesian architecture, one remarkable building at a time