Happenings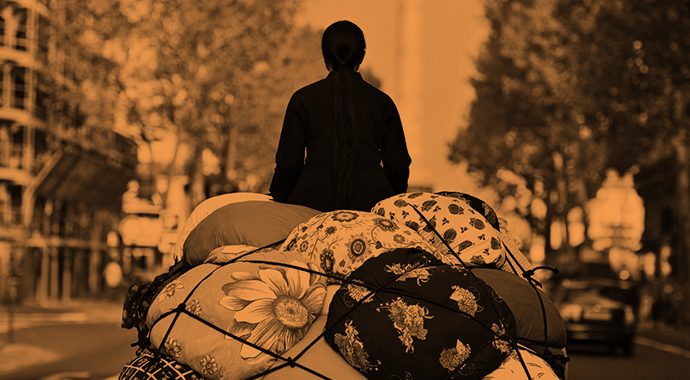 Currently running at Perth Institute of Contemporary Arts (PICA) is Zone of Nowhere, the exciting inaugural Australian solo exhibition by acclaimed South Korean-born and New York-based multimedia artist Kimsooja. In her three decade-long career Kimsooja, who has exhibited at the Venice Biennale five times and was described by Paris's Centre Pompidou as "one of the most influential multidisciplinary conceptual artists of her generation", has continually shined a light on sensitive cultural and political issues, particularly those to do with displacement and migration, with her site-specific works which often incorporate bottari – a traditional Korean quilt used to protect personal artifacts.
The exhibition features select works from Kimsooja's extensive 30-year career, in addition to a site specific installation made for PICA titled To Breathe – Zone of Nowhere. This work spills out beyond the confines of PICA with Kimsooja's layered translucent flags, which reflect a wish for utopian society and an interest in common humanity, appearing on public façades throughout Northbridge and the Perth CBD. Combining the physical and metaphysical through the artworks and repetitive, meditative actions, this extraordinary exhibition is presented in association with Perth Festival.
Main image: Kimsooja, Bottari Truck – Migrateur, 2007. Single Channel Video Projection, silent, 10:00, loop, performed in Paris. Commissioned by Musée D'Art Contemporain du Val-De-Marne (MAC/VAL). Still Photo by Thierry Depagne. Courtesy of Kimsooja Studio and PICA.
Where: PICA, James Street, Perth
When: Until 25 April 2018
How much: Free!
More info: Zone of Nowhere website
Recent Articles
Cultural appropriation is an uneasy topic in architecture, but a new generation of young design practitioners is ready to change the paradigm. Louis Mokak, director of Indigenous Architecture and Design Victoria (IADV), questions Australia's colonial heritage - both in thought and practice
Tomoko and Takaaki Shiratori have lived all over Japan; from a 'New Town' in Yokohama, to Aichi Prefecture and now in Nerima, Tokyo. Their shared love of gardening means the rooftop is filled with fruits and vegetables, while Tomoko has a passion for reading aloud and talking, which she says, keeps her energised!
Jurien Bay and Wedge Island in Western Australia were landscapes once dominated by informal settlements. However, suburban developments are now reaching WA's central coast. Felix Joensson, from our West Coast partners Future West, asks the question – how do we create beachfront suburbs with soul?