Happenings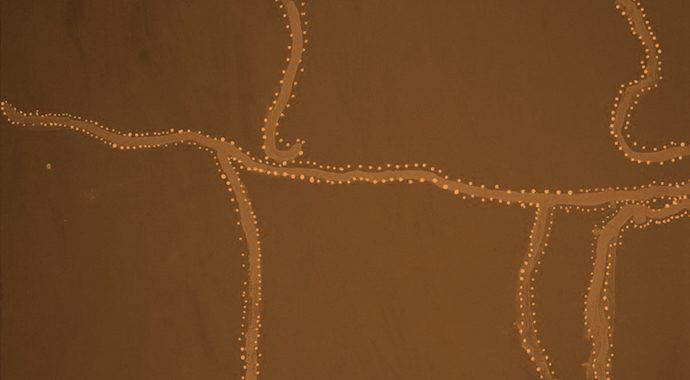 When the Sky Fell: Legacies of the 1967 Referendum
The Perth Institute of Contemporary Arts is currently playing host to an exhibition of work responding to the 50th anniversary of the 1967 Referendum which recognised Aboriginal and Torres Strait Islanders as Australians for the first time. Considered by many to be a major turning point within the context of Indigenous affairs, the exhibition explores the range of consequences the Referendum result had on Indigenous Australians – some of these effects positive, some negative, many unanticipated and many still ongoing. Presenting distinguished artists working in both traditional and contemporary media, belonging to Aboriginal communities located across Western Australia, the show presents a matrix of multi-layered, sometimes overlapping, sometimes conflicting perspectives on a pivotal national event.
Main image: 'Larrgen' (2011) by Peter Newry, courtesy PICA.
Where: Perth Institute of Contemporary Arts, 51 James Street, Perth
When: Until Sun 20 August
How much: Free!
More info: PICA website
Recent Articles
Western influence in Japan has a fascinating and turbulent history. Architect Keith Little looks at how that complex relationship is embodied in Tokyo's Kyudōkaikan, one of the few buildings to survive the rapid economic growth of the twentieth century. Recent restoration of the complex was funded through an innovative business model, which reflects the temple's masterful blending of the old and the new
Eavesdropping is a part of life: we hear things that are not intended for us all the time. Yet the word's meaning has changed over time. For our second collaboration with Liquid Architecture, sonic artist and researcher Sam Kidel has prepared us a mixtape that uncouples voice and personhood: "I created the mix as a tool for feeling into unsettled experiences of voice."
Gregory Lorenzutti was working in Tacloban City when he met a group of young performers preparing for the first fiesta since Typhoon Haiyan had devastated the region, 18 months earlier. In this photography series, Lorenzutti captures the beauty of Filipino queerness, and the complex story of how LGBTIQ families were affected by the city's rebuilding