Happenings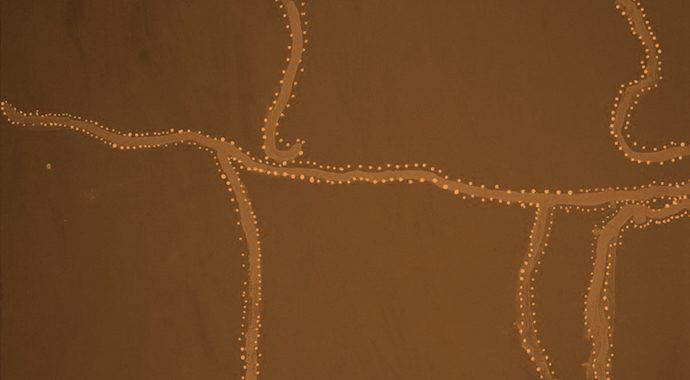 When the Sky Fell: Legacies of the 1967 Referendum
The Perth Institute of Contemporary Arts is currently playing host to an exhibition of work responding to the 50th anniversary of the 1967 Referendum which recognised Aboriginal and Torres Strait Islanders as Australians for the first time. Considered by many to be a major turning point within the context of Indigenous affairs, the exhibition explores the range of consequences the Referendum result had on Indigenous Australians – some of these effects positive, some negative, many unanticipated and many still ongoing. Presenting distinguished artists working in both traditional and contemporary media, belonging to Aboriginal communities located across Western Australia, the show presents a matrix of multi-layered, sometimes overlapping, sometimes conflicting perspectives on a pivotal national event.
Main image: 'Larrgen' (2011) by Peter Newry, courtesy PICA.
Where: Perth Institute of Contemporary Arts, 51 James Street, Perth
When: Until Sun 20 August
How much: Free!
More info: PICA website
Recent Articles
Actor Sunday Barca-Irving and designer Peter Deering are the creative couple behind the Sunday Muesli Co – a Richmond-based granola company offering up healthy and downright delicious hand-crafted muesli mixes to kick-start your day. Here Sunday brings us a cosy recipe for the winter months – seasonal poached pears with gluten-free muesli and a cardamon-scented nut mylk
"In Japan, old things tend to be well looked after and so even vintage items that are 50 years old still look beautiful today". In the fourth instalment of our 'Tokyo Life' series brought to you via R-ESTATE TOKYO, Ben Davis chats to curator and creator Kai-Ting Lin about the anachronistic beauty of the well-worn
Fresh from a sonic tour of Eastern and Western Europe, Louise Terra of Sugar Fed Leopards has made us a mixtape: "This playlist talks to the ambient and hypnotic elements in electronic music that I love, with a mix of old European folk music and a few bombastic erratic rhythmic tracks, for impact."