Happenings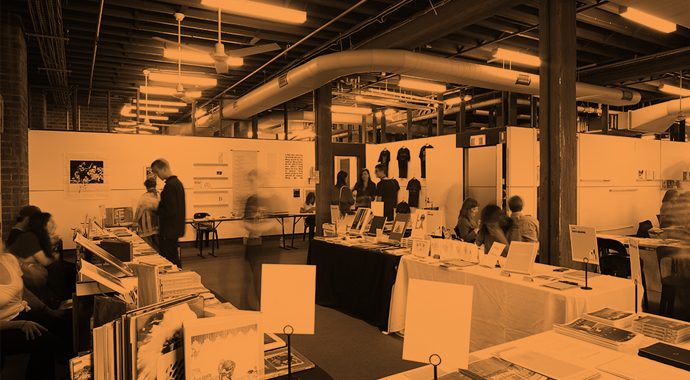 The second iteration of the biennial VOLUME Art Book Fair will be taking over Sydney's Artspace, presenting the work of over 70 local and international publishers, from New York to South Korea. Presented in partnership with Artspace, Printed Matter, Inc., New York and Perimeter Books, Melbourne, the Fair includes a free schedule of talks, workshops, book launches, readings and performances expanding and complementing the main exhibition programme. Ever wanted to make your own book? Register your interest in BOOK MACHINE  II – an interactive installation-workshop pairing public participants with emerging designers to create their own publications.
We're thrilled to announce that Assemble Papers will be participating in the Fair for a second time! Drop by the 4A Centre for Contemporary Asian Art x Para Site stand and sweep up a copy of our latest print issue, Assemble Papers #8: Metropolis., hot-off-the-press!
Main image courtesy Volume Art Book Fair 2015.
Where: Artspace, The Gunnery, 43-51 Cowper Wharf Roadway, Woolloomooloo
When: Friday 13 – Sunday 15 October
How much: Free entry
More info: Volume Art Book Fair
Recent Articles
Cultural appropriation is an uneasy topic in architecture, but a new generation of young design practitioners is ready to change the paradigm. Louis Mokak, director of Indigenous Architecture and Design Victoria (IADV), questions Australia's colonial heritage - both in thought and practice
Tomoko and Takaaki Shiratori have lived all over Japan; from a 'New Town' in Yokohama, to Aichi Prefecture and now in Nerima, Tokyo. Their shared love of gardening means the rooftop is filled with fruits and vegetables, while Tomoko has a passion for reading aloud and talking, which she says, keeps her energised!
Jurien Bay and Wedge Island in Western Australia were landscapes once dominated by informal settlements. However, suburban developments are now reaching WA's central coast. Felix Joensson, from our West Coast partners Future West, asks the question – how do we create beachfront suburbs with soul?