Happenings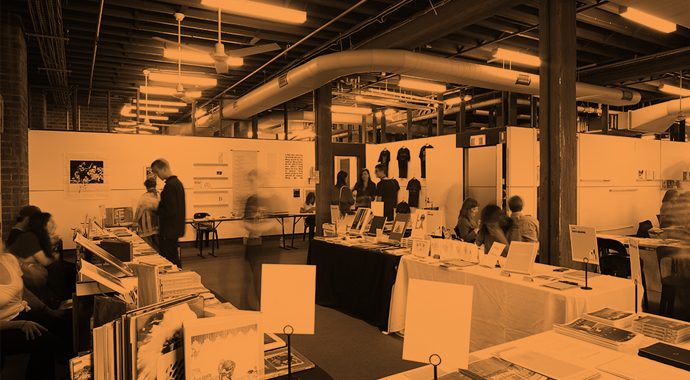 The second iteration of the biennial VOLUME Art Book Fair will be taking over Sydney's Artspace, presenting the work of over 70 local and international publishers, from New York to South Korea. Presented in partnership with Artspace, Printed Matter, Inc., New York and Perimeter Books, Melbourne, the Fair includes a free schedule of talks, workshops, book launches, readings and performances expanding and complementing the main exhibition programme. Ever wanted to make your own book? Register your interest in BOOK MACHINE  II – an interactive installation-workshop pairing public participants with emerging designers to create their own publications.
We're thrilled to announce that Assemble Papers will be participating in the Fair for a second time! Drop by the 4A Centre for Contemporary Asian Art x Para Site stand and sweep up a copy of our latest print issue, Assemble Papers #8: Metropolis., hot-off-the-press!
Main image courtesy Volume Art Book Fair 2015.
Where: Artspace, The Gunnery, 43-51 Cowper Wharf Roadway, Woolloomooloo
When: Friday 13 – Sunday 15 October
How much: Free entry
More info: Volume Art Book Fair
Recent Articles
North Melbourne's City Gardens apartment complex is a haven of communal living, complete with kindergarten, vegetable patches, clothing bins and rooftop hives. Elizabeth Campbell spoke to some of the residents of the Peter McIntyre-designed buildings to learn how collective living works – and see more of the unique spaces they call home
Some of the best moments in life are those shared over a cup of tea and freshly baked goods. In the lead-up to the holiday period, slow food blog OSTRO's Julia Busuttil Nishimura brings us a recipe for a Japanese-inspired sweet treat – its the perfect excuse to catch-up for some casual afternoon banter
In 2012, a Berlin art collective signed a 40-year peppercorn lease on a disused railway depot in suburban Berlin. Five years later, Centre for Art and Urbanism (ZK/U) has become a recognised hub of urban innovation and social activism. On the eve of ZK/U's fifth birthday celebrations, Jana Perkovic chats to ZK/U co-founder and director Matthias Einhoff about ZK/U's past, present and future.