Happenings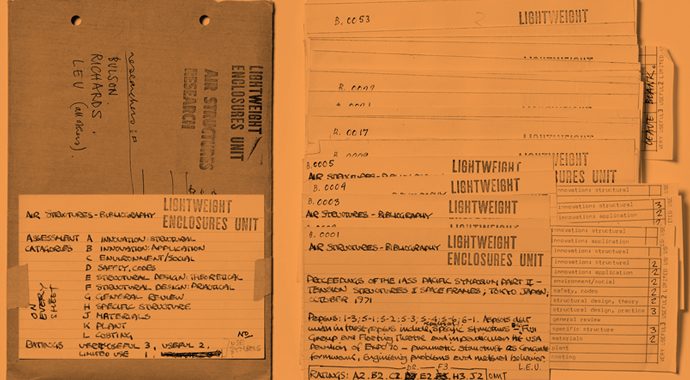 The Other Architect explores non-traditional architectural practice as a means of shaping contemporary conditions. The exhibition presents the work of 22 practitioners from the 1960s to the present that have redefined and continue to redefine the edges of architecture, working in means beyond the more conventional construction of built form. Of the individuals, studios and collaborations included in the show are AMO, established by Rem Koolhaas and Dan Wood as OMA's research laboratory and counterpart, the Architectural Detective Agency founded by Terunobu Fujimori and Takeyoshi Hori to document unnoticed early-modernist buildings, and Design-A-Thon – a live television series of about urban design studies produced by firm Moore Grover Harper in the late '70s.
Main image: Lightweight Enclosures Unit: coded index cards used to assemble the Air Structures Bibliography, rating each publication according to its usefulness, c. 1972 (Cedric Price Fonds, CCA). Image courtesy Het Nieuwe Instituut.
Where: Het Nieuwe Instituut, Museumpark 25, 3015 CB Rotterdam
When: Friday 8 September – Sunday 7 January
How much: Full € 10.00 / Concession € 6.50
More info: Het Nieuwe Instituut website
Recent Articles
Jil Raleigh of BKK Architects reflects on "What would Boyd do? Small Homes Service for today", a conversation hosted by Rory Hyde and Philip Goad on Sunday 15 October, 2017 at MPavilion.
'After the revolution, who's going to pick up the garbage on Monday morning?', asked artist Mierle Laderman Ukeles in her Manifesto for Maintenance Art 1969! Eugenia Lim converses with the New York City Department of Sanitation's long-time official artist-in-residence about womanhood, motherhood and the social ecologies of our cities
Local label founder, podcaster, DJ and more: Xander Byng's talents traverse the musical universe. We bring you a mixtape from the Melbourne-based party-maker, developed as a meditation on psychogeography: "I've always found that experiencing unfamiliar settings, especially in a familiar environment, really helps me to think more positively."