Happenings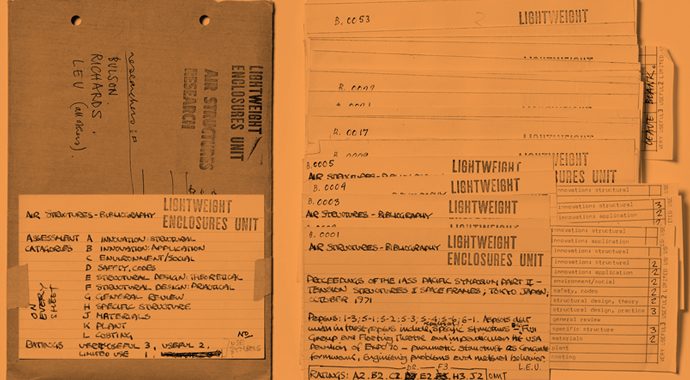 The Other Architect explores non-traditional architectural practice as a means of shaping contemporary conditions. The exhibition presents the work of 22 practitioners from the 1960s to the present that have redefined and continue to redefine the edges of architecture, working in means beyond the more conventional construction of built form. Of the individuals, studios and collaborations included in the show are AMO, established by Rem Koolhaas and Dan Wood as OMA's research laboratory and counterpart, the Architectural Detective Agency founded by Terunobu Fujimori and Takeyoshi Hori to document unnoticed early-modernist buildings, and Design-A-Thon – a live television series of about urban design studies produced by firm Moore Grover Harper in the late '70s.
Main image: Lightweight Enclosures Unit: coded index cards used to assemble the Air Structures Bibliography, rating each publication according to its usefulness, c. 1972 (Cedric Price Fonds, CCA). Image courtesy Het Nieuwe Instituut.
Where: Het Nieuwe Instituut, Museumpark 25, 3015 CB Rotterdam
When: Friday 8 September – Sunday 7 January
How much: Full € 10.00 / Concession € 6.50
More info: Het Nieuwe Instituut website
Recent Articles
North Melbourne's City Gardens apartment complex is a haven of communal living, complete with kindergarten, vegetable patches, clothing bins and rooftop hives. Elizabeth Campbell spoke to some of the residents of the Peter McIntyre-designed buildings to learn how collective living works – and see more of the unique spaces they call home
Some of the best moments in life are those shared over a cup of tea and freshly baked goods. In the lead-up to the holiday period, slow food blog OSTRO's Julia Busuttil Nishimura brings us a recipe for a Japanese-inspired sweet treat – its the perfect excuse to catch-up for some casual afternoon banter
In 2012, a Berlin art collective signed a 40-year peppercorn lease on a disused railway depot in suburban Berlin. Five years later, Centre for Art and Urbanism (ZK/U) has become a recognised hub of urban innovation and social activism. On the eve of ZK/U's fifth birthday celebrations, Jana Perkovic chats to ZK/U co-founder and director Matthias Einhoff about ZK/U's past, present and future.