Happenings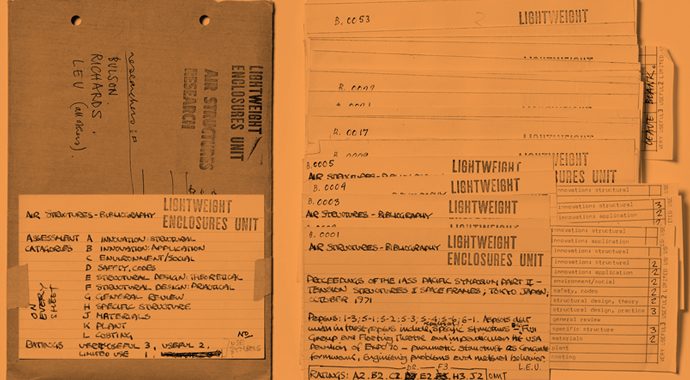 The Other Architect explores non-traditional architectural practice as a means of shaping contemporary conditions. The exhibition presents the work of 22 practitioners from the 1960s to the present that have redefined and continue to redefine the edges of architecture, working in means beyond the more conventional construction of built form. Of the individuals, studios and collaborations included in the show are AMO, established by Rem Koolhaas and Dan Wood as OMA's research laboratory and counterpart, the Architectural Detective Agency founded by Terunobu Fujimori and Takeyoshi Hori to document unnoticed early-modernist buildings, and Design-A-Thon – a live television series of about urban design studies produced by firm Moore Grover Harper in the late '70s.
Main image: Lightweight Enclosures Unit: coded index cards used to assemble the Air Structures Bibliography, rating each publication according to its usefulness, c. 1972 (Cedric Price Fonds, CCA). Image courtesy Het Nieuwe Instituut.
Where: Het Nieuwe Instituut, Museumpark 25, 3015 CB Rotterdam
When: Friday 8 September – Sunday 7 January
How much: Full € 10.00 / Concession € 6.50
More info: Het Nieuwe Instituut website
Recent Articles
Cultural appropriation is an uneasy topic in architecture, but a new generation of young design practitioners is ready to change the paradigm. Louis Mokak, director of Indigenous Architecture and Design Victoria (IADV), questions Australia's colonial heritage - both in thought and practice
Tomoko and Takaaki Shiratori have lived all over Japan; from a 'New Town' in Yokohama, to Aichi Prefecture and now in Nerima, Tokyo. Their shared love of gardening means the rooftop is filled with fruits and vegetables, while Tomoko has a passion for reading aloud and talking, which she says, keeps her energised!
Jurien Bay and Wedge Island in Western Australia were landscapes once dominated by informal settlements. However, suburban developments are now reaching WA's central coast. Felix Joensson, from our West Coast partners Future West, asks the question – how do we create beachfront suburbs with soul?