Happenings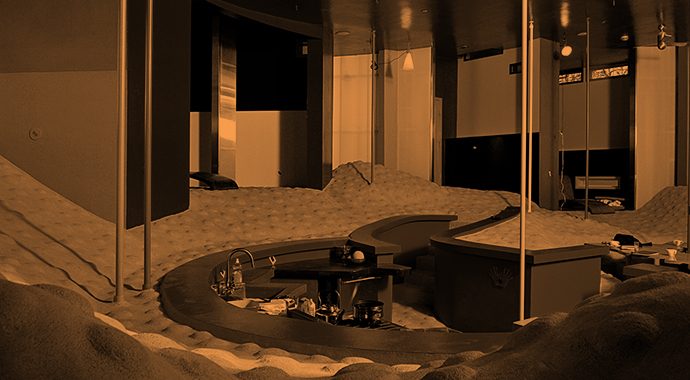 From a coil that allows trees to broadcast and receive radio signals, to a self-sailing ship that cleans up oil slicks, the The Future Starts Here takes an interactive look at the future of design.
More than 100 objects will be on display at the V&A Museum until 4 November 2018. Throughout the exhibition, curators Rory Hyde and Mariana Pestana highlight the potential of good technological design, letting the visitors decide for themselves where the new technological directions might lead.
A highlight of the exhibition is the Bioscleave House, designed by Japanese architect Shusaku Arakawa and American writer Madeline Gins who have devised 'a philosophy of architecture against death'. The design is based on research about keeping the immune system active and the body in a constant moving state.
[Main image: 'Bioscleave House – lifespan extending villa'. Photo courtesy of The Reversible Destiny Foundation]
Where: Victoria and Albert Museum, Cromwell Road, London
When: Until 4 November 2018
How much: £16.00
More info: V&A Museum
Recent Articles
Cultural appropriation is an uneasy topic in architecture, but a new generation of young design practitioners is ready to change the paradigm. Louis Mokak, director of Indigenous Architecture and Design Victoria (IADV), questions Australia's colonial heritage - both in thought and practice
Tomoko and Takaaki Shiratori have lived all over Japan; from a 'New Town' in Yokohama, to Aichi Prefecture and now in Nerima, Tokyo. Their shared love of gardening means the rooftop is filled with fruits and vegetables, while Tomoko has a passion for reading aloud and talking, which she says, keeps her energised!
Jurien Bay and Wedge Island in Western Australia were landscapes once dominated by informal settlements. However, suburban developments are now reaching WA's central coast. Felix Joensson, from our West Coast partners Future West, asks the question – how do we create beachfront suburbs with soul?