Happenings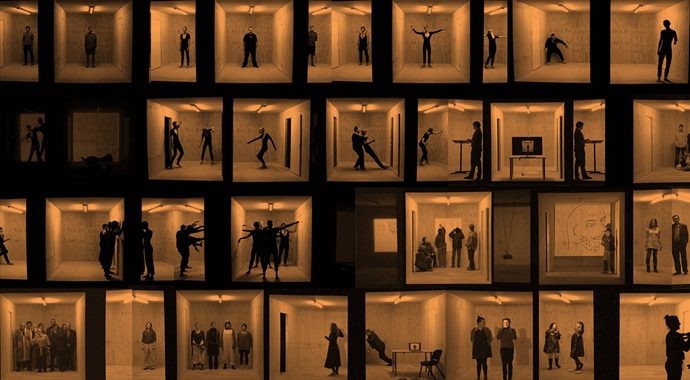 The Substation is currently exhibiting a selection of twelve short films exploring the principles of freedom and equality across different cultural contexts. Geelong-based company Back to Back Theatre used a custom-made mobile film set to create deeply moving portraits of twenty-eight local and international communities. In each context participants were given complete control of the set – a sparse cube with two opposing doors – to create live performances and video works around the theme of democracy and the equal enjoyment of all human rights. Run over a period of eight years, in cities and towns including Ballarat, Darwin, Basel, Cardiff and Edinburgh, the project presents unique snapshots of the life and perspectives of diverse localities, opening up new ways of understanding what it means to be human in the 21st century.
Main image by Anna Tregloan courtesy The Substation.
Where: The Substation, 1 Market St, Newport
When: Friday 10 November – Saturday 16 December
How much: Free!
More info: The Substation website
Recent Articles
North Melbourne's City Gardens apartment complex is a haven of communal living, complete with kindergarten, vegetable patches, clothing bins and rooftop hives. Elizabeth Campbell spoke to some of the residents of the Peter McIntyre-designed buildings to learn how collective living works – and see more of the unique spaces they call home
Some of the best moments in life are those shared over a cup of tea and freshly baked goods. In the lead-up to the holiday period, slow food blog OSTRO's Julia Busuttil Nishimura brings us a recipe for a Japanese-inspired sweet treat – its the perfect excuse to catch-up for some casual afternoon banter
In 2012, a Berlin art collective signed a 40-year peppercorn lease on a disused railway depot in suburban Berlin. Five years later, Centre for Art and Urbanism (ZK/U) has become a recognised hub of urban innovation and social activism. On the eve of ZK/U's fifth birthday celebrations, Jana Perkovic chats to ZK/U co-founder and director Matthias Einhoff about ZK/U's past, present and future.