Happenings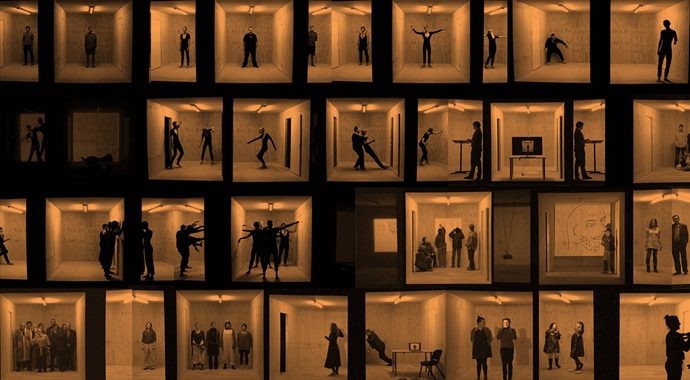 The Substation is currently exhibiting a selection of twelve short films exploring the principles of freedom and equality across different cultural contexts. Geelong-based company Back to Back Theatre used a custom-made mobile film set to create deeply moving portraits of twenty-eight local and international communities. In each context participants were given complete control of the set – a sparse cube with two opposing doors – to create live performances and video works around the theme of democracy and the equal enjoyment of all human rights. Run over a period of eight years, in cities and towns including Ballarat, Darwin, Basel, Cardiff and Edinburgh, the project presents unique snapshots of the life and perspectives of diverse localities, opening up new ways of understanding what it means to be human in the 21st century.
Main image by Anna Tregloan courtesy The Substation.
Where: The Substation, 1 Market St, Newport
When: Friday 10 November – Saturday 16 December
How much: Free!
More info: The Substation website
Recent Articles
Western influence in Japan has a fascinating and turbulent history. Architect Keith Little looks at how that complex relationship is embodied in Tokyo's Kyudōkaikan, one of the few buildings to survive the rapid economic growth of the twentieth century. Recent restoration of the complex was funded through an innovative business model, which reflects the temple's masterful blending of the old and the new
Eavesdropping is a part of life: we hear things that are not intended for us all the time. Yet the word's meaning has changed over time. For our second collaboration with Liquid Architecture, sonic artist and researcher Sam Kidel has prepared us a mixtape that uncouples voice and personhood: "I created the mix as a tool for feeling into unsettled experiences of voice."
Gregory Lorenzutti was working in Tacloban City when he met a group of young performers preparing for the first fiesta since Typhoon Haiyan had devastated the region, 18 months earlier. In this photography series, Lorenzutti captures the beauty of Filipino queerness, and the complex story of how LGBTIQ families were affected by the city's rebuilding