Happenings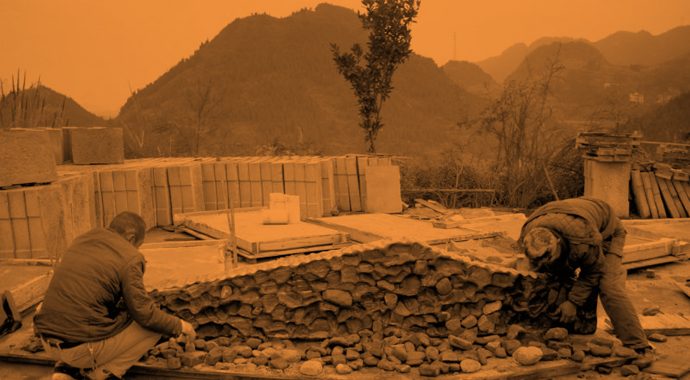 Rural Urban Framework: Material Contexts
In 2005, the Chinese government announced its plan to urbanize half of the remaining 700 million rural citizens by 2030. From 19 April to 11 May, Melbourne School of Design will present Rural Urban Framework: Material Contexts. Divided into four sections – Fabric, Ground, Mass and Material – the exhibition looks at the role of local workers and their knowledge in the Baojing Cultural District project in Hunan Province, China. Involving rural people and un-skilled workers allows for new perspectives on how materials and design can be adapted to cope with the new environment.
Rural Urban Framework is a research and design collective based at the University of Hong Kong. Conducted as a not-for-profit organization providing design services to charities and NGOs working in China, RUF has built or is engaged in over 15 projects in villages across China.
[Main image: photo supplied by Melbourne School of Design]
Where: The Dulux Gallery, Melbourne School of Design Building (133), Masson Rd, The University of Melbourne
When: 19 April - 11 May 2018
How much: Free!
More info: Melbourne School of Design
Recent Articles
Onigiri is a staple found everywhere in Japan: from the aisles of convenience stores to fancy food halls. This week, the wonderful Julia Busuttil Nishimura shares two quick recipes for home made onigiri with mustard greens and umeboshi, and mushroom onigiri (scroll down for more), for a rice-filled belly on the go
As a number of Melbourne's prominent gay venues started to close down, Sam Cremean felt a sense of loss. This prompted him to investigate what was happening to gay neighbourhoods internationally. He discovered that these important spaces were slowly disappearing from cities around the world
Where European architecture starts with the exterior shape of the building, Asian buildings are imagined from the inside out. Curators of the acclaimed Indonesia Pavilion at Venice Biennale 2018, Ary Indra and David Setiadi, elucidate how 'emptiness' is sculpted in Indonesian architecture, one remarkable building at a time