Happenings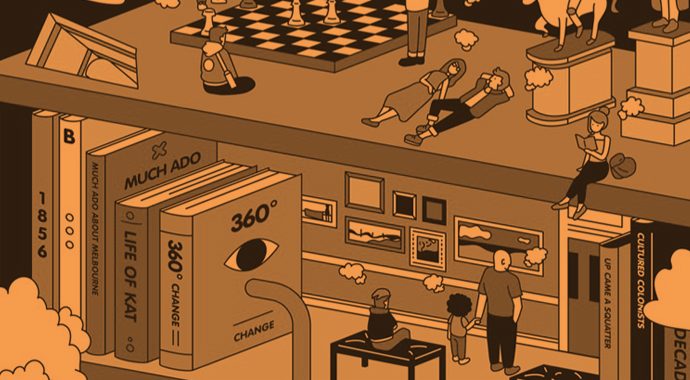 Open House Melbourne is running again – and this year, to mark the 10th anniversary of the programme, there are even more buildings throwing open their doors to the public. From morning to evening this Saturday and Sunday, more than 200 buildings and landscapes will be on display, from residential dwellings, via commercial projects, to civic spaces. Highlights include the soon-to-be-redeveloped Collingwood Arts Precinct, the Koorie Heritage Trust, experimental arts venue Testing Grounds, the Walter Burley Griffin-designed Newman College at the University of Melbourne and the Monash University Earth Sciences Garden, designed by Melbourne landscape architects Rush Wright. The workspaces of select local design and built environment offices will also be up for scrutiny, including our very own Assemble headquarters, designed by our sister company Fieldwork. For the rather intimidatingly expansive list of participating buildings and events, head over to the website.
Main image courtesy Open House Melbourne.
Where: Melbourne CBD and beyond
When: 28 & 29 July
How much: Free! ($5 booking fee for certain pre-booked tours)
More info: Open House Melbourne website
Recent Articles
Jil Raleigh of BKK Architects reflects on "What would Boyd do? Small Homes Service for today", a conversation hosted by Rory Hyde and Philip Goad on Sunday 15 October, 2017 at MPavilion.
'After the revolution, who's going to pick up the garbage on Monday morning?', asked artist Mierle Laderman Ukeles in her Manifesto for Maintenance Art 1969! Eugenia Lim converses with the New York City Department of Sanitation's long-time official artist-in-residence about womanhood, motherhood and the social ecologies of our cities
Local label founder, podcaster, DJ and more: Xander Byng's talents traverse the musical universe. We bring you a mixtape from the Melbourne-based party-maker, developed as a meditation on psychogeography: "I've always found that experiencing unfamiliar settings, especially in a familiar environment, really helps me to think more positively."