Happenings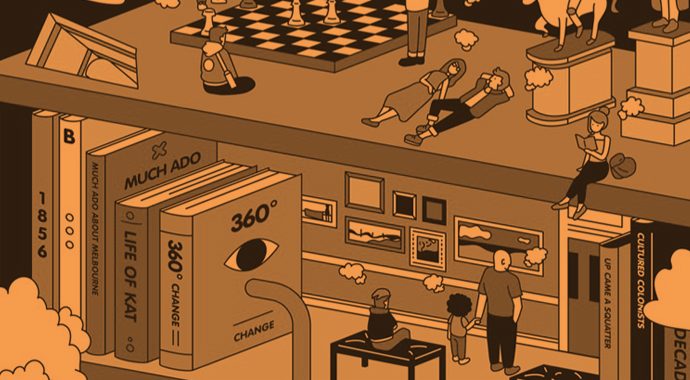 Open House Melbourne is running again – and this year, to mark the 10th anniversary of the programme, there are even more buildings throwing open their doors to the public. From morning to evening this Saturday and Sunday, more than 200 buildings and landscapes will be on display, from residential dwellings, via commercial projects, to civic spaces. Highlights include the soon-to-be-redeveloped Collingwood Arts Precinct, the Koorie Heritage Trust, experimental arts venue Testing Grounds, the Walter Burley Griffin-designed Newman College at the University of Melbourne and the Monash University Earth Sciences Garden, designed by Melbourne landscape architects Rush Wright. The workspaces of select local design and built environment offices will also be up for scrutiny, including our very own Assemble headquarters, designed by our sister company Fieldwork. For the rather intimidatingly expansive list of participating buildings and events, head over to the website.
Main image courtesy Open House Melbourne.
Where: Melbourne CBD and beyond
When: 28 & 29 July
How much: Free! ($5 booking fee for certain pre-booked tours)
More info: Open House Melbourne website
Recent Articles
North Melbourne's City Gardens apartment complex is a haven of communal living, complete with kindergarten, vegetable patches, clothing bins and rooftop hives. Elizabeth Campbell spoke to some of the residents of the Peter McIntyre-designed buildings to learn how collective living works – and see more of the unique spaces they call home
Some of the best moments in life are those shared over a cup of tea and freshly baked goods. In the lead-up to the holiday period, slow food blog OSTRO's Julia Busuttil Nishimura brings us a recipe for a Japanese-inspired sweet treat – its the perfect excuse to catch-up for some casual afternoon banter
In 2012, a Berlin art collective signed a 40-year peppercorn lease on a disused railway depot in suburban Berlin. Five years later, Centre for Art and Urbanism (ZK/U) has become a recognised hub of urban innovation and social activism. On the eve of ZK/U's fifth birthday celebrations, Jana Perkovic chats to ZK/U co-founder and director Matthias Einhoff about ZK/U's past, present and future.