Happenings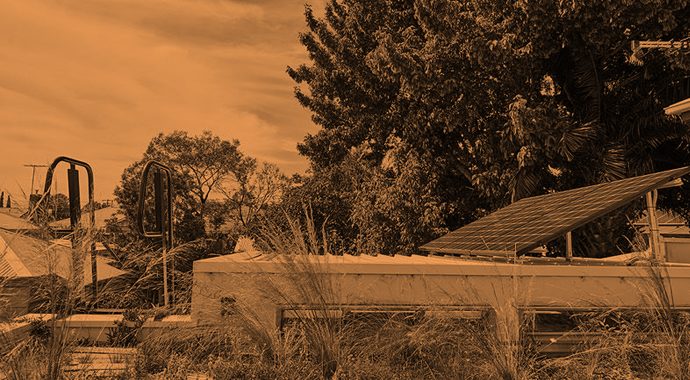 More than 220 buildings will be open to the public across greater Melbourne this July, as part of Open House Melbourne 2018. A series of talks, events, tours, screenings and performances will take place throughout July.
Over the weekend of 28 & 29 July, people are invited to explore buildings of significance including places of worship, private residences, cultural institutions and industrial buildings. Many of these buildings are not ordinarily open to the public. Highlights include 5×4 Hayes Lane in East Melbourne which has previously featured in Assemble Papers, as well as the Australian Islamic Centre by Glen Murcutt and Hakan Elevli, and the new Gertrude Contemporary building by Edition Office. Melbourne Vernacular is also an exciting addition to the program, showcasing innovative sustainability practices.
Check the Open House Melbourne website for details including opening times, booking requirements and photography restrictions.
[Main image: The roof of Melbourne Vernacular. Image courtesy of Open House Melbourne]
Where: Across Greater Melbourne.
When: 28 & 29 July
How much: See website for details
More info: Open House Melbourne
Recent Articles
Cultural appropriation is an uneasy topic in architecture, but a new generation of young design practitioners is ready to change the paradigm. Louis Mokak, director of Indigenous Architecture and Design Victoria (IADV), questions Australia's colonial heritage - both in thought and practice
Tomoko and Takaaki Shiratori have lived all over Japan; from a 'New Town' in Yokohama, to Aichi Prefecture and now in Nerima, Tokyo. Their shared love of gardening means the rooftop is filled with fruits and vegetables, while Tomoko has a passion for reading aloud and talking, which she says, keeps her energised!
Jurien Bay and Wedge Island in Western Australia were landscapes once dominated by informal settlements. However, suburban developments are now reaching WA's central coast. Felix Joensson, from our West Coast partners Future West, asks the question – how do we create beachfront suburbs with soul?