Happenings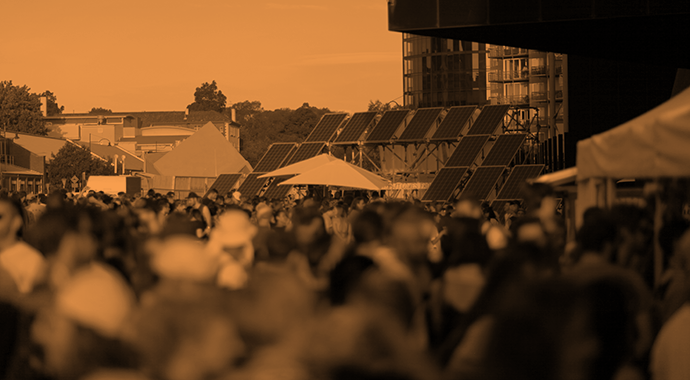 After the success of last year's inaugural Off the Grid, Australia's first solar-powered, zero-waste music and arts festival is back with another great lineup of shimmering local talent. Taking place once again at the ACCA Forecourt on the summer solstice (Wednesday 21 December), Off the Grid presents a packed day of local arts, entertainment and local food, all powered by local energy – with 100% of profits going directly into building a solar project set to speed up Melbourne's transition towards becoming a self-sufficient city. All recyclables from the event will also be recycled, with all organic waste to be used for compost with no material sent to landfill, in a bid to achieve zero-waste status.
The line-up this year features yet another great selection of DJs, eclectic electronic acts and big bands, including Albrecht La'Brooy, Andee Frost, Andras, Izabel Caligiore, J'Nett, Miss Goldie,  Tako, NO ZU (AP EARS alumni!) and The Senegambian Jazz Band. In addition to the musical line-up, Chunky Move will spearhead this year's arts program, presenting Benjamin Hancock's PRINCESS – an intensely personal work examining the role of dynasty and the building of empires. Lastly, Off the Grid this year presents its conference program 'The Palimpsest' from 9am–1pm, featuring leading environmentalists, architects, activists, entrepreneurs and foodies: Adele Winteridge (Foolscap Studio), Bronwyn Johnson (Climarte), Clare Cousins, Ellen Sandell, Joost Bakker, Natalie Isaacs (1 Million Women), Paul Gorrie (Seed Indigenous Youth Climate Network), Peter Malatt (Six Degrees), Rob Murray-Leach (Energy Efficiency Council), Tane Hunter (Future Crunch) and Timothy Hill (Partners Hill) – plus music by none other than Edd Fisher.
Presented by our pals at Finding Infinity, an organisation dedicated to speeding up the world's transition to renewables through creativity and consulting, Off the Grid's five-metre high stage will be powered by a high-tech battery power bank. Head to the Off The Grid website for all the event info you need & ticketing information.
GIVEAWAY! We've got a double pass (RRP $200) for one lucky Assemble Papers reader and a friend to head along to Off the Grid festival and its Palimpsest conference. Email your name and phone number to hello [at] assemblepapers [dot] com [dot] au (Subject: 'OTG 2016') before 5pm Friday 25 November for your chance to win!
Assemble Papers is an official media partner for Off the Grid Festival 2016.
Original image: Off The Grid 2015, via Finding Infinity.
Where: ACCA Forecourt, 111 Sturt St, Southbank
When: Wed 21 Dec, 9am–10pm
How much: $60–$100
More info: Off The Grid 2016
Recent Articles
Being able to work across our differences is crucial if we are to solve the housing crisis in Melbourne, says urban planning professor Carolyn Whitzman, of University of Melbourne. Whitzman's background in activism now underpins her work on solving Melbourne's housing crisis: she describes her research as trying to make social change happen through experiments in deliberative democracy
Our 8th print issue of Assemble Papers, 'Metropolis.', muses on the power of cities and their citizens to instigate and enact global change. AP editor Jana Perkovic shares her thoughts on the evolution of the issue, published in partnership with this year's MPavilion
TSUNO is a young, female-friendly social enterprise manufacturing environmentally and socially sustainable menstrual wear. Emily Wong spoke to TSUNO founder and design-brain Roslyn Campbell about learning through doing, the value of community and breaking down taboos