Happenings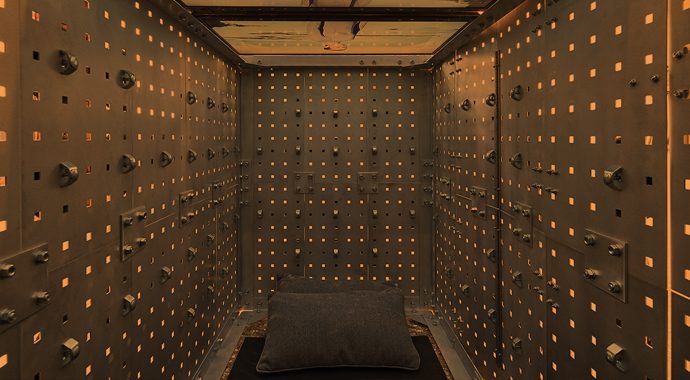 Read on for our final guide to the MPavilion programme for this year.
MTalks: A city for millenials by millenials
AILA Fresh and the Planning Institute of Australia's Young Planners host a collaborative discussion exploring the millennial city of the future. How will the next generation reimagine the city, in the wake of angst driven by generational inequity? Featuring three influential millennial city-makers, audience participation is essential!
MMeets: Matthew Bird: an immersive encounter with the afterlife – performance
Gather at MPavilion for a twilight performance designed around artist and experimental architect Matthew Bird's interactive 'An immersive encounter with the afterlife' installation. The third in a series of specially commissioned performances around Bird's MPavilion work, the event aims to create a responsive, transcendent and nondenominational performance dialogue with the hereafter.
MKids MProjects MMeets Tin&Ed: Inflatable Futures
Cross-hemispherical creatives Tin&Ed present Inflatable Futures, a work of inflatable sculpture that encourages kids to play and engage with ideas of technology, space and the future. All ages welcome.
MKids MMeets: Westside Circus Activity sessions – afternoons
Westside Circus is a not-for-profit organisation dedicated to creating inclusive, participatory experiences for young people. Join an afternoon workshop with the Westside crew and learn how to juggle, tumble and balance as a way to train the body and relax the mind. Event registrations are encouraged.
As always, we suggest you steer yourself over to the MPavilion website for the full programme of mind-expanding events, continuing through to 2018.
Main image: Sarcophagus by Matthew Bird. Photo by Peter Bennetts, courtesy of MPavilion.
Where: MPavilion, Queen Victoria Gardens, Melbourne
When: Until February 2018
How much: Free!
More info: MPavilion website
Recent Articles
North Melbourne's City Gardens apartment complex is a haven of communal living, complete with kindergarten, vegetable patches, clothing bins and rooftop hives. Elizabeth Campbell spoke to some of the residents of the Peter McIntyre-designed buildings to learn how collective living works – and see more of the unique spaces they call home
Some of the best moments in life are those shared over a cup of tea and freshly baked goods. In the lead-up to the holiday period, slow food blog OSTRO's Julia Busuttil Nishimura brings us a recipe for a Japanese-inspired sweet treat – its the perfect excuse to catch-up for some casual afternoon banter
In 2012, a Berlin art collective signed a 40-year peppercorn lease on a disused railway depot in suburban Berlin. Five years later, Centre for Art and Urbanism (ZK/U) has become a recognised hub of urban innovation and social activism. On the eve of ZK/U's fifth birthday celebrations, Jana Perkovic chats to ZK/U co-founder and director Matthias Einhoff about ZK/U's past, present and future.