Happenings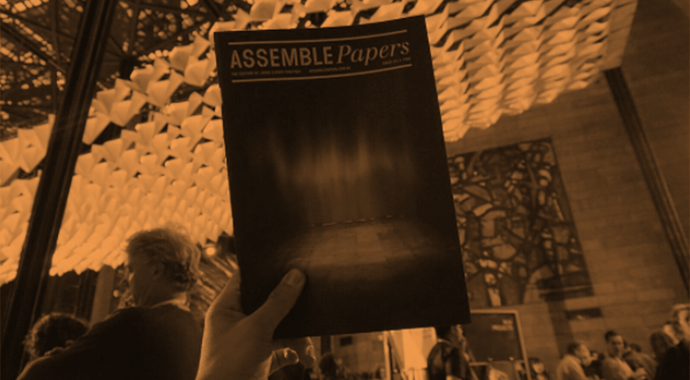 Melbourne Art Book Fair 2017
The Melbourne Art Book Fair (MABF) is back! Like previous years, we'll be there with the freshly printed Assemble Papers Issue 7, hot off the press and available to take home even before it's even been launched. Themed 'In/formation', Issue 7 looks at collective action and activism through art, design, architecture, urbanism and the environment in the information age, considering the possibilities of citizen science and the power of people to enact real, tangible change in the world.
We'll be hanging out at the Melbourne Art Book Fair for the entire weekend (Friday 10–5pm; Saturday 10am–8pm; Sunday 10am–5pm) so be sure to stop by our stand for a chat & to get your hands on the latest issue. Taking place for the third time, MABF celebrates the best in local and international art publications with over 200 stallholders across architecture, art, design and photography. Leading art book publishers such as Steidl (DE), Commune Press (JP), Sternberg Press (GER), MACK (UK) and The Heavy Collective will all be present alongside local favourites The Good Copy, Uro Publications, un Projects, Ladies of Leisure and more, while the MABF program features a range of talks, launches and workshops (see the full program here).
Original image: Melbourne Art Book Fair 2016, by Hudson Brown. 
Where: Melbourne Art Book Fair, National Gallery of Victoria
When: Thu 16 – Sun 19 Mar
How much: Preview party $20 / $16. Free entry to fair!
More info: Melbourne Art Book Fair 2017
Recent Articles
North Melbourne's City Gardens apartment complex is a haven of communal living, complete with kindergarten, vegetable patches, clothing bins and rooftop hives. Elizabeth Campbell spoke to some of the residents of the Peter McIntyre-designed buildings to learn how collective living works – and see more of the unique spaces they call home
Some of the best moments in life are those shared over a cup of tea and freshly baked goods. In the lead-up to the holiday period, slow food blog OSTRO's Julia Busuttil Nishimura brings us a recipe for a Japanese-inspired sweet treat – its the perfect excuse to catch-up for some casual afternoon banter
In 2012, a Berlin art collective signed a 40-year peppercorn lease on a disused railway depot in suburban Berlin. Five years later, Centre for Art and Urbanism (ZK/U) has become a recognised hub of urban innovation and social activism. On the eve of ZK/U's fifth birthday celebrations, Jana Perkovic chats to ZK/U co-founder and director Matthias Einhoff about ZK/U's past, present and future.