Happenings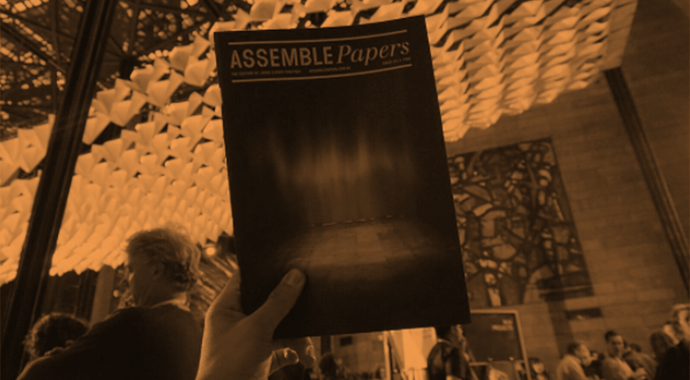 Melbourne Art Book Fair 2017
The Melbourne Art Book Fair (MABF) is back! Like previous years, we'll be there with the freshly printed Assemble Papers Issue 7, hot off the press and available to take home even before it's even been launched. Themed 'In/formation', Issue 7 looks at collective action and activism through art, design, architecture, urbanism and the environment in the information age, considering the possibilities of citizen science and the power of people to enact real, tangible change in the world.
We'll be hanging out at the Melbourne Art Book Fair for the entire weekend (Friday 10–5pm; Saturday 10am–8pm; Sunday 10am–5pm) so be sure to stop by our stand for a chat & to get your hands on the latest issue. Taking place for the third time, MABF celebrates the best in local and international art publications with over 200 stallholders across architecture, art, design and photography. Leading art book publishers such as Steidl (DE), Commune Press (JP), Sternberg Press (GER), MACK (UK) and The Heavy Collective will all be present alongside local favourites The Good Copy, Uro Publications, un Projects, Ladies of Leisure and more, while the MABF program features a range of talks, launches and workshops (see the full program here).
Original image: Melbourne Art Book Fair 2016, by Hudson Brown. 
Where: Melbourne Art Book Fair, National Gallery of Victoria
When: Thu 16 – Sun 19 Mar
How much: Preview party $20 / $16. Free entry to fair!
More info: Melbourne Art Book Fair 2017
Recent Articles
Six years after co-founding Assemble, Pino Demaio has decided to resign from his role as Director. Pino remains focused on his strategic design practice, Local Peoples, and his editorial interests through Matters Journal
Australians Laura Castagnini and Megan Wong moved to London four years ago to pursue their passions: contemporary art and political activism. Between feminist art history and human rights law, this is a couple whose shared life is dedicated to shifting culture. We visit their home in Camberwell, close to radical art spaces, farmers' markets and tiny green parks
At the 16th Venice Architecture Biennale, no less than three national pavilions examine the walls around nation-states. How complicit is architecture in separating us from each other? Our resident wall critic Amelyn Ng reflects on the architecture of isolationism, and the geopolitics of walls