Happenings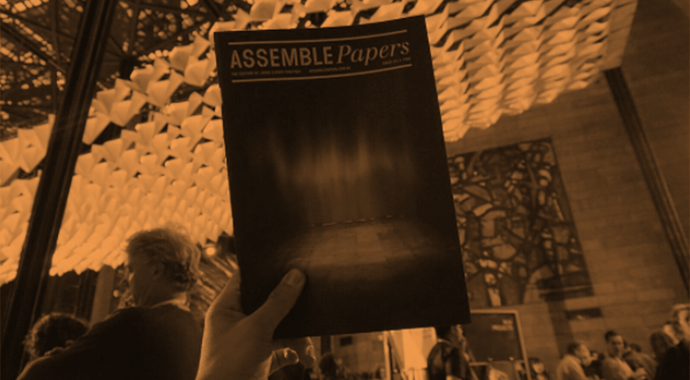 Melbourne Art Book Fair 2017
The Melbourne Art Book Fair (MABF) is back! Like previous years, we'll be there with the freshly printed Assemble Papers Issue 7, hot off the press and available to take home even before it's even been launched. Themed 'In/formation', Issue 7 looks at collective action and activism through art, design, architecture, urbanism and the environment in the information age, considering the possibilities of citizen science and the power of people to enact real, tangible change in the world.
We'll be hanging out at the Melbourne Art Book Fair for the entire weekend (Friday 10–5pm; Saturday 10am–8pm; Sunday 10am–5pm) so be sure to stop by our stand for a chat & to get your hands on the latest issue. Taking place for the third time, MABF celebrates the best in local and international art publications with over 200 stallholders across architecture, art, design and photography. Leading art book publishers such as Steidl (DE), Commune Press (JP), Sternberg Press (GER), MACK (UK) and The Heavy Collective will all be present alongside local favourites The Good Copy, Uro Publications, un Projects, Ladies of Leisure and more, while the MABF program features a range of talks, launches and workshops (see the full program here).
Original image: Melbourne Art Book Fair 2016, by Hudson Brown. 
Where: Melbourne Art Book Fair, National Gallery of Victoria
When: Thu 16 – Sun 19 Mar
How much: Preview party $20 / $16. Free entry to fair!
More info: Melbourne Art Book Fair 2017
Recent Articles
Actor Sunday Barca-Irving and designer Peter Deering are the creative couple behind the Sunday Muesli Co – a Richmond-based granola company offering up healthy and downright delicious hand-crafted muesli mixes to kick-start your day. Here Sunday brings us a cosy recipe for the winter months – seasonal poached pears with gluten-free muesli and a cardamon-scented nut mylk
"In Japan, old things tend to be well looked after and so even vintage items that are 50 years old still look beautiful today". In the fourth instalment of our 'Tokyo Life' series brought to you via R-ESTATE TOKYO, Ben Davis chats to curator and creator Kai-Ting Lin about the anachronistic beauty of the well-worn
Fresh from a sonic tour of Eastern and Western Europe, Louise Terra of Sugar Fed Leopards has made us a mixtape: "This playlist talks to the ambient and hypnotic elements in electronic music that I love, with a mix of old European folk music and a few bombastic erratic rhythmic tracks, for impact."