Happenings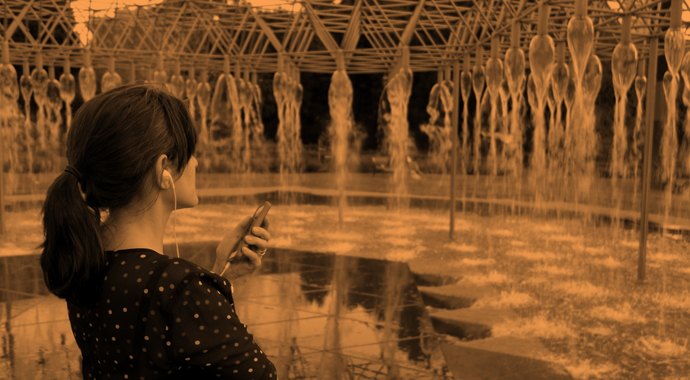 Have you ever felt so connected to a place that you can't help but tell everyone about it? Artist and human ecologist Asha Bee Abraham has developed a new participatory art project Invisible Cities, which does just that. Invisible Cities is an iPhone app and Asha's third in a series of collaborative works that asks the public to convey their personal relationships to the sounds, streets and buildings of their community. Geolocating contributors' audio anecdotes with sites throughout the city, Invisible Cities gives new life to the fabric and built environment of Melbourne. Invisible Cities builds on previous projects Die Insel (2014) and The People's Wangaratta (2015), part of Asha's ongoing research on and engagement with the connection between people and place.
As Asha explains: "The story of the city is written not by the historians or the travel bureaus. It is written as its people interact with its places through the simplicity of everyday life. We give the city its personality by exchanging smiles, stealing kisses and slamming car horns; We construct its sounds and the sights with our busking and street art; We draw the lines on the map through our paths to work. Our stories build the city, brick by brick, paragraph by paragraph."
Invisible Cities will hold a launch party this Wednesday 11 November, 6-8pm, at Shebeen. Download the free iPhone app via iTunes and contribute your story via the Invisible Cities website.
Original image: 'Invisible Cities participant Lucy Best' by Asha Bee Abraham. Courtesy of Invisible Cities. 
Where: Across Melbourne
When: 11 Nov – 31 Dec 2015
How much: Free!
More info: http://invisiblecities.com.au
Recent Articles
North Melbourne's City Gardens apartment complex is a haven of communal living, complete with kindergarten, vegetable patches, clothing bins and rooftop hives. Elizabeth Campbell spoke to some of the residents of the Peter McIntyre-designed buildings to learn how collective living works – and see more of the unique spaces they call home
Some of the best moments in life are those shared over a cup of tea and freshly baked goods. In the lead-up to the holiday period, slow food blog OSTRO's Julia Busuttil Nishimura brings us a recipe for a Japanese-inspired sweet treat – its the perfect excuse to catch-up for some casual afternoon banter
In 2012, a Berlin art collective signed a 40-year peppercorn lease on a disused railway depot in suburban Berlin. Five years later, Centre for Art and Urbanism (ZK/U) has become a recognised hub of urban innovation and social activism. On the eve of ZK/U's fifth birthday celebrations, Jana Perkovic chats to ZK/U co-founder and director Matthias Einhoff about ZK/U's past, present and future.