Happenings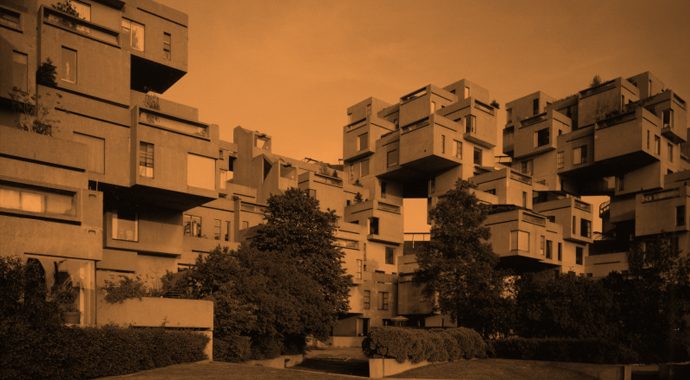 Habitat '67: The Shape of Things to Come
Now in its final few weeks at Montreal's UQAM Centre of Design, Habitat '67: The Shape of Things to Come examines the enduring legacy of Israeli-Canadian architect Moshe Safdie's visionary urban housing complex, Habitat. Constructed in Montreal as a pavilion for the 1967 World's Fair, the project comprises 354 identical prefabricated concrete modules configured in various combinations to create 146 residences of different sizes linked by exterior walkways and terrace gardens.
Habitat was intended by Safdie as a prototype for the future of urban living, combining the perceived benefits of suburban homes (gardens, privacy, air flow) with the seemingly impending future of increasingly dense and crowded cities. The Shape of Things to Come frames the goals of reimagining high density living and improving social integration as enduring themes of Safdie's work arising out of the original Habitat research.
Browse conceptual drawings, objects and photos of the original complex, along with plans for several unbuilt iterations of the Habitat complex that Safdie designed for New York, Puerto Rico and Israel. A section dedicated to "Habitat for the Future," presents a series of models and renderings exploring how one might approach building Habitat amidst the maelstrom of twenty-first century conditions and concerns.
Main image: the Habitat complex in Montreal, courtesy Alive 375.
Where: Centre de Design – UQAM, DE-R200, 1440 rue Sanguinet, Montréal
When: Until Sun 13 August
How much: Free!
More info: UQAM website
Recent Articles
Western influence in Japan has a fascinating and turbulent history. Architect Keith Little looks at how that complex relationship is embodied in Tokyo's Kyudōkaikan, one of the few buildings to survive the rapid economic growth of the twentieth century. Recent restoration of the complex was funded through an innovative business model, which reflects the temple's masterful blending of the old and the new
Eavesdropping is a part of life: we hear things that are not intended for us all the time. Yet the word's meaning has changed over time. For our second collaboration with Liquid Architecture, sonic artist and researcher Sam Kidel has prepared us a mixtape that uncouples voice and personhood: "I created the mix as a tool for feeling into unsettled experiences of voice."
Gregory Lorenzutti was working in Tacloban City when he met a group of young performers preparing for the first fiesta since Typhoon Haiyan had devastated the region, 18 months earlier. In this photography series, Lorenzutti captures the beauty of Filipino queerness, and the complex story of how LGBTIQ families were affected by the city's rebuilding