Happenings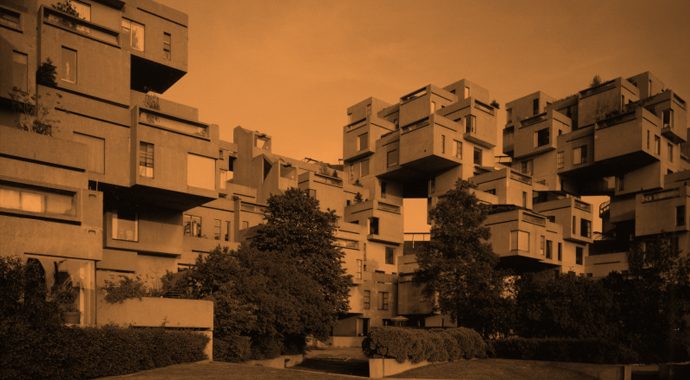 Habitat '67: The Shape of Things to Come
Now in its final few weeks at Montreal's UQAM Centre of Design, Habitat '67: The Shape of Things to Come examines the enduring legacy of Israeli-Canadian architect Moshe Safdie's visionary urban housing complex, Habitat. Constructed in Montreal as a pavilion for the 1967 World's Fair, the project comprises 354 identical prefabricated concrete modules configured in various combinations to create 146 residences of different sizes linked by exterior walkways and terrace gardens.
Habitat was intended by Safdie as a prototype for the future of urban living, combining the perceived benefits of suburban homes (gardens, privacy, air flow) with the seemingly impending future of increasingly dense and crowded cities. The Shape of Things to Come frames the goals of reimagining high density living and improving social integration as enduring themes of Safdie's work arising out of the original Habitat research.
Browse conceptual drawings, objects and photos of the original complex, along with plans for several unbuilt iterations of the Habitat complex that Safdie designed for New York, Puerto Rico and Israel. A section dedicated to "Habitat for the Future," presents a series of models and renderings exploring how one might approach building Habitat amidst the maelstrom of twenty-first century conditions and concerns.
Main image: the Habitat complex in Montreal, courtesy Alive 375.
Where: Centre de Design – UQAM, DE-R200, 1440 rue Sanguinet, Montréal
When: Until Sun 13 August
How much: Free!
More info: UQAM website
Recent Articles
Actor Sunday Barca-Irving and designer Peter Deering are the creative couple behind the Sunday Muesli Co – a Richmond-based granola company offering up healthy and downright delicious hand-crafted muesli mixes to kick-start your day. Here Sunday brings us a cosy recipe for the winter months – seasonal poached pears with gluten-free muesli and a cardamon-scented nut mylk
"In Japan, old things tend to be well looked after and so even vintage items that are 50 years old still look beautiful today". In the fourth instalment of our 'Tokyo Life' series brought to you via R-ESTATE TOKYO, Ben Davis chats to curator and creator Kai-Ting Lin about the anachronistic beauty of the well-worn
Fresh from a sonic tour of Eastern and Western Europe, Louise Terra of Sugar Fed Leopards has made us a mixtape: "This playlist talks to the ambient and hypnotic elements in electronic music that I love, with a mix of old European folk music and a few bombastic erratic rhythmic tracks, for impact."