Happenings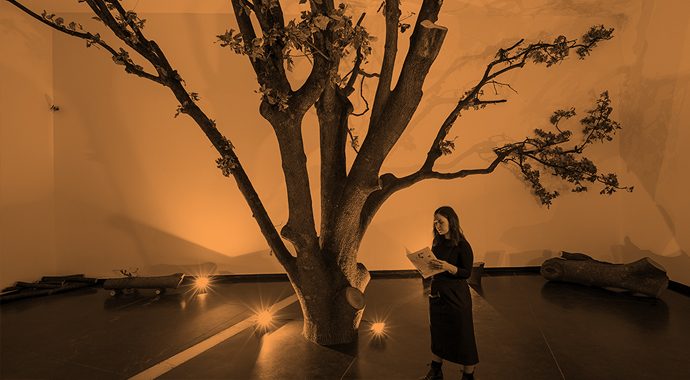 ACCA's current exhibition is a exploration of the ways we might work together in an age where many of the previous barriers to collaboration – time, distance, language – are breaking down. Greater Together presents nine projects by both Melbourne-based and international artists that have evolved through alternative methods of thinking about cooperation and collaboration. The centrepiece of the show is a full-size oak tree installed into the main space by Swedish duo Simon Goldin and Jakob Sennedy (Goldin + Senneby), which includes daily readings of a short story by Swedish writer Jonas Hassen Khemiri performed by gallery attendants clothed in uniforms by Melbourne designer Annie Wu. At a time defined by environmental and political tensions, Greater Together explores how bringing people together can create new opportunities for change.
Main image: exhibition installation view, photo by Andrew Curtis courtesy ACCA.
Where: ACCA, 111 Sturt St, Southbank
When: Until Sunday 17 September
How much: Free!
More info: ACCA website
Recent Articles
Six years after co-founding Assemble, Pino Demaio has decided to resign from his role as Director. Pino remains focused on his strategic design practice, Local Peoples, and his editorial interests through Matters Journal
Australians Laura Castagnini and Megan Wong moved to London four years ago to pursue their passions: contemporary art and political activism. Between feminist art history and human rights law, this is a couple whose shared life is dedicated to shifting culture. We visit their home in Camberwell, close to radical art spaces, farmers' markets and tiny green parks
At the 16th Venice Architecture Biennale, no less than three national pavilions examine the walls around nation-states. How complicit is architecture in separating us from each other? Our resident wall critic Amelyn Ng reflects on the architecture of isolationism, and the geopolitics of walls