Happenings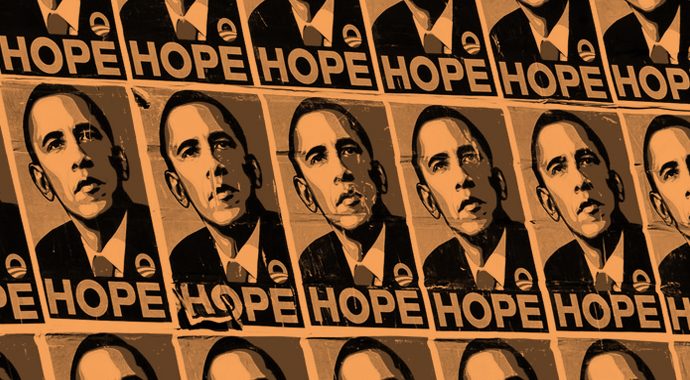 Get with the Action: Political Posters from the 1960s to Now
Political posters have been calling people to action since the mid-1960s. The exhibition 'Get with the Action: Political Posters from the 1960s to Now' at the San Francisco Museum of Modern Art, (SFMOMA), examines why the political poster has been successful in unifying and activating citizens on important political issues for more than 50 years.
The exhibition looks at the political poster as a powerful communication tool and a work of art, as well as how its democratic nature has impacted its place in political and social life. The title 'Get with the Action' is taken from a screen-print by the artist, activist and nun Corita Kent, who's work using serigraphs drew attention to issues such as poverty, racism and war.
The works featured in the exhibition were primarily created in the Bay Area of San Francisco. Four rotations are presented over the course of the exhibition.
[Main Image: Thomas Hawk, artwork by Shepherd Fairey. Courtesy of Flickr via Creative Commons]
Where: San Francisco Museum of Modern Art, 151 3rd St, San Francisco, USA.
When: Until June 17 2018
How much: Check website for details.
More info: San Francisco Museum of Modern Art
Recent Articles
Cultural appropriation is an uneasy topic in architecture, but a new generation of young design practitioners is ready to change the paradigm. Louis Mokak, director of Indigenous Architecture and Design Victoria (IADV), questions Australia's colonial heritage - both in thought and practice
Tomoko and Takaaki Shiratori have lived all over Japan; from a 'New Town' in Yokohama, to Aichi Prefecture and now in Nerima, Tokyo. Their shared love of gardening means the rooftop is filled with fruits and vegetables, while Tomoko has a passion for reading aloud and talking, which she says, keeps her energised!
Jurien Bay and Wedge Island in Western Australia were landscapes once dominated by informal settlements. However, suburban developments are now reaching WA's central coast. Felix Joensson, from our West Coast partners Future West, asks the question – how do we create beachfront suburbs with soul?