Happenings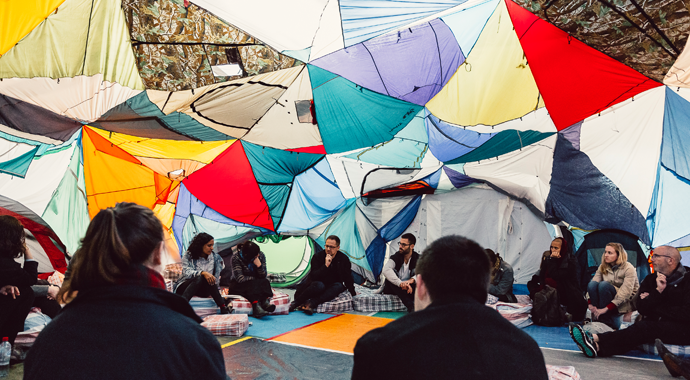 Future Local: AP Issue #6 launch
In the current age of globalisation and unprecedented demographic and infrastructural expansion, it is tempting to adopt the solutions of other countries as blueprints upon which to model our own futures. But are these ideas always easily transferable? And what can we learn from our own backyard? Presented in partnership with our friends at MPavilion, Issue 6 of Assemble Papers, entitled 'Future Local', celebrates and explores the importance of context in our future urban environments – from architecture and urban designs to smaller-scale solutions and artistic ideas with big implications.
In the issue: Australian artists Keg de Souza and Richard Bell bring to light issues of displacement and colonisation in their deeply political, site-specific works at the recent Biennale of Sydney; Hakan Elevli and Mohammed Haddara tell the story of their decade-long journey creating the almost-finished Australian Islamic Centre with renowned architect Glenn Murcutt; 2016–17 MPavilion architect Bijoy Jain of Studio Mumbai speaks about his craft-centred and environmentally empathetic approach to architecture; 3000 Acres connects green-thumbed city-dwellers to underutilised urban spaces; City Edge is one of Melbourne's original 'urban villages'; Karl Maier and Amee Patel let us inside their Brutalist maisonette in London's Bethnal Green; Chicago-based photographer Judy Natal envisions the future based on fragments of the present… and so much more!
Join us as we launch Assemble Papers Issue #6 at the Wheeler Centre with a panel discussion on 'Arts Transforming the City'. We're used to hearing people talk about the value of 'creative' cities and economies, but what benefits do art and culture really bestow upon cities – and what would our cities be without them? Led by Assemble Papers editor Sara Savage, the panel features Collingwood Arts Precinct CEO and founder of the award-winning Renew Newcastle and Renew Australia projects, Marcus Westbury; urban planner, theatre producer and dancer Wendy Lasica; and contemporary artist and Field Theory arts collective co-founder Lara Thoms.
The launch takes place on Monday 19 September 2016, 6.15–7.15pm at The Wheeler Centre (176 Little Lonsdale St, Melbourne). Join us for what's sure to be a thought-provoking discussion as we celebrate the launch of our latest issue. Free event – RSVP via the Wheeler Centre website.
Thank you to our major partner MPavilion, and sponsor Scanlan Theodore. Original image: Keg de Souza, 'We Built This City', 2016, created for the 20th Biennale of Sydney. Photo by Document Photography.
Where: The Wheeler Centre, 176 Little Lonsdale St, Melbourne 3000
When: Mon 19 Sep, 6.15–7.15pm
How much: Free! (Registration essential)
More info: Register via the Wheeler Centre
Recent Articles
Six years after co-founding Assemble, Pino Demaio has decided to resign from his role as Director. Pino remains focused on his strategic design practice, Local Peoples, and his editorial interests through Matters Journal
Australians Laura Castagnini and Megan Wong moved to London four years ago to pursue their passions: contemporary art and political activism. Between feminist art history and human rights law, this is a couple whose shared life is dedicated to shifting culture. We visit their home in Camberwell, close to radical art spaces, farmers' markets and tiny green parks
At the 16th Venice Architecture Biennale, no less than three national pavilions examine the walls around nation-states. How complicit is architecture in separating us from each other? Our resident wall critic Amelyn Ng reflects on the architecture of isolationism, and the geopolitics of walls