Happenings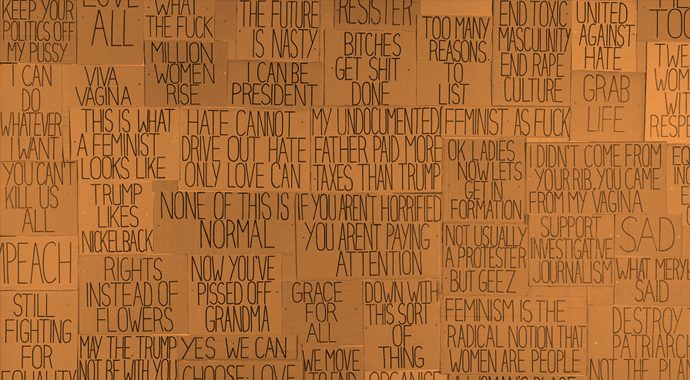 Forerunner: Unfinished Business
In the lead-up to their upcoming exhibition, Unfinished Business: Perspectives on art and feminism (opening 15 December), ACCA will be hosting a panel discussion on the role and nature of feminism today. Co-curator of the exhibition, Paola Balla, will be joining academic and researcher Anne Marsh and Melbourne-based artists Atong Atem and Emily Floyd in a multi-faceted conversation tracing the history and future of feminism in contemporary times. The discussion will touch on the incredibly diverse range of feminist art practices in Australia, as well as emerging theories and concerns.
Main image: Sarah Goffman, I am with you 2017 (detail), cardboard, permanent marker, approx. 7.0 x 7.0 m. Courtesy the artist and ACCA. Photo by Andrew Curtis.
Where: ACCA, 111 Sturt St, Southbank
When: Mon 13 Nov, 6pm
How much: Free – but register
More info: ACCA website
Recent Articles
North Melbourne's City Gardens apartment complex is a haven of communal living, complete with kindergarten, vegetable patches, clothing bins and rooftop hives. Elizabeth Campbell spoke to some of the residents of the Peter McIntyre-designed buildings to learn how collective living works – and see more of the unique spaces they call home
Some of the best moments in life are those shared over a cup of tea and freshly baked goods. In the lead-up to the holiday period, slow food blog OSTRO's Julia Busuttil Nishimura brings us a recipe for a Japanese-inspired sweet treat – its the perfect excuse to catch-up for some casual afternoon banter
In 2012, a Berlin art collective signed a 40-year peppercorn lease on a disused railway depot in suburban Berlin. Five years later, Centre for Art and Urbanism (ZK/U) has become a recognised hub of urban innovation and social activism. On the eve of ZK/U's fifth birthday celebrations, Jana Perkovic chats to ZK/U co-founder and director Matthias Einhoff about ZK/U's past, present and future.