Happenings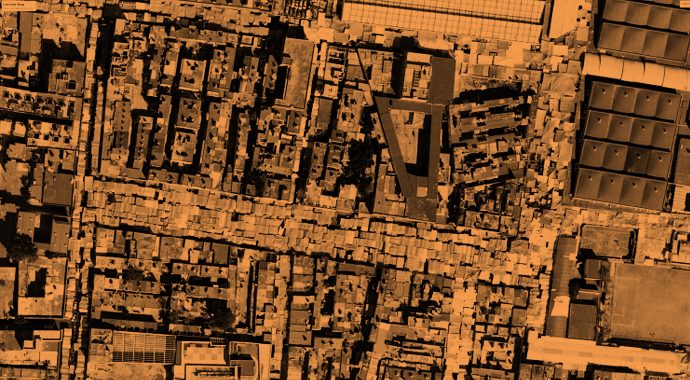 Does Permanence Matter? Ephemeral Urbanism
Does Permanence Matter? An ongoing exhibition at Munich Technical University's Architekturmuseum explores temporary urbanism as an increasingly relevant mode of living in contemporary conditions of climate change and politically induced migration. Drawing from a study by researchers at both the Harvard Graduate School of Design and the Centro de Ecologia Paisaje y Urbanismo in Santiago, the show presents myriad examples of short-term settlements, from refugee camps and military outposts through to cultural festivals in the Nevada desert. A particular section of the space is dedicated to interdisciplinary research on Kumbh Mela – an ancient religious festival which sees hundreds of thousands of pilgrims converge on the Indian city of Allahabad every 12 years. For details of the accompanying programme of talks and workshops, visit the website.
Main image: Tepito Market, Mexico City, 2015, courtesy Architekturmuseum der TU München.
Where: Architekturmuseum der TU München, (Pinakothek der Moderne), Barer Straße 40, 80333, Munich
When: Until 18 March 2018
How much: Full €10.00 / Concession €7.00
More info: Architekturmuseum der TU München website
Recent Articles
Jil Raleigh of BKK Architects reflects on "What would Boyd do? Small Homes Service for today", a conversation hosted by Rory Hyde and Philip Goad on Sunday 15 October, 2017 at MPavilion.
'After the revolution, who's going to pick up the garbage on Monday morning?', asked artist Mierle Laderman Ukeles in her Manifesto for Maintenance Art 1969! Eugenia Lim converses with the New York City Department of Sanitation's long-time official artist-in-residence about womanhood, motherhood and the social ecologies of our cities
Local label founder, podcaster, DJ and more: Xander Byng's talents traverse the musical universe. We bring you a mixtape from the Melbourne-based party-maker, developed as a meditation on psychogeography: "I've always found that experiencing unfamiliar settings, especially in a familiar environment, really helps me to think more positively."