Happenings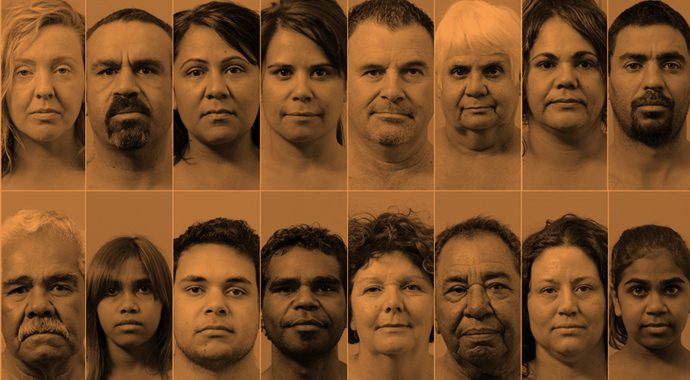 Defying Empire: 3rd National Indigenous Art Triennial
Now showing at the National Gallery of Australia, Defying Empire: 3rd National Indigenous Art Triennial presents an expansive array of works from thirty contemporary Aboriginal and Torres Strait Islander artists. The exhibition commemorates the 50th anniversary of the pivotal 1967 Referendum when an overwhelming 91 percent of Australians voted to include Aboriginal people in the census. The selection of works making up the show engages with intersecting issues of identity, racism, displacement, country, nuclear testing, sovereignty and the stolen generations. Exhibiting artists include Brook Andrew, Vicky West, Fiona Foley and Megan Cope, known for her large-scale sculptural installations. Melbourne-based artist Reko Rennie has installed an interactive installation for children and adults alike in the museum foyer. The NGA will also be running a rolling programme of talks, lectures and workshops to complement the show – see the website for full details.
Main image: 'At Face Value' (2013) by Raymond Zada, courtesy NGA.
Where: National Gallery of Australia, Parkes Place, Parkes, Canberra
When: Until Sun 10 September
How much: Free!
More info: NGA website
Recent Articles
Onigiri is a staple found everywhere in Japan: from the aisles of convenience stores to fancy food halls. This week, the wonderful Julia Busuttil Nishimura shares two quick recipes for home made onigiri with mustard greens and umeboshi, and mushroom onigiri (scroll down for more), for a rice-filled belly on the go
As a number of Melbourne's prominent gay venues started to close down, Sam Cremean felt a sense of loss. This prompted him to investigate what was happening to gay neighbourhoods internationally. He discovered that these important spaces were slowly disappearing from cities around the world
Where European architecture starts with the exterior shape of the building, Asian buildings are imagined from the inside out. Curators of the acclaimed Indonesia Pavilion at Venice Biennale 2018, Ary Indra and David Setiadi, elucidate how 'emptiness' is sculpted in Indonesian architecture, one remarkable building at a time