Happenings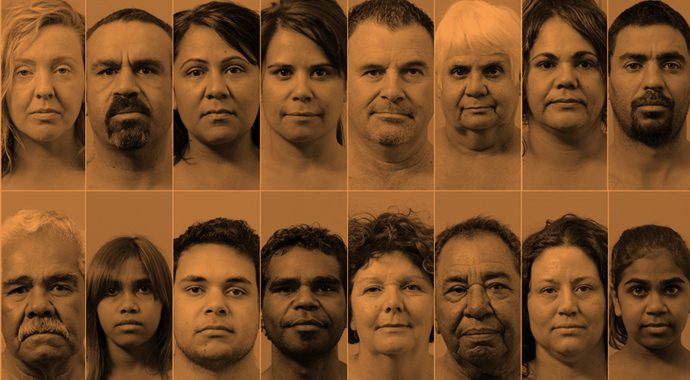 Defying Empire: 3rd National Indigenous Art Triennial
Now showing at the National Gallery of Australia, Defying Empire: 3rd National Indigenous Art Triennial presents an expansive array of works from thirty contemporary Aboriginal and Torres Strait Islander artists. The exhibition commemorates the 50th anniversary of the pivotal 1967 Referendum when an overwhelming 91 percent of Australians voted to include Aboriginal people in the census. The selection of works making up the show engages with intersecting issues of identity, racism, displacement, country, nuclear testing, sovereignty and the stolen generations. Exhibiting artists include Brook Andrew, Vicky West, Fiona Foley and Megan Cope, known for her large-scale sculptural installations. Melbourne-based artist Reko Rennie has installed an interactive installation for children and adults alike in the museum foyer. The NGA will also be running a rolling programme of talks, lectures and workshops to complement the show – see the website for full details.
Main image: 'At Face Value' (2013) by Raymond Zada, courtesy NGA.
Where: National Gallery of Australia, Parkes Place, Parkes, Canberra
When: Until Sun 10 September
How much: Free!
More info: NGA website
Recent Articles
Jil Raleigh of BKK Architects reflects on "What would Boyd do? Small Homes Service for today", a conversation hosted by Rory Hyde and Philip Goad on Sunday 15 October, 2017 at MPavilion.
'After the revolution, who's going to pick up the garbage on Monday morning?', asked artist Mierle Laderman Ukeles in her Manifesto for Maintenance Art 1969! Eugenia Lim converses with the New York City Department of Sanitation's long-time official artist-in-residence about womanhood, motherhood and the social ecologies of our cities
Local label founder, podcaster, DJ and more: Xander Byng's talents traverse the musical universe. We bring you a mixtape from the Melbourne-based party-maker, developed as a meditation on psychogeography: "I've always found that experiencing unfamiliar settings, especially in a familiar environment, really helps me to think more positively."