Happenings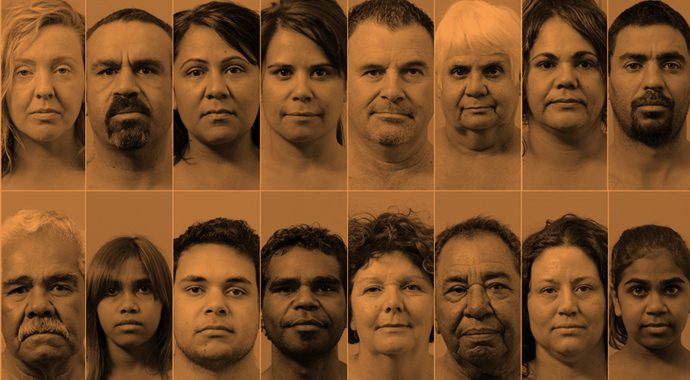 Defying Empire: 3rd National Indigenous Art Triennial
Now showing at the National Gallery of Australia, Defying Empire: 3rd National Indigenous Art Triennial presents an expansive array of works from thirty contemporary Aboriginal and Torres Strait Islander artists. The exhibition commemorates the 50th anniversary of the pivotal 1967 Referendum when an overwhelming 91 percent of Australians voted to include Aboriginal people in the census. The selection of works making up the show engages with intersecting issues of identity, racism, displacement, country, nuclear testing, sovereignty and the stolen generations. Exhibiting artists include Brook Andrew, Vicky West, Fiona Foley and Megan Cope, known for her large-scale sculptural installations. Melbourne-based artist Reko Rennie has installed an interactive installation for children and adults alike in the museum foyer. The NGA will also be running a rolling programme of talks, lectures and workshops to complement the show – see the website for full details.
Main image: 'At Face Value' (2013) by Raymond Zada, courtesy NGA.
Where: National Gallery of Australia, Parkes Place, Parkes, Canberra
When: Until Sun 10 September
How much: Free!
More info: NGA website
Recent Articles
Actor Sunday Barca-Irving and designer Peter Deering are the creative couple behind the Sunday Muesli Co – a Richmond-based granola company offering up healthy and downright delicious hand-crafted muesli mixes to kick-start your day. Here Sunday brings us a cosy recipe for the winter months – seasonal poached pears with gluten-free muesli and a cardamon-scented nut mylk
"In Japan, old things tend to be well looked after and so even vintage items that are 50 years old still look beautiful today". In the fourth instalment of our 'Tokyo Life' series brought to you via R-ESTATE TOKYO, Ben Davis chats to curator and creator Kai-Ting Lin about the anachronistic beauty of the well-worn
Fresh from a sonic tour of Eastern and Western Europe, Louise Terra of Sugar Fed Leopards has made us a mixtape: "This playlist talks to the ambient and hypnotic elements in electronic music that I love, with a mix of old European folk music and a few bombastic erratic rhythmic tracks, for impact."