Happenings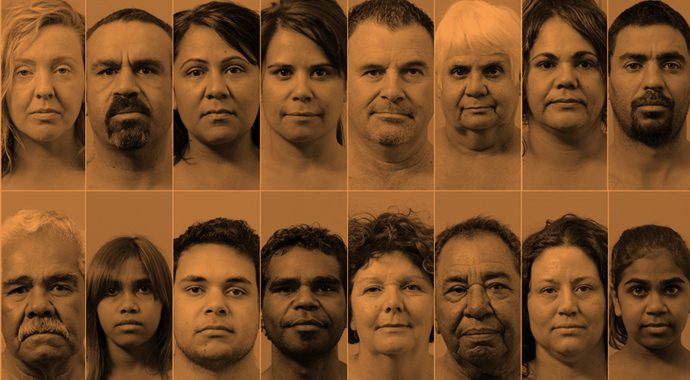 Defying Empire: 3rd National Indigenous Art Triennial
Now showing at the National Gallery of Australia, Defying Empire: 3rd National Indigenous Art Triennial presents an expansive array of works from thirty contemporary Aboriginal and Torres Strait Islander artists. The exhibition commemorates the 50th anniversary of the pivotal 1967 Referendum when an overwhelming 91 percent of Australians voted to include Aboriginal people in the census. The selection of works making up the show engages with intersecting issues of identity, racism, displacement, country, nuclear testing, sovereignty and the stolen generations. Exhibiting artists include Brook Andrew, Vicky West, Fiona Foley and Megan Cope, known for her large-scale sculptural installations. Melbourne-based artist Reko Rennie has installed an interactive installation for children and adults alike in the museum foyer. The NGA will also be running a rolling programme of talks, lectures and workshops to complement the show – see the website for full details.
Main image: 'At Face Value' (2013) by Raymond Zada, courtesy NGA.
Where: National Gallery of Australia, Parkes Place, Parkes, Canberra
When: Until Sun 10 September
How much: Free!
More info: NGA website
Recent Articles
North Melbourne's City Gardens apartment complex is a haven of communal living, complete with kindergarten, vegetable patches, clothing bins and rooftop hives. Elizabeth Campbell spoke to some of the residents of the Peter McIntyre-designed buildings to learn how collective living works – and see more of the unique spaces they call home
Some of the best moments in life are those shared over a cup of tea and freshly baked goods. In the lead-up to the holiday period, slow food blog OSTRO's Julia Busuttil Nishimura brings us a recipe for a Japanese-inspired sweet treat – its the perfect excuse to catch-up for some casual afternoon banter
In 2012, a Berlin art collective signed a 40-year peppercorn lease on a disused railway depot in suburban Berlin. Five years later, Centre for Art and Urbanism (ZK/U) has become a recognised hub of urban innovation and social activism. On the eve of ZK/U's fifth birthday celebrations, Jana Perkovic chats to ZK/U co-founder and director Matthias Einhoff about ZK/U's past, present and future.