Happenings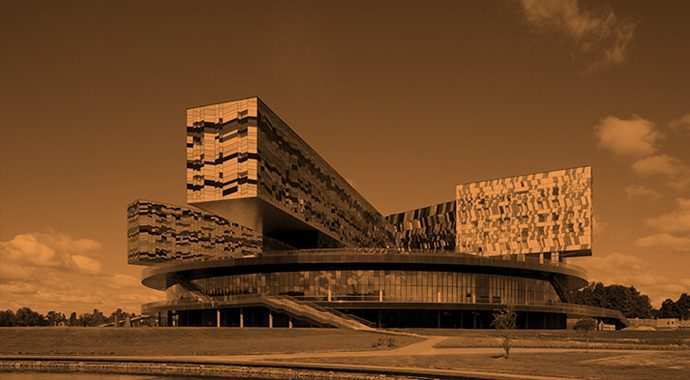 David Adjaye: Form, Heft, Material
Moscow's Garage Museum of Contemporary Art is currently hosting a major retrospective of the work of renowned British architect David Adjaye. Adjaye first became known for his residential dwellings in the early 2000s, prior to expanding his practice into the realm of the public with projects including the recent Smithsonian National Museum of African American History and Culture completed in Washington DC last year. The exhibition presents a selection of more than twenty of Adjaye's projects and is divided into four sections, each devoted to a particular aspect of his practice. Living spaces (domestic architecture), Democracy of Knowledge (civic and educational projects) and African Research make up three of these sections. The final section, Asiapolis, compiles the studio's ambitious research into the state of post-Soviet urban landscapes, from population density to urban infrastructure.
Main image: Moscow School of Management (2010), photo by Ed Reeve courtesy ArchDaily.
Where: Garage Museum of Contemporary Art, 9/32 Krymsky Val St, Moscow
When: Until Sun 30 July
How much: Full 300 rubles / Concession 150 rubles
More info: Garage MOCA website
Recent Articles
North Melbourne's City Gardens apartment complex is a haven of communal living, complete with kindergarten, vegetable patches, clothing bins and rooftop hives. Elizabeth Campbell spoke to some of the residents of the Peter McIntyre-designed buildings to learn how collective living works – and see more of the unique spaces they call home
Some of the best moments in life are those shared over a cup of tea and freshly baked goods. In the lead-up to the holiday period, slow food blog OSTRO's Julia Busuttil Nishimura brings us a recipe for a Japanese-inspired sweet treat – its the perfect excuse to catch-up for some casual afternoon banter
In 2012, a Berlin art collective signed a 40-year peppercorn lease on a disused railway depot in suburban Berlin. Five years later, Centre for Art and Urbanism (ZK/U) has become a recognised hub of urban innovation and social activism. On the eve of ZK/U's fifth birthday celebrations, Jana Perkovic chats to ZK/U co-founder and director Matthias Einhoff about ZK/U's past, present and future.