Happenings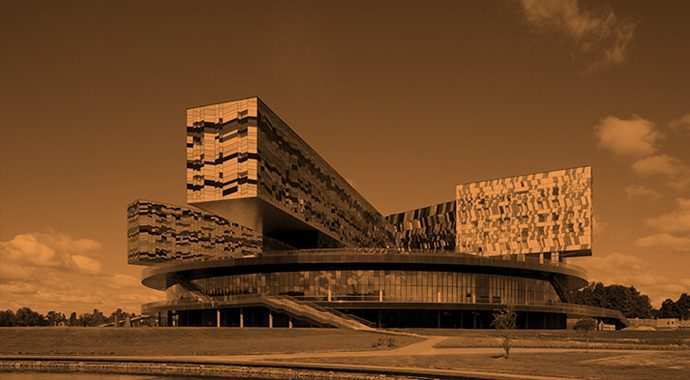 David Adjaye: Form, Heft, Material
Moscow's Garage Museum of Contemporary Art is currently hosting a major retrospective of the work of renowned British architect David Adjaye. Adjaye first became known for his residential dwellings in the early 2000s, prior to expanding his practice into the realm of the public with projects including the recent Smithsonian National Museum of African American History and Culture completed in Washington DC last year. The exhibition presents a selection of more than twenty of Adjaye's projects and is divided into four sections, each devoted to a particular aspect of his practice. Living spaces (domestic architecture), Democracy of Knowledge (civic and educational projects) and African Research make up three of these sections. The final section, Asiapolis, compiles the studio's ambitious research into the state of post-Soviet urban landscapes, from population density to urban infrastructure.
Main image: Moscow School of Management (2010), photo by Ed Reeve courtesy ArchDaily.
Where: Garage Museum of Contemporary Art, 9/32 Krymsky Val St, Moscow
When: Until Sun 30 July
How much: Full 300 rubles / Concession 150 rubles
More info: Garage MOCA website
Recent Articles
Jil Raleigh of BKK Architects reflects on "What would Boyd do? Small Homes Service for today", a conversation hosted by Rory Hyde and Philip Goad on Sunday 15 October, 2017 at MPavilion.
'After the revolution, who's going to pick up the garbage on Monday morning?', asked artist Mierle Laderman Ukeles in her Manifesto for Maintenance Art 1969! Eugenia Lim converses with the New York City Department of Sanitation's long-time official artist-in-residence about womanhood, motherhood and the social ecologies of our cities
Local label founder, podcaster, DJ and more: Xander Byng's talents traverse the musical universe. We bring you a mixtape from the Melbourne-based party-maker, developed as a meditation on psychogeography: "I've always found that experiencing unfamiliar settings, especially in a familiar environment, really helps me to think more positively."