Happenings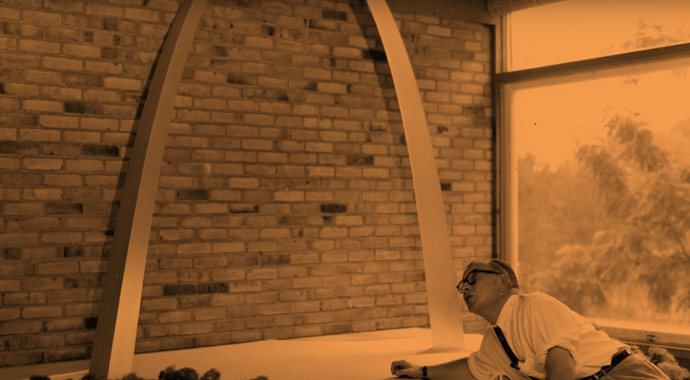 DADo is back! The film society of the Robin Boyd Foundation, dedicated to films on architecture, design and urbanism, recently announced its 2017 program. This year's offering features six films that explore the relationship between screen culture and the built environment, with an aim of promoting wider community appreciation and engagement with design. Accompanying every screening is a different guest speaker to kick off the conversation with their unique perspective on the film's subject. Find out more about this year's DADo program below.
Wednesday 17 May MODERNIST BIO
Eero Saarinen: The Architect who Saw the Future
2016, Dir. Peter Rosen, 70 mins, English
Exploring the life and visionary work of Finnish–American modernist architectural giant Eero Saarinen (1910–1961), best known for designing National Historic Landmarks such as St Louis's iconic Gateway Arch and the General Motors Technical Center (Warren, Mich.) as well as New York's TWA Flight Center at John F. Kennedy Airport, and modernist pedestal furniture like the Tulip chair. [Trailer]
Wednesday 14 June – CONTEMPORARY ARCHI
The Infinite Happiness
2010, Dir. Louise Lemoine, Ila Bêka, 85 mins, English.
Conceived as a personal video diary, The Infinite Happiness looks inside the heart of Danish architect Bjarke Ingels's '8 House', an ambitious vertical village in the suburbs of Copenhagen. Read our interview with the directors. [Trailer]
Wednesday 19 July – EASTERN BLOC
The Age of Kommunalki
2013, Dir. Elena Alexandrova, Francesco Crivaro, 68 mins, Russian with English subtitles.
Beyond the evocative facades, Saint Petersburg downtown – a unique world unknown to many visitors –hides itself in the world of Kommunalki. Almost 100 years after the October Revolution, people of all different ages and socioeconomic backgrounds live together in large apartments with shared facilities and communal areas. This documentary reflects on the modern meanings of 'community' and the socio-historic background of this particular case study. [Trailer]
Guest Speaker: Dr Kate Shaw
Wednesday 16 August – ARCHI x FASHION
Notebook on Cities and Clothes
1989, Dir. Wim Wenders, 81 mins, English | Japanese | French with English subtitles.
This self-described 'diary film' investigates the similarities between the director's craft of filmmaking and that of fashion designer Yohji Yamamoto, who revolutionised the fashion world in the early 1980s. [Trailer]
Wednesday 13 September – BRIT BRUTE NIGHT
Saving Britain's Past / The Barbican: A Middle Class Council Estate / Streets in the Sky
2010, produced by BCB UK, 28 mins / 2015, produced by the Architecture Foundation, 5:50 mins / 2015, Dir. Joe Gilbert, 7 mins
DADo presents a selection of three short films focused on Brutalism in the UK – from the controversially heritage-listed Park Hill flats in Sheffield to the Barbican to Alison and Peter Smithson's Robin Hood Gardens of East London.
Wednesday 18 October – LOCAL LEGENDS
NOVA the Film / Forced Out
2010, Dir. Isaac Niemand, 75 mins / 2017, Dir. Blue Lucine, 80 mins.
Highlighting the life and work of Australian legends of the built environment, this session includes a DIY documentary on new art by young artists at the Nova Contemporary Culture Festival, plus a character-driven documentary on the struggle to save the Sirius building and its residents in Sydney.
For more information on DADo and this year's program, visit robinboyd.org.au/dado
Main image: Eero Saarinen. Photo: World Architecture Community.
Where: Robin Boyd Foundation, 290 Walsh Street, South Yarra, Melbourne
When: May – October 2017
More info: robinboyd.org.au/dado
Recent Articles
Actor Sunday Barca-Irving and designer Peter Deering are the creative couple behind the Sunday Muesli Co – a Richmond-based granola company offering up healthy and downright delicious hand-crafted muesli mixes to kick-start your day. Here Sunday brings us a cosy recipe for the winter months – seasonal poached pears with gluten-free muesli and a cardamon-scented nut mylk
"In Japan, old things tend to be well looked after and so even vintage items that are 50 years old still look beautiful today". In the fourth instalment of our 'Tokyo Life' series brought to you via R-ESTATE TOKYO, Ben Davis chats to curator and creator Kai-Ting Lin about the anachronistic beauty of the well-worn
Fresh from a sonic tour of Eastern and Western Europe, Louise Terra of Sugar Fed Leopards has made us a mixtape: "This playlist talks to the ambient and hypnotic elements in electronic music that I love, with a mix of old European folk music and a few bombastic erratic rhythmic tracks, for impact."