Happenings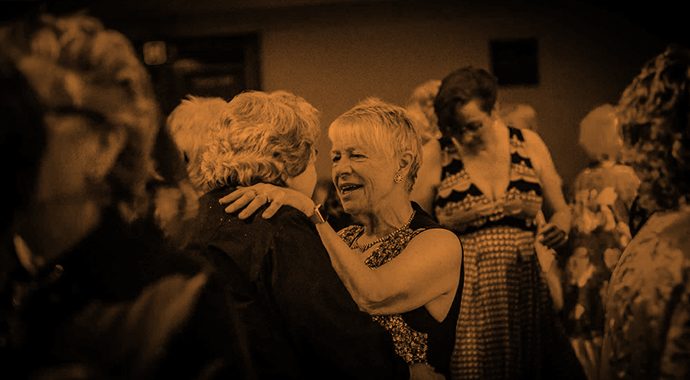 Coming Back Out Ball 2018
The Coming Back Out Ball returns this year, on Thursday 25 October at the Melbourne Town Hall.
Hosted by Tristan Meecham of All The Queens Men and the LGBTI Elders Dance Club, the folks behind the original ball in 2017, this year's event will be presented as a premiere event of the Victorian Seniors Festival in association with the Val's LGBTI Ageing and Aged Care. The ball was inspired 
by research revealing that some LGBTI elders conceal their sexual orientation or gender identity when they access aged care services – because they believe they are not safe.
The night blends showbiz bells and whistles with community celebration, dinner and dancing. The headline performers include Close Encounters, Electric Fields and Meow Meow.
[Main image: dancing at The Coming Back Out Ball, 2017. Photo by Bryony Jackson]
Where: Melbourne Town Hall, 90-130 Swanston St, Melbourne.
When: Thursday 25 October 2018
How much: Full $150/Concession $75
More info: Coming Back Out Ball
Recent Articles
Cultural appropriation is an uneasy topic in architecture, but a new generation of young design practitioners is ready to change the paradigm. Louis Mokak, director of Indigenous Architecture and Design Victoria (IADV), questions Australia's colonial heritage - both in thought and practice
Tomoko and Takaaki Shiratori have lived all over Japan; from a 'New Town' in Yokohama, to Aichi Prefecture and now in Nerima, Tokyo. Their shared love of gardening means the rooftop is filled with fruits and vegetables, while Tomoko has a passion for reading aloud and talking, which she says, keeps her energised!
Jurien Bay and Wedge Island in Western Australia were landscapes once dominated by informal settlements. However, suburban developments are now reaching WA's central coast. Felix Joensson, from our West Coast partners Future West, asks the question – how do we create beachfront suburbs with soul?