Happenings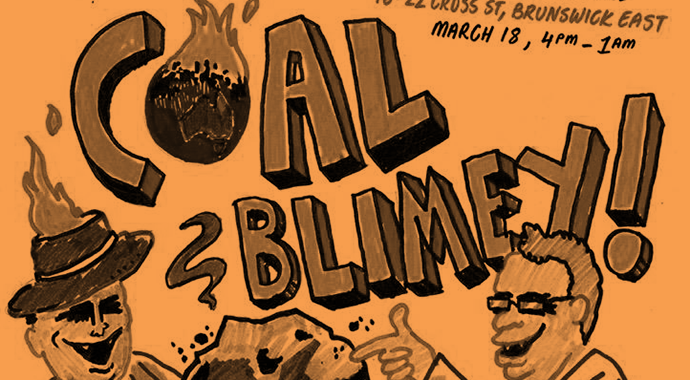 Coal Blimey! An Anti-Adani Fundraiser
Fundraising for the Wangan & Jagalingou Traditional Owners Family Council and the Australian Conversation Foundation, Coal Blimey! brings together talented Melbourne musicians and DJs in the name of standing up against the proposed Carmichael coal mine in Queensland.
Controversial Indian energy conglomerate the Adani Group proposed a $22-billion mine, the largest new mine of its kind, that would pose not only environmental destruction but that denies the traditional owners of the land, the Wangan & Jagalingou people, the right to practice their customs and culture on their sacred land. Currently, the mine is the focus of an ongoing legal battle between Adani and the Wangan & Jagalingou Family Council. Read Roj Amedi's interview with W&J Family Council representative Murrawah Maroochy Johnson here.
Tickets to Coal Blimey! are $16 with 100% of funds raised going to Wangan & Jagalingou Family Council and the Australian Conversation Foundation. Head to Eventbrite to grab your ticket.
Line up:
The Harpoons
Still Works
Wet Lips
Seagull
DJ Emoceans (check out our AP EARS mix here!)
Sovereign Trax
Crown Ruler DJs (BIG RIG, Lori, Jimmy Dawg, Raaghe)
Original image: Coal Blimey! poster by Ben Keynes. 
Where: Moreland City Band Hall, 16-22 Cross St, Brunswick East VIC 3057
When: Sat 18 Mar, 4pm – 1am
How much: $16
More info: Coal Blimey!
Recent Articles
Actor Sunday Barca-Irving and designer Peter Deering are the creative couple behind the Sunday Muesli Co – a Richmond-based granola company offering up healthy and downright delicious hand-crafted muesli mixes to kick-start your day. Here Sunday brings us a cosy recipe for the winter months – seasonal poached pears with gluten-free muesli and a cardamon-scented nut mylk
"In Japan, old things tend to be well looked after and so even vintage items that are 50 years old still look beautiful today". In the fourth instalment of our 'Tokyo Life' series brought to you via R-ESTATE TOKYO, Ben Davis chats to curator and creator Kai-Ting Lin about the anachronistic beauty of the well-worn
Fresh from a sonic tour of Eastern and Western Europe, Louise Terra of Sugar Fed Leopards has made us a mixtape: "This playlist talks to the ambient and hypnotic elements in electronic music that I love, with a mix of old European folk music and a few bombastic erratic rhythmic tracks, for impact."