Happenings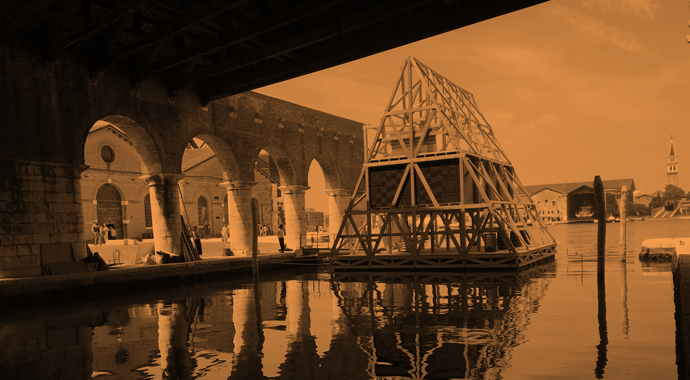 Cities of Architecture: Venice
The second instalment of ACCA's 'Cities of Architecture' talks comes from Stuart Harrison, co-founder and co-host of former RRR show The Architects and director of Melbourne architecture practice HAW. Take a virtual tour of Venice with Stuart, who has visited Venice numerous times – including in 2012 when he and the rest of The Architects team broadcast live from the Australian Pavilion at that year's Venice Architecture Biennale.
Running from March to October, the 'Cities of Architecture' program brings together leading architects, designers and academics to discuss some of the world's most inspiring cities through the built environment, culture and urban history.
Arrive from 5pm to enjoy a complimentary Venice-inspired cocktail created by the Melbourne Gin Company and Starward Whisky. The seminar will begin at 6pm.
Original image: Makoko Floating School by Kunlé Adeyemi, Venice. Courtesy ACCA.
Where: ACCA, 111 Sturt St, Southbank, Melbourne
When: Mon 10 Apr, 6–7pm (bar open from 5pm)
How much: $35 per session / $200 season pass
More info: ACCA: Cities of Architecture
Recent Articles
North Melbourne's City Gardens apartment complex is a haven of communal living, complete with kindergarten, vegetable patches, clothing bins and rooftop hives. Elizabeth Campbell spoke to some of the residents of the Peter McIntyre-designed buildings to learn how collective living works – and see more of the unique spaces they call home
Some of the best moments in life are those shared over a cup of tea and freshly baked goods. In the lead-up to the holiday period, slow food blog OSTRO's Julia Busuttil Nishimura brings us a recipe for a Japanese-inspired sweet treat – its the perfect excuse to catch-up for some casual afternoon banter
In 2012, a Berlin art collective signed a 40-year peppercorn lease on a disused railway depot in suburban Berlin. Five years later, Centre for Art and Urbanism (ZK/U) has become a recognised hub of urban innovation and social activism. On the eve of ZK/U's fifth birthday celebrations, Jana Perkovic chats to ZK/U co-founder and director Matthias Einhoff about ZK/U's past, present and future.