Happenings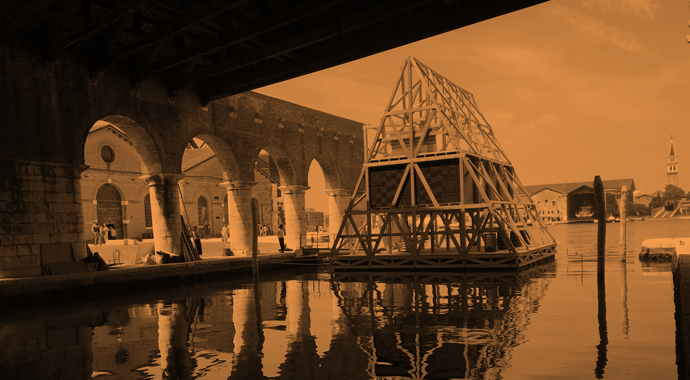 Cities of Architecture: Venice
The second instalment of ACCA's 'Cities of Architecture' talks comes from Stuart Harrison, co-founder and co-host of former RRR show The Architects and director of Melbourne architecture practice HAW. Take a virtual tour of Venice with Stuart, who has visited Venice numerous times – including in 2012 when he and the rest of The Architects team broadcast live from the Australian Pavilion at that year's Venice Architecture Biennale.
Running from March to October, the 'Cities of Architecture' program brings together leading architects, designers and academics to discuss some of the world's most inspiring cities through the built environment, culture and urban history.
Arrive from 5pm to enjoy a complimentary Venice-inspired cocktail created by the Melbourne Gin Company and Starward Whisky. The seminar will begin at 6pm.
Original image: Makoko Floating School by Kunlé Adeyemi, Venice. Courtesy ACCA.
Where: ACCA, 111 Sturt St, Southbank, Melbourne
When: Mon 10 Apr, 6–7pm (bar open from 5pm)
How much: $35 per session / $200 season pass
More info: ACCA: Cities of Architecture
Recent Articles
Jil Raleigh of BKK Architects reflects on "What would Boyd do? Small Homes Service for today", a conversation hosted by Rory Hyde and Philip Goad on Sunday 15 October, 2017 at MPavilion.
'After the revolution, who's going to pick up the garbage on Monday morning?', asked artist Mierle Laderman Ukeles in her Manifesto for Maintenance Art 1969! Eugenia Lim converses with the New York City Department of Sanitation's long-time official artist-in-residence about womanhood, motherhood and the social ecologies of our cities
Local label founder, podcaster, DJ and more: Xander Byng's talents traverse the musical universe. We bring you a mixtape from the Melbourne-based party-maker, developed as a meditation on psychogeography: "I've always found that experiencing unfamiliar settings, especially in a familiar environment, really helps me to think more positively."