Happenings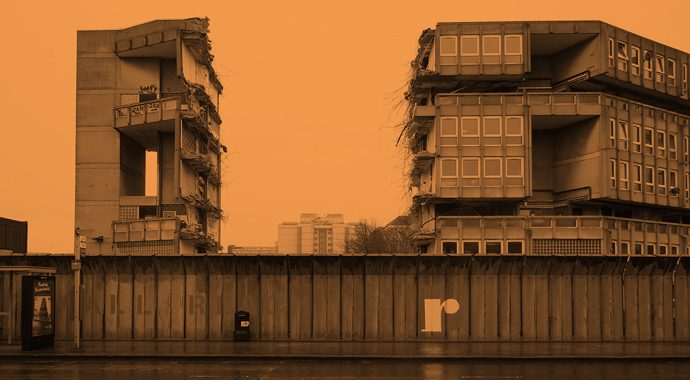 Brutalism is one of the most polarizing architectural movements of the twentieth century (even the name is loaded). On 12 April, pinkcomma gallery in Boston will launch Brutal Destruction, an exhibition which documents Brutalist buildings in various stages of demolition. Curated by Chris Grimley of over,under, Brutal Destruction highlights the vulnerability of structures that have been deemed 'ugly' or 'old' less than a generation after they were built, and includes Orange County Government Center (NY), Third Church of Christ (DC), as well as Birmingham Public Library and Robin Hoods Gardens in the UK.
The speed with which our attitude towards Brutalism has changed, Grimley comments, "says more about our own pessimism, the weakness of our potential building legacy, and our lack of patience in finding ways to supersede the cycle of ugliness and make these monstrosities our own.". The exhibition is part of the ongoing Heroic Project, which looks at the significance of brutalism in Boston.
[Main image: 'Robin Hood Gardens, UK'. Photo by Oliver Wainwright].
Where: 46 Waltham Street, Courtyard One, Boston, MA
When: 12 April - 3 May 2018
How much: Free!
More info: pinkcomma
Recent Articles
Cultural appropriation is an uneasy topic in architecture, but a new generation of young design practitioners is ready to change the paradigm. Louis Mokak, director of Indigenous Architecture and Design Victoria (IADV), questions Australia's colonial heritage - both in thought and practice
Tomoko and Takaaki Shiratori have lived all over Japan; from a 'New Town' in Yokohama, to Aichi Prefecture and now in Nerima, Tokyo. Their shared love of gardening means the rooftop is filled with fruits and vegetables, while Tomoko has a passion for reading aloud and talking, which she says, keeps her energised!
Jurien Bay and Wedge Island in Western Australia were landscapes once dominated by informal settlements. However, suburban developments are now reaching WA's central coast. Felix Joensson, from our West Coast partners Future West, asks the question – how do we create beachfront suburbs with soul?