Happenings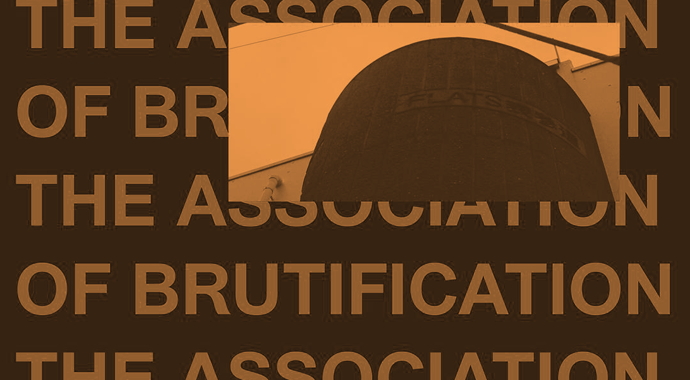 BBP: The Association of Brutification workshop
Join PSP family Lauren Stephens, Laura Clauscen and Fred Mora in a Brutification workshop. Household objects will undergo a Brutalising assembly line, redefining them as objects of intrigue and desire.
Practise Studio Practise produce work in the fields of art direction, set design, product design and curatorial exercises. Their practice is a continued exploration of materials, rituals and common objects that are re-contextualised to communicate new visual ideas. Read our interview with Practise Studio Practise here.
Free! Limited spots available – Bookings via Eventbrite.
---
Brutalist Block Party is a May-long program of talks, workshops, lunches, dinners, social situations and a weekly produce market – presented by Assemble Papers and Open House Melbourne at 122 Roseneath Street, Clifton Hill. It's a celebration of the under-celebrated – an homage to the site's Brutalist heritage and to post-war architecture everywhere; a convivial nod to the spirit of community at the heart of this architectural approach.
For more information on the full Brutalist Block Party (6–29 May) program, visit brutalistblockparty.com.au
---
Where: 122 Roseneath St, Clifton Hill
When: Sat 28 May, 11am–12.30pm
How much: Free!
More info: RVSP via Eventbrite
Recent Articles
North Melbourne's City Gardens apartment complex is a haven of communal living, complete with kindergarten, vegetable patches, clothing bins and rooftop hives. Elizabeth Campbell spoke to some of the residents of the Peter McIntyre-designed buildings to learn how collective living works – and see more of the unique spaces they call home
Some of the best moments in life are those shared over a cup of tea and freshly baked goods. In the lead-up to the holiday period, slow food blog OSTRO's Julia Busuttil Nishimura brings us a recipe for a Japanese-inspired sweet treat – its the perfect excuse to catch-up for some casual afternoon banter
In 2012, a Berlin art collective signed a 40-year peppercorn lease on a disused railway depot in suburban Berlin. Five years later, Centre for Art and Urbanism (ZK/U) has become a recognised hub of urban innovation and social activism. On the eve of ZK/U's fifth birthday celebrations, Jana Perkovic chats to ZK/U co-founder and director Matthias Einhoff about ZK/U's past, present and future.