Happenings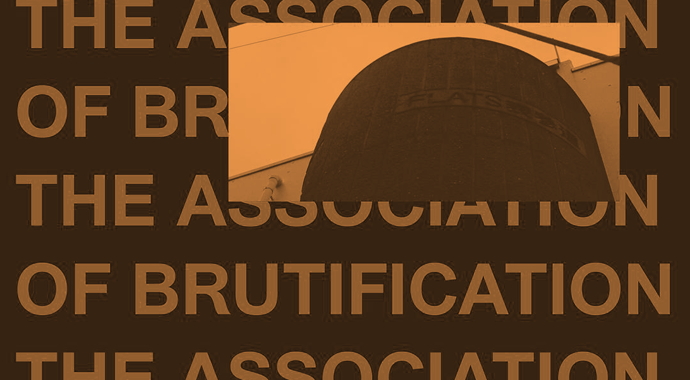 BBP: The Association of Brutification workshop
Join PSP family Lauren Stephens, Laura Clauscen and Fred Mora in a Brutification workshop. Household objects will undergo a Brutalising assembly line, redefining them as objects of intrigue and desire.
Practise Studio Practise produce work in the fields of art direction, set design, product design and curatorial exercises. Their practice is a continued exploration of materials, rituals and common objects that are re-contextualised to communicate new visual ideas. Read our interview with Practise Studio Practise here.
Free! Limited spots available – Bookings via Eventbrite.
---
Brutalist Block Party is a May-long program of talks, workshops, lunches, dinners, social situations and a weekly produce market – presented by Assemble Papers and Open House Melbourne at 122 Roseneath Street, Clifton Hill. It's a celebration of the under-celebrated – an homage to the site's Brutalist heritage and to post-war architecture everywhere; a convivial nod to the spirit of community at the heart of this architectural approach.
For more information on the full Brutalist Block Party (6–29 May) program, visit brutalistblockparty.com.au
---
Where: 122 Roseneath St, Clifton Hill
When: Sat 28 May, 11am–12.30pm
How much: Free!
More info: RVSP via Eventbrite
Recent Articles
Jil Raleigh of BKK Architects reflects on "What would Boyd do? Small Homes Service for today", a conversation hosted by Rory Hyde and Philip Goad on Sunday 15 October, 2017 at MPavilion.
'After the revolution, who's going to pick up the garbage on Monday morning?', asked artist Mierle Laderman Ukeles in her Manifesto for Maintenance Art 1969! Eugenia Lim converses with the New York City Department of Sanitation's long-time official artist-in-residence about womanhood, motherhood and the social ecologies of our cities
Local label founder, podcaster, DJ and more: Xander Byng's talents traverse the musical universe. We bring you a mixtape from the Melbourne-based party-maker, developed as a meditation on psychogeography: "I've always found that experiencing unfamiliar settings, especially in a familiar environment, really helps me to think more positively."