Happenings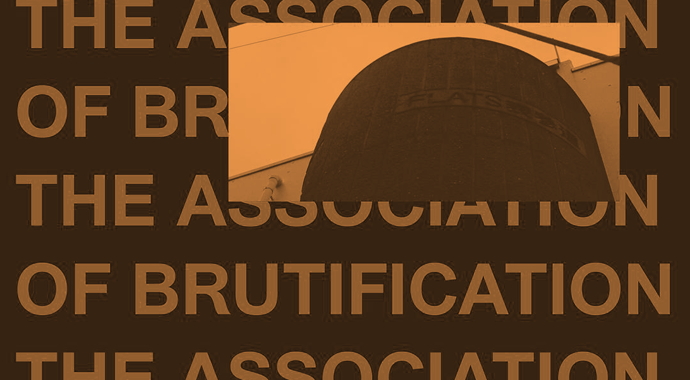 BBP: The Association of Brutification workshop
Join PSP family Lauren Stephens, Laura Clauscen and Fred Mora in a Brutification workshop. Household objects will undergo a Brutalising assembly line, redefining them as objects of intrigue and desire.
Practise Studio Practise produce work in the fields of art direction, set design, product design and curatorial exercises. Their practice is a continued exploration of materials, rituals and common objects that are re-contextualised to communicate new visual ideas. Read our interview with Practise Studio Practise here.
Free! Limited spots available – Bookings via Eventbrite.
---
Brutalist Block Party is a May-long program of talks, workshops, lunches, dinners, social situations and a weekly produce market – presented by Assemble Papers and Open House Melbourne at 122 Roseneath Street, Clifton Hill. It's a celebration of the under-celebrated – an homage to the site's Brutalist heritage and to post-war architecture everywhere; a convivial nod to the spirit of community at the heart of this architectural approach.
For more information on the full Brutalist Block Party (6–29 May) program, visit brutalistblockparty.com.au
---
Where: 122 Roseneath St, Clifton Hill
When: Sat 28 May, 11am–12.30pm
How much: Free!
More info: RVSP via Eventbrite
Recent Articles
Cultural appropriation is an uneasy topic in architecture, but a new generation of young design practitioners is ready to change the paradigm. Louis Mokak, director of Indigenous Architecture and Design Victoria (IADV), questions Australia's colonial heritage - both in thought and practice
Tomoko and Takaaki Shiratori have lived all over Japan; from a 'New Town' in Yokohama, to Aichi Prefecture and now in Nerima, Tokyo. Their shared love of gardening means the rooftop is filled with fruits and vegetables, while Tomoko has a passion for reading aloud and talking, which she says, keeps her energised!
Jurien Bay and Wedge Island in Western Australia were landscapes once dominated by informal settlements. However, suburban developments are now reaching WA's central coast. Felix Joensson, from our West Coast partners Future West, asks the question – how do we create beachfront suburbs with soul?