Happenings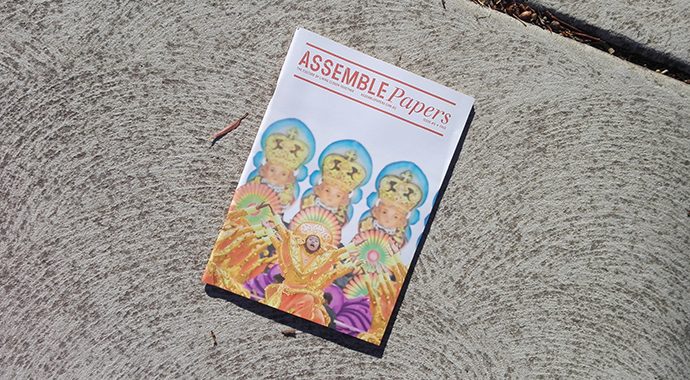 ASSEMBLE PAPERS PRINT ISSUE #9: OUT NOW!
Assemble Papers Issue 9, 'Radical Family', is now available all across Melbourne! (Keep your eyes peeled as we continue to add more locations in Melbourne, Sydney and other select locations across Australia.)
Reporting from a year of action and change, 'Radical Family' explores a generous, expanded notion of family, looking at how we actually live in order to propose better housing, architecture and cities. AP#9: Radical Family includes words, ideas and provocations from Naomi Stead, Timothy Moore, Bree Trevena, Paola Balla, Bhenji Ra, and many others.
Get down to one of our many stockists to grab your free copy of Issue 9. If you're unable to reach any of our listed locations but would still love to read the latest print edition, please send a prepaid/stamped self-addressed envelope to: c/o Assemble Papers, 150 Langridge Street, Collingwood, Victoria, Australia 3066. We'll direct a copy straight into your letterbox. 
_________________________________________________________________________________________
Assemble Papers Issue #9 Stockists
Melbourne:
ACCA
Aesop
All Press
Alpha60
ARUP
Bowerbird
Centre for Contemporary Photography
Gertrude Contemporary
Westspace
Cibi
Mina-no-ie
Gypsy Hideout
Modern Times
Open House Melbourne
Mr Kitly
Third Drawer Down (Fitzroy)
Melbourne School of Design
RMIT Design Hub
MADA
Modern Times
MUMA
Inspire9 (Richmond) & Footscray (Dream Factory)
Chunky Move
Dancehouse
Footscray Community Arts Centre
The Substation
Brunswick Mechanics Institute
ArtsHouse Melbourne
Malthouse Theatre
All Press
Schoolhouse Studios
PBS
Victorian Planning Authority
Footscray Community Arts Centre
Swinburne – Advanced Manufacturing & Design Centre
Moreland City Council
Brunswick Mechanics Institute
Mixed Business
Hares & Hyenas
Happy Valley Shop
Metro Arts (Brisbane)
Phat Milk Cafe
Auction Rooms
Twenty & Six Espresso
Mork Chocolate Brew House
Lekker Bikes
Arts House
Kathleen Syme Library
North Melbourne Books
All The Kings Men
Electron Workshop Co-working Space
Code Black Coffee
Record Paradise
Paradise Cutters
Wolf & Hound Cafe
Studio Warhol
Hair Off Bellair
Choice Dental
The Venny
Kensington Town Hall
Sun Theatre (Yarraville)
Clik Clik Collective
Vault Yarraville
VU at Metro West (community hub)
Footscray Milking Station
Dancing Dog Cafe
Footscray Library
Flemington Library
Rudimentary Cafe
Sun Bookshop
Little Foot Bar
Straight Six Cafe
Healthy Self Co
Wee Jeannie Cafe
Luncheonette Cafe
The Premises Cafe
New South Wales
Sydney Theatre Company
4A Centre for Contemporary Asian Art
EVH Communications
Queensland
Metro Arts
South Australia
ACE Open
Western Australia
Spacemarket
Tasmania
Salamanca Arts Centre
Where: Around Australia - new locations added each week!
When: Out now
How much: Free
Recent Articles
Onigiri is a staple found everywhere in Japan: from the aisles of convenience stores to fancy food halls. This week, the wonderful Julia Busuttil Nishimura shares two quick recipes for home made onigiri with mustard greens and umeboshi, and mushroom onigiri (scroll down for more), for a rice-filled belly on the go
As a number of Melbourne's prominent gay venues started to close down, Sam Cremean felt a sense of loss. This prompted him to investigate what was happening to gay neighbourhoods internationally. He discovered that these important spaces were slowly disappearing from cities around the world
Where European architecture starts with the exterior shape of the building, Asian buildings are imagined from the inside out. Curators of the acclaimed Indonesia Pavilion at Venice Biennale 2018, Ary Indra and David Setiadi, elucidate how 'emptiness' is sculpted in Indonesian architecture, one remarkable building at a time