Happenings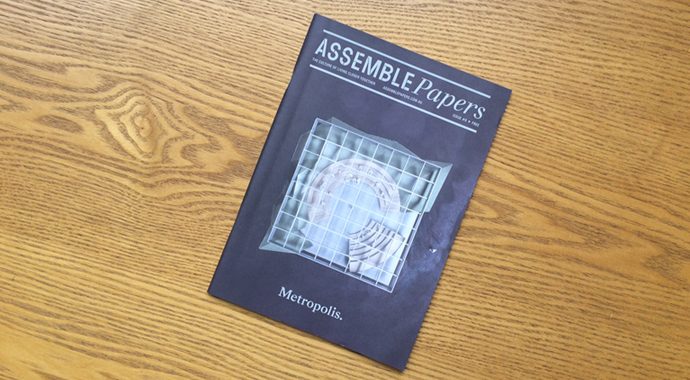 ASSEMBLE PAPERS PRINT ISSUE #8: OUT NOW!
Assemble Papers Issue 8, 'Metropolis.', is now available all across Melbourne! (Keep your eyes peeled as we continue to add more locations in Melbourne, Sydney and other select locations across Australia.)
Presented in partnership with MPavilion (where you can pick up a copy all through spring and summer!) and the inaugural Living Cities Forum, 'Metropolis.' muses on the power of cities and their citizens to instigate and enact global change.  AP#8: Metropolis. looks at a year of populism and crises and offers counter-examples of how we can live together well, with words and ideas from OMA's David Gianotten, Rory Hyde, Dan Hill, Carolyn Whitzman, Mierle Laderman Ukeles, Chen Wei, and many others.
Get down to one of our many stockists to grab your free copy of Issue 8. If you're unable to reach any of our listed locations but would still love to read the latest print edition, please send a prepaid/stamped self-addressed envelope to: c/o Assemble Papers, 150 Langridge Street, Collingwood, Victoria, Australia 3066. We'll direct a copy straight into your letterbox. 
_________________________________________________________________________________________
Assemble Papers Issue #8 Stockists
Melbourne:
MPavilion
ACCA
Centre for Contemporary Photography
Gertrude Contemporary
Cibi
Mina-no-ie
Modern Times
Alpha60
Mr Kitly
RMIT Design Hub
MADA
MUMA
Inspire9 Richmond
Inspire9 Footscray
Dancehouse
Footscray Community Arts Centre
The Substation
Brunswick Mechanics Institute
Adelaide

ACE Open
Sydney
Save Our Sirius
Gillie and Marc Love Cafe
Sydney Theatre Company
International
ZK/U (Berlin)
WIELS Contemporary Art Centre (Brussels)
Nussbaum & Wu (New York)
Columbia GSAPP (New York)
Silvana Cafe  (New York)
Brooklyn Roasting Company  (New York)
Princeton University (architecture building) (Princeton)
Where: Melbourne, Sydney and more locations to be added soon!
When: Out now!
How much: Free!
Recent Articles
Onigiri is a staple found everywhere in Japan: from the aisles of convenience stores to fancy food halls. This week, the wonderful Julia Busuttil Nishimura shares two quick recipes for home made onigiri with mustard greens and umeboshi, and mushroom onigiri (scroll down for more), for a rice-filled belly on the go
As a number of Melbourne's prominent gay venues started to close down, Sam Cremean felt a sense of loss. This prompted him to investigate what was happening to gay neighbourhoods internationally. He discovered that these important spaces were slowly disappearing from cities around the world
Where European architecture starts with the exterior shape of the building, Asian buildings are imagined from the inside out. Curators of the acclaimed Indonesia Pavilion at Venice Biennale 2018, Ary Indra and David Setiadi, elucidate how 'emptiness' is sculpted in Indonesian architecture, one remarkable building at a time