Happenings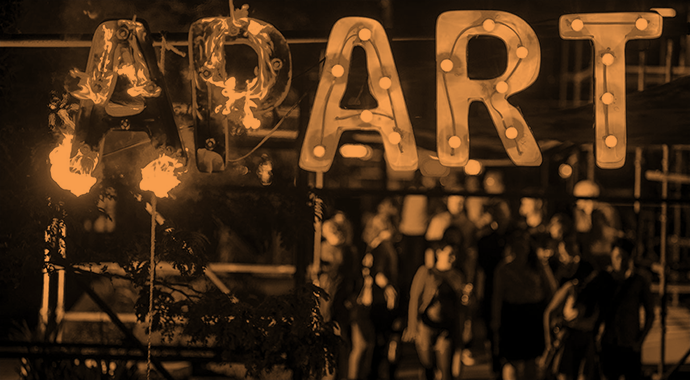 Focusing on the work of Canberra-based artists, Art, Not Apart 2017 is a one-day festival featuring exhibitions, performance art, music, installations, site-specific interventions, film projections, dance parties and pop-up food and drink. Based around the theme 'Shake It Up', this year's event explores "new perspectives in and through art" from a distinctly Canberran perspective.
This year, the festival is hosted in the NewActon precinct and the National Film and Sound Archive (NFSA). Highlights include the screening of Philipe Mora's documentary film Monsieur Mayonnaise, while the Shake It Up exhibition takes place at Hotel Hotel's Nishi Gallery, showcasing the work of numerous emerging and established Canberra artists. Moving into the evening, the NFSA's 1920s hall and courtyard hosts Sound and Fury – the official adults-only performance art after-party. Directed by Chenoeh Miller, Sound and Fury is a celebration of music, theatre, dance, spoken word and live art, which Chenoeh describes as a "debaucherous kind of night". Closing out the event, F-ck Art, Let's Party brings together DJs, producers, interstate artists and immersive installations across two stages running until 5am.
Head to the Art, Not Apart 2017 website for program information, tickets and additional details.
Where: Various locations, Canberra
When: Sat 18 Mar
How much: See program for details
More info: Art, Not Apart 2017
Recent Articles
Actor Sunday Barca-Irving and designer Peter Deering are the creative couple behind the Sunday Muesli Co – a Richmond-based granola company offering up healthy and downright delicious hand-crafted muesli mixes to kick-start your day. Here Sunday brings us a cosy recipe for the winter months – seasonal poached pears with gluten-free muesli and a cardamon-scented nut mylk
"In Japan, old things tend to be well looked after and so even vintage items that are 50 years old still look beautiful today". In the fourth instalment of our 'Tokyo Life' series brought to you via R-ESTATE TOKYO, Ben Davis chats to curator and creator Kai-Ting Lin about the anachronistic beauty of the well-worn
Fresh from a sonic tour of Eastern and Western Europe, Louise Terra of Sugar Fed Leopards has made us a mixtape: "This playlist talks to the ambient and hypnotic elements in electronic music that I love, with a mix of old European folk music and a few bombastic erratic rhythmic tracks, for impact."