Happenings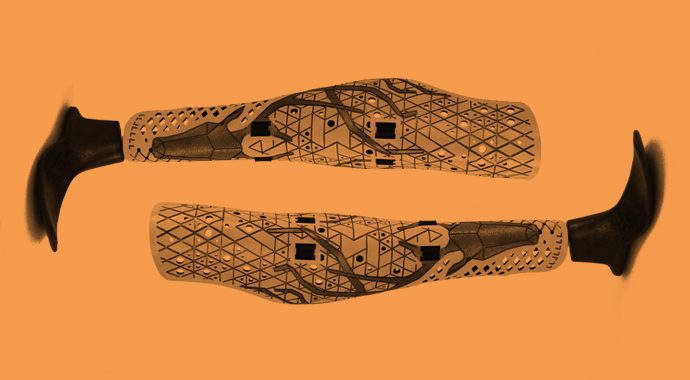 A watch that utilises haptic vibrations to help those with tremors regain the use of their hands; playgrounds designed for wheelchair access; a sensor-embedded shirt that translates the experience of music into vibrations for those who cannot hear; a bodysuit that assists people in relearning how to walk; an eyesight-navigated tablet that helps those with muscular dystrophy navigate the web.
These are just some of the 70 items on display at Cooper Hewitt's exhibition Access+Ability, which aims to explore how technology, innovation and design can empower, change lives and even create a more inclusive society. Objects for wear and use designed for people with a range of mental and physical abilities are on display, divided into categories of the physical, the cognitive and the sensory. The exhibition highlights items that move beyond typical clinical, utilitarian responses, and are beautifully designed objects in their own right, such as Alleles Design Studio's intricately patterned prosthetic leg covers that act as an extension of the wearer's wardrobe.
Main image: Prosthetic Leg Cover, ca. 2011, designed by McCauley Wanner and Ryan Palibroda. Image courtesy Cooper Hewitt.
Where: Cooper Hewitt, 2 East 91st Street, New York
When: Until 3 September 2018
How much: Full US$18 / Concession US$9
More info: Access+Ability website
Recent Articles
Cultural appropriation is an uneasy topic in architecture, but a new generation of young design practitioners is ready to change the paradigm. Louis Mokak, director of Indigenous Architecture and Design Victoria (IADV), questions Australia's colonial heritage - both in thought and practice
Tomoko and Takaaki Shiratori have lived all over Japan; from a 'New Town' in Yokohama, to Aichi Prefecture and now in Nerima, Tokyo. Their shared love of gardening means the rooftop is filled with fruits and vegetables, while Tomoko has a passion for reading aloud and talking, which she says, keeps her energised!
Jurien Bay and Wedge Island in Western Australia were landscapes once dominated by informal settlements. However, suburban developments are now reaching WA's central coast. Felix Joensson, from our West Coast partners Future West, asks the question – how do we create beachfront suburbs with soul?