Happenings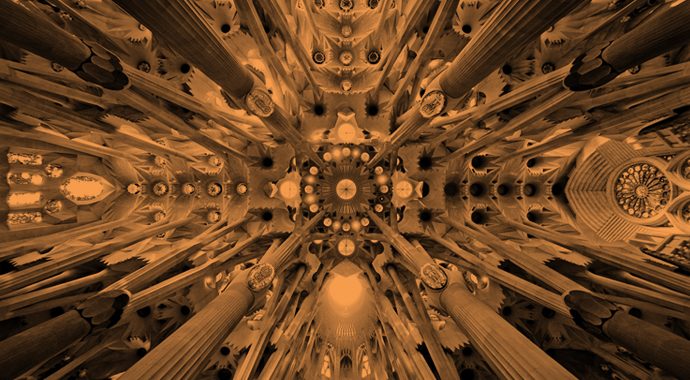 ACCA: Cities of Architecture – Barcelona
Learn more about the intersection of art, culture, design and architecture in Barcelona in the next instalment of ACCA's Cities of Architecture lecture series. Mark Burry, Executive Architect and Researcher at the Sagrada Familia Basilica, Barcelona and Professor of Urban Futures at the Melbourne School of Design will speak about his experience of Barcelona and Antonio Gaudí's iconic La Sagrada Familia which has been undergoing construction for over 130 years. Cities of Architecture brings together leading architects, designers and academics to discuss some of the world's most fascinating and complex cities through the lens of urban history, culture and the built environment. Arrive from 5pm to enjoy a complimentary Barcelona-inspired cocktail created by Starward Whisky. The talk will begin at 6pm.
Main image: Sagrada Familia, SBA73 Sabadell, Catalunya 2011 courtesy ACCA.
Where: ACCA, 111 Sturt Street, Southbank
When: Mon 14 August, 6–7pm (bar open from 5pm)
How much: $35 per session / $200 season pass
More info: ACCA website
Recent Articles
Actor Sunday Barca-Irving and designer Peter Deering are the creative couple behind the Sunday Muesli Co – a Richmond-based granola company offering up healthy and downright delicious hand-crafted muesli mixes to kick-start your day. Here Sunday brings us a cosy recipe for the winter months – seasonal poached pears with gluten-free muesli and a cardamon-scented nut mylk
"In Japan, old things tend to be well looked after and so even vintage items that are 50 years old still look beautiful today". In the fourth instalment of our 'Tokyo Life' series brought to you via R-ESTATE TOKYO, Ben Davis chats to curator and creator Kai-Ting Lin about the anachronistic beauty of the well-worn
Fresh from a sonic tour of Eastern and Western Europe, Louise Terra of Sugar Fed Leopards has made us a mixtape: "This playlist talks to the ambient and hypnotic elements in electronic music that I love, with a mix of old European folk music and a few bombastic erratic rhythmic tracks, for impact."