Happenings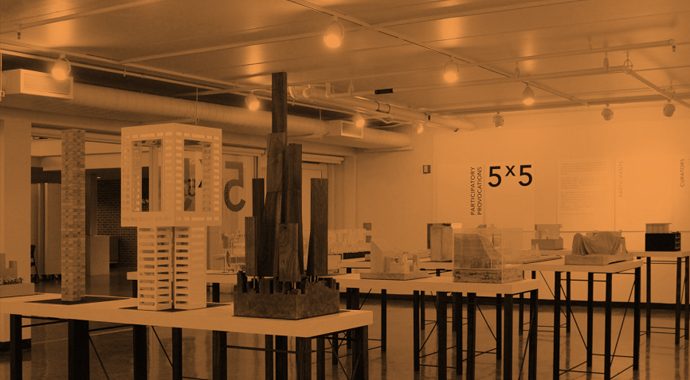 5×5: Participatory Provocations
5×5: Participatory Provocations explores the role of architecture and architects in providing critical commentary on present-day issues. The show presents twenty-five architectural models by twenty-five young American architects responding to significant contemporary topics including immigration (the proposed US-Mexico border wall), surveillance (the use of drones), off-world tourism (luxury vacations to the Moon) and the relationship between urban densification and the commercially-driven development of high-rise residential complexes. Drawing from the long tradition of 'paper' architecture intending to provoke discussion and debate around controversial ideas, 5×5: Participatory Provocations encourages participatory criticism as an increasingly relevant form of practice that can sit alongside more conventional forms of architectural expression. Participating architects and studios include Archive of Affinities, Platform for Architecture + Research, Snarkitecture, Studio Cadena, and Ultramoderne.
Main image by Robert Prochaska courtesy Architect Magazine.
Where: The Center for Architecture, 536 LaGuardia Place, New York
When: Until 31 October
How much: Free!
More info: Center for Architecture website
Recent Articles
Actor Sunday Barca-Irving and designer Peter Deering are the creative couple behind the Sunday Muesli Co – a Richmond-based granola company offering up healthy and downright delicious hand-crafted muesli mixes to kick-start your day. Here Sunday brings us a cosy recipe for the winter months – seasonal poached pears with gluten-free muesli and a cardamon-scented nut mylk
"In Japan, old things tend to be well looked after and so even vintage items that are 50 years old still look beautiful today". In the fourth instalment of our 'Tokyo Life' series brought to you via R-ESTATE TOKYO, Ben Davis chats to curator and creator Kai-Ting Lin about the anachronistic beauty of the well-worn
Fresh from a sonic tour of Eastern and Western Europe, Louise Terra of Sugar Fed Leopards has made us a mixtape: "This playlist talks to the ambient and hypnotic elements in electronic music that I love, with a mix of old European folk music and a few bombastic erratic rhythmic tracks, for impact."