Happenings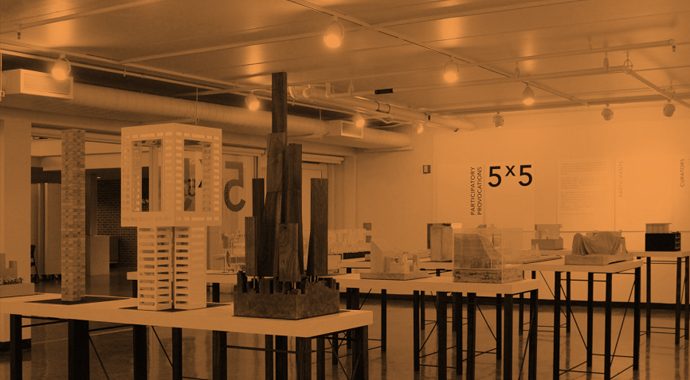 5×5: Participatory Provocations
5×5: Participatory Provocations explores the role of architecture and architects in providing critical commentary on present-day issues. The show presents twenty-five architectural models by twenty-five young American architects responding to significant contemporary topics including immigration (the proposed US-Mexico border wall), surveillance (the use of drones), off-world tourism (luxury vacations to the Moon) and the relationship between urban densification and the commercially-driven development of high-rise residential complexes. Drawing from the long tradition of 'paper' architecture intending to provoke discussion and debate around controversial ideas, 5×5: Participatory Provocations encourages participatory criticism as an increasingly relevant form of practice that can sit alongside more conventional forms of architectural expression. Participating architects and studios include Archive of Affinities, Platform for Architecture + Research, Snarkitecture, Studio Cadena, and Ultramoderne.
Main image by Robert Prochaska courtesy Architect Magazine.
Where: The Center for Architecture, 536 LaGuardia Place, New York
When: Until 31 October
How much: Free!
More info: Center for Architecture website
Recent Articles
Western influence in Japan has a fascinating and turbulent history. Architect Keith Little looks at how that complex relationship is embodied in Tokyo's Kyudōkaikan, one of the few buildings to survive the rapid economic growth of the twentieth century. Recent restoration of the complex was funded through an innovative business model, which reflects the temple's masterful blending of the old and the new
Eavesdropping is a part of life: we hear things that are not intended for us all the time. Yet the word's meaning has changed over time. For our second collaboration with Liquid Architecture, sonic artist and researcher Sam Kidel has prepared us a mixtape that uncouples voice and personhood: "I created the mix as a tool for feeling into unsettled experiences of voice."
Gregory Lorenzutti was working in Tacloban City when he met a group of young performers preparing for the first fiesta since Typhoon Haiyan had devastated the region, 18 months earlier. In this photography series, Lorenzutti captures the beauty of Filipino queerness, and the complex story of how LGBTIQ families were affected by the city's rebuilding